UPDATE: Burger King's Mac n' Cheetos are coming back May 18, 2017 for a limited time. The cheesy snacks sold out quickly when they were introduced in June 2016, so if you missed them, now's your chance. Find out what all the fuss is about Burger King's Mac n' Cheetos.
Like in the early episodes of "Glee," there is something strangely appealing about a mashup.
Take Burger King's new Mac n' Cheetos — face it, you're intrigued.
The dish, basically, bite-sized, portable mac 'n cheese, rolled out for the first time on June 27, 2016 for a limited time at participating stores, and was another creation in the race of fast-food mashups.
Just as Taco Bell used a snack-aisle favorite, Doritos, as a taco shell, Burger King uses what we'll call Cheeto dust to encase its new handheld mac-and-cheese dish.
On the outside, the snacks look startlingly like oversized Cheetos, with the familiar shape and neon-orange color. Take a bite, though, and you'll find warm, gooey mac and cheese on the inside.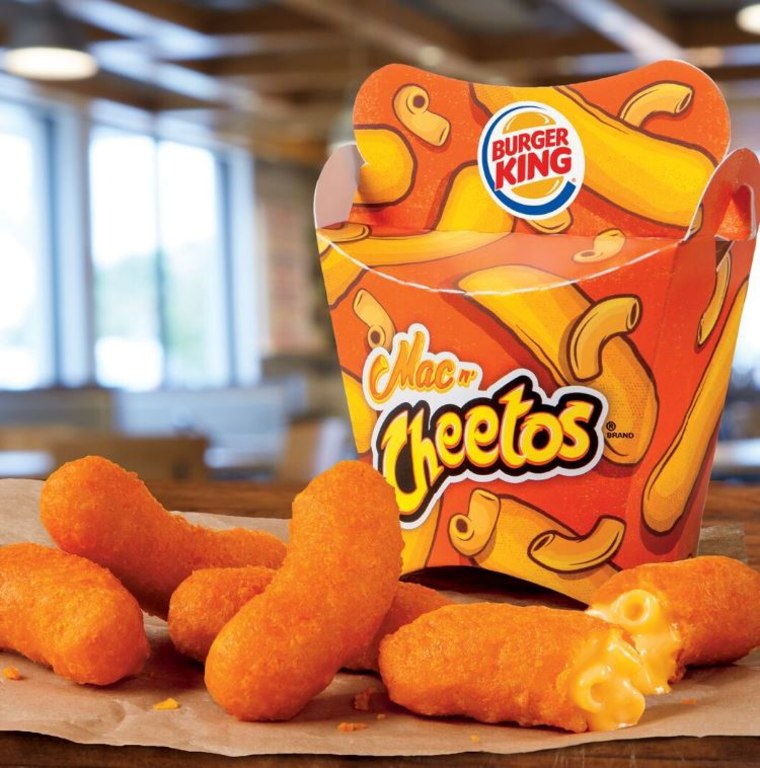 Mac n' Cheetos will sell for $2.69 for five pieces (they were $2.49 in 2016).
The snack, served in a fry-box-like carrying case, is for "for anyone who ever wished they could eat warm mac n' cheese like they do a bag of chips," according to the company.
We can't say we've ever had the urge to eat portable macaroni and cheese, but now that they mention it…it does sound pretty good.
TODAY's Al Roker tasted the Mac n' Cheetos in 2016 and was not a fan, but plenty of other people loved it and the snack sold out in just a few weeks. We have a feeling the Mac n' Cheetos will sell out again pretty quickly this year, so mark your calendar.
RELATED
This article was originally published on June 23, 2016 and was updated with new information on May 15, 2017.