Painfully hip kale and Brussels sprouts are now a celebrity-produce couple of sorts, complete with myriad cutesy nicknames.

Kale sprouts, aka BrusselKale, are yes, a hybrid of Brussels sprouts and Russian Red kale, and starting to pop up in U.S. grocery stores.
Developed in the U.K. using old-fashioned breeding techniques, kale sprouts (or flower sprouts, as they are known there) look like flowering buds, with green-and-purple leaves. Brussels sprouts are big in the U.K., especially around the holidays, so British seed house Tozer Seeds set out to create a more subtle-tasting sprout, Lisa Friedrich, U.S. spokesperson for Tozer, told TODAY.com.
While new hybrid veggies come out all the time—think purple haze carrots—the kale sprout "is the most distinctive one we've seen since broccolini launched in 1999," Bob Whitaker, chief science officer for the Produce Marketing Association, told TODAY.com.
More From Today: Romanesco Cauliflower Recipe, A Delicious and Eye-Catching Side Dish
A little confusing for customers, the veggie currently goes by a few different brand names in the U.S.—one is BrusselKale, just released in Ohio and Pennsylvania, and Lollipops, available in select stores throughout the country, is another.
To avoid mass confusion, Tozer Seeds is reigning in growers and will officially launch the hybrid under one cohesive name this fall. "We're glad it's getting a lot of buzz, but it's too bad it's coming out before the official launch," says Friedrich said.
I did manage to get my hands on a few bags of BrusselKale from Rock Garden Herbs, based in Florida, to see what all the fuss was about. Their sprouts come in a cute, zip-top bag that's meant to be microwavable, but more on that later.
First up, the raw taste test. Initially, it was a little mind-boggling—I kept going back and forth on whether it tasted more like Brussels or kale. In the end, I decided it tasted like a less-cabbage-y Brussels sprout, with the slight peppery taste and softer texture of kale—yet more interesting than kale by itself. So far, so good.  
But what is the fun in eating vegetables raw? Next, I sautéed it in olive oil, salt and pepper and mixed it with fresh pasta, lemon zest and ricotta. Amazingly, the leaves didn't shrink down to nothing—so I didn't have to pick them apart from the stems and cook them separately, as you might with, say, Swiss chard. And best of all, I just washed them and tossed them in the pan—no time-consuming trimming, as you need to do with regular old Brussels sprouts.
Next, I tried them in the ubiquitous kale salad. This time, I took the larger stems off, but this is a personal preference—once they marinate in the dressing for long enough, they become quite tender. My 3-year-old son called the salad "good" and my skeptical husband enthusiastically pronounced it better than my typical kale salad. "Less bitter," he said. Thanks, I guess?
Last up, following the instructions on the bag, I added my choice of seasonings (olive oil, salt and pepper) and tossed the bag of greens into the microwave for three minutes, not hoping for much. But to my utter astonishment, the greens almost tasted like they had been oven-roasted, with some pleasant crispness on the edges of the leaves—a far cry from the limp green beans you get from some of those steam-in-a-bag jobs.
All in all, I still have a use for kale and Brussels sprouts independent of each other, but I look forward to being able to find this quirky new veg in stores—it's easy to prepare, tasty and relieves kale fatigue. (The sprouts also contain double the amount of vitamin B6 and Vitamin C than traditional Brussels).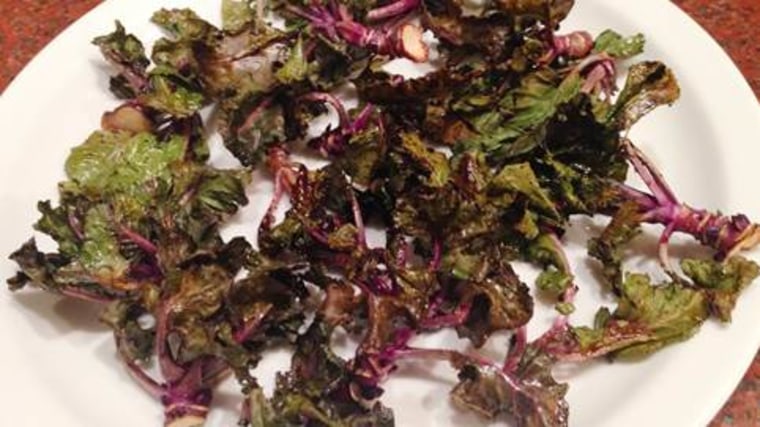 A few TODAY.com editors tried the BrusselKale as well, with mixed reviews. One found the stems too chewy, even after roasting, while another roasted them in a 375-degree oven for 20 minutes and "found them delicious," saying she would buy them again, "mostly for the novelty."

Even when they launch this fall under the new name, the hybrid veggie will be hard to find until distribution ramps up, but for now, be eagle-eyed at the grocery store, ask your grocer to stock them, or order them online.