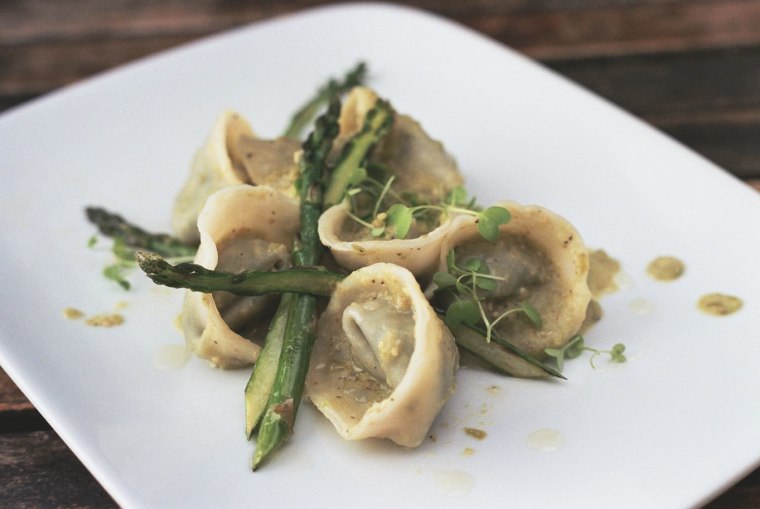 Chef Merida Anderson runs a Vegan Secret Supper event in New York and Montreal. The entrées are enticing, the dessert decadent, and the meals unlike any dry vegan dinner stereotype. In honor of Earth Day, Merida shares what she's learned about cooking vegan, and tips for making mouthwatering meals that taste like anything but sacrifice.
I've been a vegan for 12 years now, so the lifestyle has become second nature to me. These days, I never think about my veganism. But when I first became a vegetarian at age 15 (and then a vegan only a few months later), I remember being a very determined kid. And while my mom was less than convinced of the wisdom of my decision, I persevered through all of my—dare I say—interesting early attempts at vegan cooking. Early on, I stubbornly finished a stir-fry I'd made that consisted solely of cauliflower and mini-corn, and I pretended that it was far superior to the omnivorous meal my mom and brothers were eating (it most definitely was not). I've always believed that anyone can do anything that they put their mind to, including learning new dishes and adopting a new lifestyle. Growing up, cooking was a central part of my life, and it involved a lot of trial, error, and love.
Most people who come to Vegan Secret Suppers, my supper club, aren't even vegan or vegetarian. One of the many reasons I tend to steer clear of packaged and processed soy or faux meat and dairy products in my menus is to avoid the stereotypes of "typical" vegan food. For a dinner guest who doesn't know much about vegan or vegetarianism, soy and fake meat are likely the first things they associate with the cuisine, so I feel it is important to show that these items do not have to form the core of vegan cooking.
At VSS, I cook with mainly organic ingredients. Conventionally grown foods are grown with synthetic chemical pesticides, which are not used in organic farming. And while it's important to buy organically grown food--which focuses on the sustainability of the environment--soil fertility, water conservation and biodiversity--I also try to buy locally grown foods when I can. Locally grown produce is fresher and therefore higher in nutrients, and it tastes better too.
Buying locally grown also has environmental benefits, namely, reducing the environmental impacts of shipping foods across vast distances. It's a dilemma for aware shoppers: do you buy the organic but flown-in-from-California strawberries or the non-organic ones produced on a farm forty minutes away? Neither option is always correct, but educating yourself on where your food comes from and how it is processed is the first step in making responsible food decisions that affect your health and the environment.

Cooking vegan doesn't have to be complicated; fresh vegetables, fruits and herbs, an array of different spices, nuts, and legumes are all staples. The warmer months are definitely the most exciting time for produce. Ramps (wild leeks) on the East Coast come for a short time in early spring, along with asparagus. Cherries are one of my favorite summer fruits, as well as the berries that follow.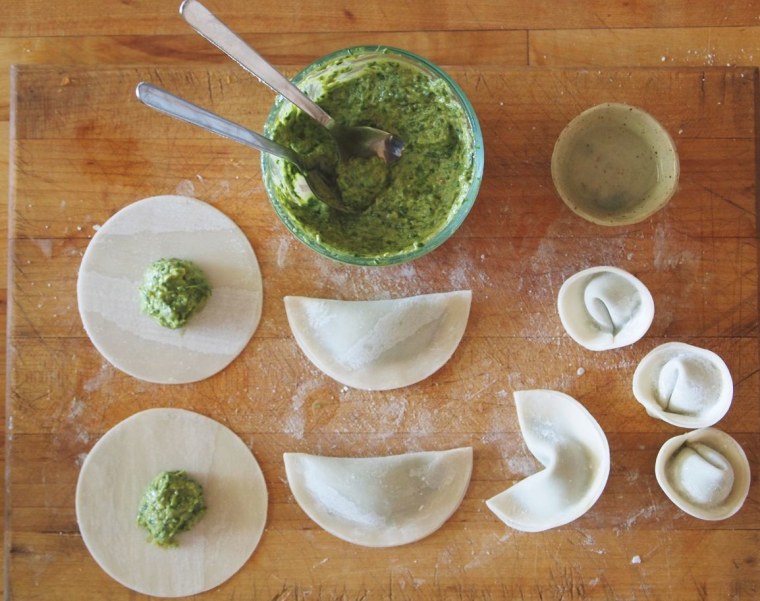 For a well-stocked vegan pantry, always have coconut milk and lemons on hand, as well as tahini, which is great for sauces and dips. I also use many different oils, as good fats are an important part of your diet (and vegan diets don't offer many bad fats!). I recommend a quality olive oil for dressings, toasted sesame oil for finishing, grapeseed oil for frying, and coconut oil for baking.
Finally, don't be scared to experiment! If you see a vegetable at the market you've never used, buy it and expand your culinary knowledge! Grow some herbs in your kitchen! Sprout some seeds! Spend time with your food, make a small change to your diet, or just be more conscience of your food choices. Have fun!
Pipián pesto tortellini with seared asparagus and roasted tomatillo sauce
Ever since I've been living in New York, I've been influenced by the abundance of Latin American foods found in grocery stores. This recipe is a result of that, filled with fresh, bright flavors. I use vegan wonton wrappers for the tortellini, which taste very similar to home-made vegan pasta, but are much less labor-intensive.
Makes 4 servings as a main dish or 6 appetizer portions
Pipián pesto tortellini
1 tsp grapeseed oil

1 shallot, diced

3 garlic cloves, minced
⅓ cup pumpkin seed butter
1 tbsp lemon juice
¼–½ tsp salt, to taste
1 cup lightly packed fresh cilantro
1 cup lightly packed fresh parsley
¼ cup olive oil
1 13-oz pkg round vegan wonton wrappers (approximately 64 wrappers)
In a small frying pan on medium, heat grapeseed oil. Add shallots and garlic and sauté until shallots are translucent. In a food processor or blender, blend shallots and garlic,
pumpkin seed butter, lemon juice, salt, cilantro, and parsley. Slowly add olive oil to facilitate blending. On a clean work surface, lay out a few wonton wrappers.
Keep a small bowl of water nearby. Place 1 tsp filling in middle of each wrapper. With your finger or a small brush, dampen edges of each wrapper. Fold in half, pressing
edges closed to seal. Dampen 1 corner of semi-circle and bring to center of tortellini; fold other corner over top. Squeeze gently to make sure corners stick together.
Place on a parchment-lined cookie sheet and cover with damp tea towel or paper towel. Repeat with remaining filling and wrappers. (At this point, you can freeze the tray of tortellini, transferring to a freezer bag or container once frozen.)
Makes 28 tortellini.
Fill a large pot with well-salted water. Bring to a boil on high heat. Drop fresh or frozen tortellini into water and bring back to a boil. Cook for 2 minutes if fresh, 4 minutes if frozen. Tortellini will rise to top of water when done. Drain and set aside.
Roasted tomatillo sauce
¾ lb or 5 medium tomatillos, husks removed

4 unpeeled garlic cloves

2 tsp olive oil

¼ tsp salt

1 tbsp olive oil

¼ tsp fresh thyme

½ jalapeño pepper, seeded and chopped

¼ tsp salt

¼ tsp pepper

½ tsp agave nectar

Preheat oven to 325˚F (160˚C).
Rub tomatillos and garlic with 2 tbsp olive oil and sprinkle with ¼ tsp salt. Bake on an unoiled baking sheet for 20 minutes, until soft. Peel garlic. In a food processor or
blender, process tomatillos and garlic with remainder of ingredients until smooth.
Seared asparagus
2 tsp grapeseed oil

1 bunch asparagus, trimmed and sliced in half lengthwise, if very thick

salt, to taste

In a saucepan over medium-high, heat oil. Add asparagus and season with salt. Sauté for 2–4 minutes, until slightly browned and soft. Set aside
To plate:
chopped fresh cilantro, to garnish

olive oil, to garnish

Toss tortellini with sauce. Portion into 4 shallow bowls (or 6, if serving as an appetizer). Place a few asparagus spears over top of pasta and garnish with chopped cilantro and olive oil.
These recipes are featured in Merida Anderson's new cookbook, "Vegan Secret Supper: Bold & Elegant Menus from a Rogue Kitchen."