We may all scream for ice cream, but lately the shouting appears to be coming from the dinner table. The latest flavors like chorizo-caramel and raspberry-ham could be served as a hearty meal rather than a sweet dessert.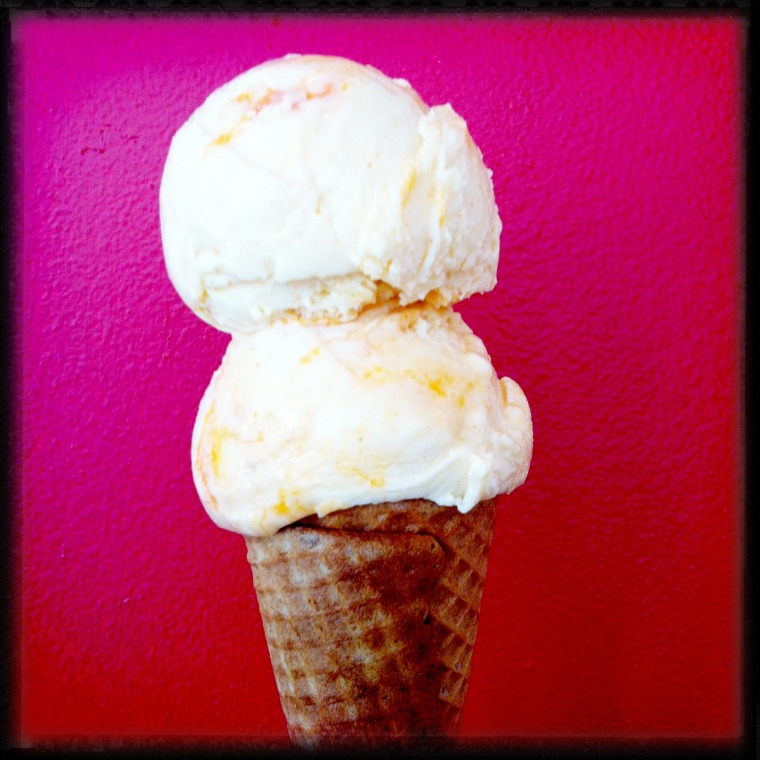 "I like the marriage of salty and sweet and savory and sweet," said Sam Mason of OddFellows Ice Cream Co. in Brooklyn. "There is a large segment of people who want something new and exciting that they've never had before or would have never thought possible in ice cream form, and I like challenging those people to try it." He added, "When they do, they love the product."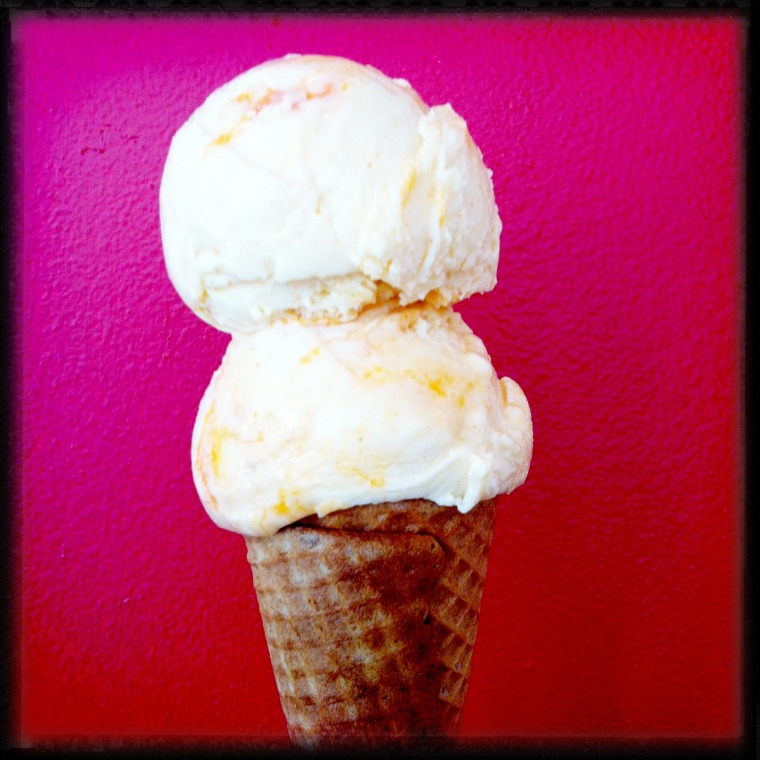 At Mason's shop, you can almost always find miso-cherry, a rich flavor made sweet with the fruit but slightly salty with an umami kick from the Japanese miso, and chorizo-caramel, an ice cream that perfectly combines luscious caramel with the spicy, meaty quality of Mexican chorizo.
Mason isn't alone in the meat meeting ice cream trend. Salt and Straw in Portland, Oregon serves up a black raspberry and smoked ham flavor, as well as savory vegetarian options like pear with blue cheese and goat cheese with habanero and marionberry.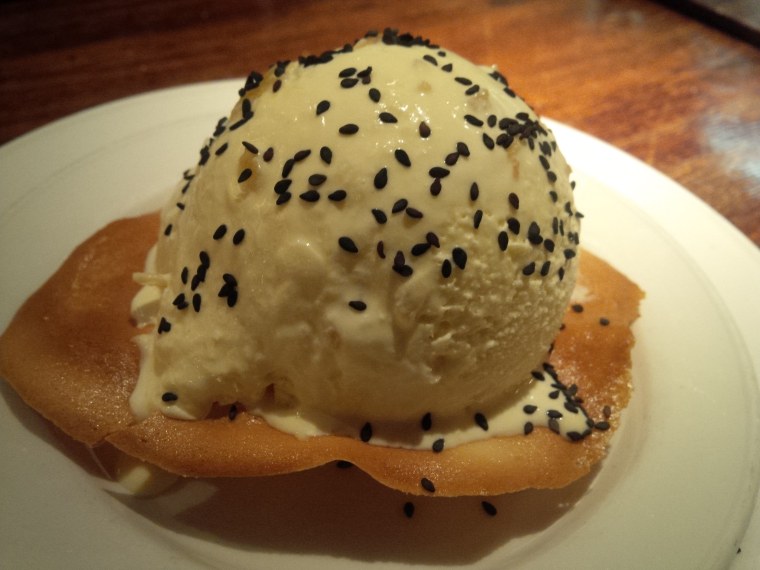 Even fish finds a way into dessert. Though the combo of seafood and ice cream is rare, you can find it married at the Grand Central Oyster Bar in Manhattan, where pastry chef Januz Noka makes a sea urchin ice cream. The original idea to turn sea urchin, or uni, into a dessert came when Noka and executive chef Sandy Ingber were looking for a sweet to serve at their Christmas Eve Feast of the Seven Fishes. "It sounds weird, sea urchin in ice cream, but people love it," said Noka.

Morimoto Philadelphia also has uni ice cream on the menu, and while Noka said his dessert has a creamy, Asian flavor with a hint of the sea, Morimoto's pastry chef Thomas McCarthy akins the flavor to butterscotch. Uni may taste like butter from the sea, but it's not as easy to work with as its dairy counterpart. In order to incorporate it into his ice cream, Noka breaks it down with some milk to smooth it out before blending it into the mix.
Aside from meat, condiments like the aged balsamic vinegar in gelato (recipe below) from SD26 in Manhattan, and plenty of vegetables have made their way into ice cream. Gurney's on Long Island started selling gazpacho, celery and cucumber sorbets, all made by the Queen's company Desserts That Matter and their recipe developer Malcolm Stogo, an ice cream expert who has been in this business for over 40 years. The idea to make a gazpacho sorbet came after his umpteenth smoothie.
"We discovered the flavor in the smoothies would transfer into sorbet or ice cream…"said Stogo."It's not sweet at all, it's very savory since you want to taste the vegetable."
To make this flavor, Stogo takes chunks of fresh vegetables like cucumber and peppers, soaks them in sugar for about eight hours to soften them up and make them easy to eat frozen, then mixes them with a tomato-based sorbet, chili powder, olive oil, balsamic vinegar and avocado. The result is a refreshing treat that tastes just like the cold soup it's modeled after.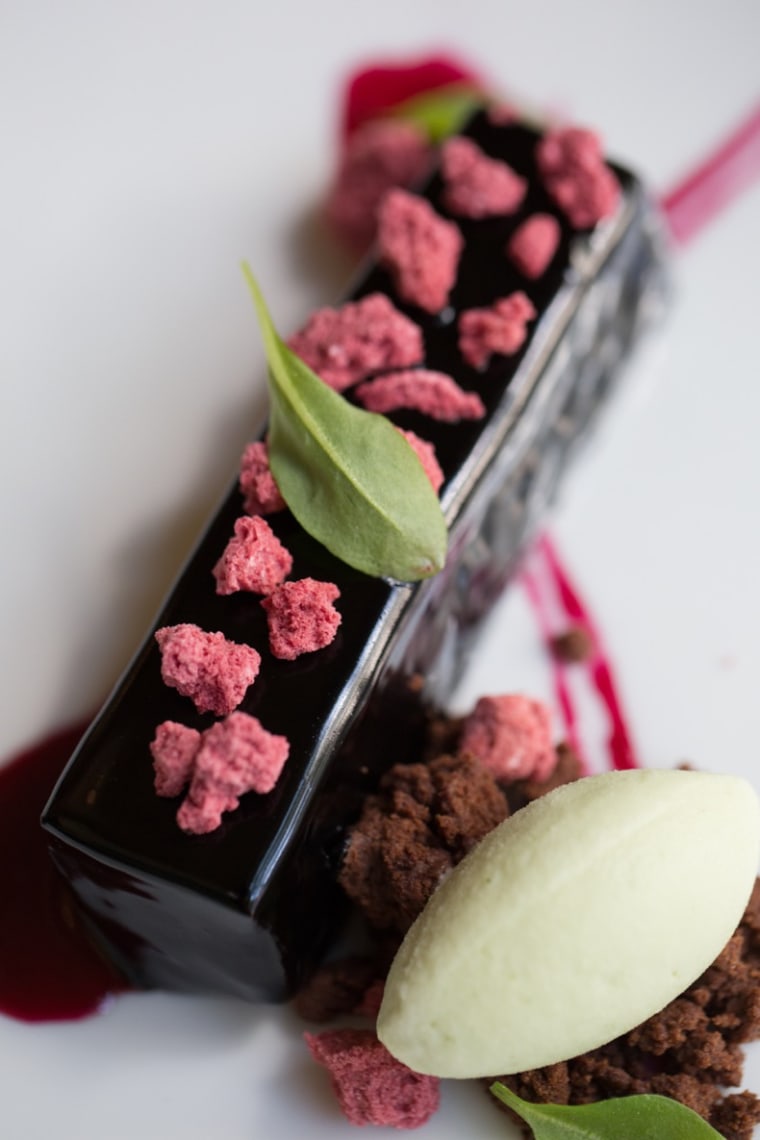 You can also find vegetables making the scene at Gotham Bar & Grill in Manhattan where chef Alfred Portale has created an arugula ice cream (recipe below), and at the mini-chain Jeni's Splendid Ice Creams where owner Jeni Britton Bauer offers ice cream with saison beer, sunflower and flax seeds, and parmesan-zucchini. In San Francisco, Humphry Slocombe offers a hibiscus-beet sorbet, carrot-mango and mix of black olives with strawberries.

Though we can't pinpoint why savory flavors have gotten more popular lately, it does appear ice cream and sorbet naturally lend themselves to experimentation and it's easy to make at home. Try the recipes below or throw something new into the mix, like home cook Stephanie Teuwen did. "I had cucumbers and celery from the greenmarket and thought about adding alcohol to it for a take on Trou Normand," she said, describing how her gin and celery sorbet came to be. "I wanted a refreshing sorbet in between a main course and dessert for a summer dinner party with foodie friends. It surprised my guests, and we all enjoyed it."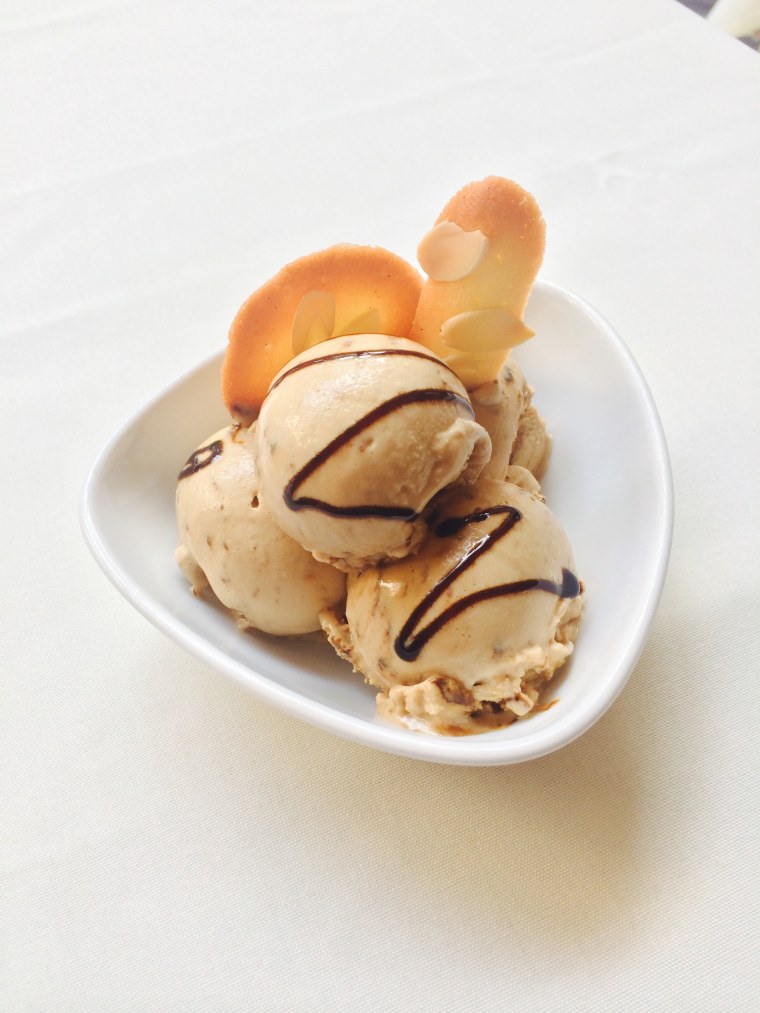 Aged balsamic gelato

Courtesy of Chef Matteo Bergamini of SD26
Makes 8 servings
Ingredients:
1 liter whole milk

1 cup heavy cream

2 teaspoon ice cream stabilizer

¾ cup and 1 tablespoon sugar

3 ½ ounces dextrose

¼ cup aceto balsamico tradizionale, or aged balsamic vinegar

Directions:
1. In a heavy-bottomed pot bring the milk and heavy cream to a soft boil.
2. In a separate bowl combine the stabilizer, sugar and dextrose, and once it's mixed add to the milk.
3. Bring the mixture back to a boil then allow to cool in an ice bath.
4. Once cooled, add the balsamic vinegar.
5. Fill an ice cream machine with the mixture and churn according to individual unit's instructions. 6. When ready, scoop into bowls and garnish with a drizzle of balsamic vinegar and your favorite wafer cookie.
Arugula ice cream
Courtesy of Chef Ron Paprocki of Gotham Bar & Grill
Serves 8-12
Ingredients:
4 cups plus 2 tablespoons milk

7 ounces arugula 

1 1/4 cups sugar

2/3 cup heavy cream

1/4 cup tablespoons butter

1/4 cup tablespoons non-fat milk powder

Directions:
1. Combine milk and arugula and place into a medium-size saucepan and bring to a scald over medium heat.
2. Remove from heat, cover and allow to infuse for one hour.
3. Blend the arugula into the milk with a stick blender and strain, discarding the arugula.
4. Measure the infused milk and add additional milk if necessary to bring back to 4 1/5 cups.
5. Place the infused milk into a medium-size saucepan and reheat to 120F.
6. Combine milk powder and sugar and whisk into infused milk.
7. Add heavy cream and butter.
8. Continue to heat until 185F is reached for 2 minutes, remove from heat and cool.
9. Transfer contents into a bowl and place in refrigerator. Allow to chill for 12 hours before finishing in ice cream machine.