Does food feel like the most significant "other" in your life right now? Are you tired of scouring dating sites for the man or woman as desirable as your favorite takeout? Then check out Tender, a new app that matches you with recipes instead of fellow humans.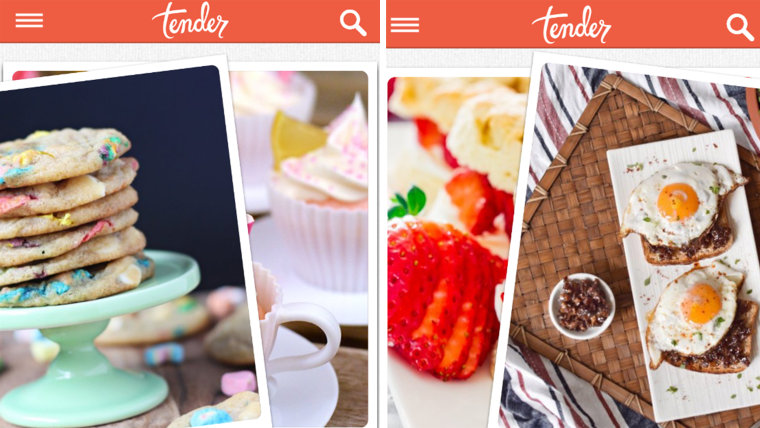 Created by three College of Charleston alums, Tender was released in March for iPhone and Android and has seen a 4,000 percent increase in downloads since late July, Forbes reported. The app allows users to swipe through various dishes and save them in a "Cookbook" to make later.
Sound like something you'd enjoy as much as a hookup app? Here are the seven reasons we think Tender is even better than Tinder.
1. Not even the grossest food photo will ever compare to the horror of the blurry mirror selfie.
The self-conscious smirk. The terrible lighting. The open bathroom stall behind him. We've all seen them: selfies so bad they make you want to confiscate the person's front-facing camera. Thankfully, Tender spares you the agony by only showing images of yummy food.
2. You won't be subjected to terrible pickup lines or stilted conversation.
Alas, not every single man (or woman) is a poet. Between the creepy pickup artists and the men with one-track minds, Tindering can quickly turn into a close encounter with the world's worst conversationalists. Luckily for us, Tender gets straight to the point: The app knows the only things you really care about are burritos and pizza.
RELATED: Love in the age of Instagram: How to act online after a break-up
3. Every swipe right is a match.
Hello, gorgeous! Did a model just pop up in your Tinder feed? We wish you the best of luck hopping on that train; we'll be off getting to know the fried chicken we just matched with. Dating without rejection is the greatest, right?!
4. Food is the best Netflix buddy.
Goodbye, screaming matches over the remote and pretending to like vampire dramas. Now you can delete that tragic line at the end of your bio — "just looking for someone to Netflix with" — and settle in with some ice cream for a long night on the couch.
RELATED: New and niche meal delivery services popping up — which one is best for you?
5. You can filter your options.
Ever felt like a vegetarian in a meat-loving world? Tender helps you narrow down your choices to the diet that's right for you, so you'll never again have to fake knowledge of sports teams or obscure indie bands.
6. The kitchen is the farthest you'll have to travel.
Sure, Tinder introduces you to lots of potential dates, but who wants to drive or take a train across town to actually meet them? Better to enjoy some homemade mac and cheese in the comfort of your own room.
RELATED: Tamron's Tuesday Trend: High-tech kitchen tools act like a personal sous chef
7. No need to spend time crafting the perfect profile.
Writing an appealing Tinder bio is clearly a lost art. From the made up reviews ("Nicest guy ever" –his mom) and false advertising ("Just here to make friends") to the overly cynical one liners ("I'm everything you don't want in a man"), it's hard not to fall back on cheesiness and clichés. Why not scrap the whole thing and run into the open arms of food? After all, it'll always love you back.