We're all getting older, but some of us show the years more than others.
Then again, some — like a 6-year-old McDonald's combo that's gone viral — don't show the passing of time at all!
In October 2009, McDonald's was shuttering its restaurants in Iceland as a result of the worldwide economic crash.
On Oct. 30, anthropologist Hjörtur Smárason stopped by the fast food chain just before it closed its doors for one last meal. But he never meant to eat it.
MORE: McDonald's 'smart' menus will recommend food based on the weather
Instead, Smárason stashed the cheeseburger and fries away to see what would happen as time ticked by.
After three years, he took a peek. To his surprise, the meal looked as fresh as the day he bought it.
MORE: Fast fashion indeed! See the couture runway looks made of McDonald's wrappers
Now, the not-so-happy meal has a permanent home in Reykjavik's Bus Hostel, where a live cam makes it possible for anyone anywhere to watch it not decay.
It's billed as "The Last McDonald's Cheeseburger sold in Iceland."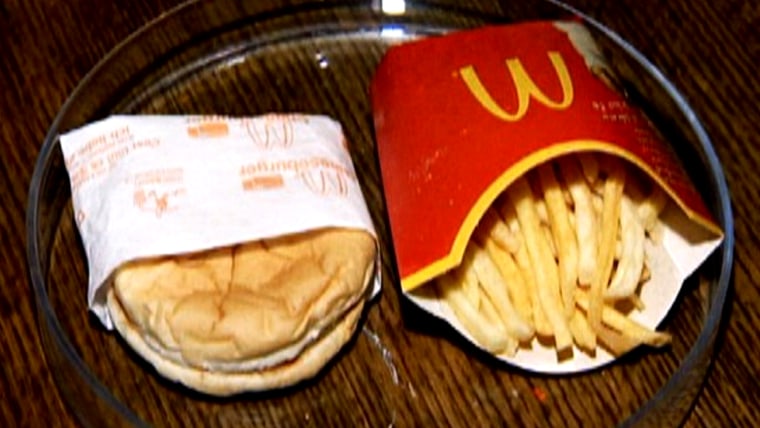 But the display has led many to wonder what's really behind the burger and fries that time forgot. Super preservatives? Stored in a cold climate? A mold-free strain of meat?
None of the above, according to McDonald's.
A post on the company's site titled "Response to the myth that McDonald's burgers don't decompose" said: "In order to decompose, you need certain conditions – specifically moisture. Without sufficient moisture — either in the food itself or the environment — bacteria and mold may not grow and therefore, decomposition is unlikely.
"So if food is or becomes dry enough, it is unlikely to grow mold or bacteria or decompose."
And McDonald's says a burger cooked on your own grill could look just as fresh later.
"Food prepared at home that is left to dehydrate could see similar results," the company said.
Follow Ree Hines on Twitter.