After weeks of testing in Oklahoma, McDonald's is finally adding fresh beef to the menu nationwide.
On Tuesday, the fast food chain announced that it will switch out all frozen beef patties for fresh patties on its Quarter Pounder burgers by early May. The change has already gone into effect at over 3,500 restaurants. However, locations in Hawaii and Alaska will still be using frozen beef.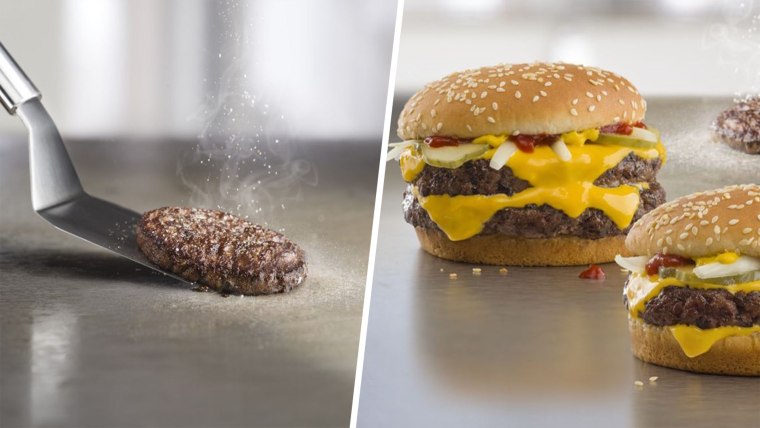 The change, which will eventually be rolled out to over 14,000 locations, only affects one menu item. Big Macs, regular hamburgers and cheeseburgers will continue using frozen beef patties.
"The switch to fresh beef quarter-pound burgers is the most significant change to our system and restaurant operations since All Day Breakfast [was introduced in 2015]," Chris Kempczinski, president of McDonald's USA, said in a statement.
The change comes amid increasing competition from other burger chains like Shake Shack and Five Guys, which use only fresh beef. Wendy's has already ribbed McDonald's on Twitter for only adding the fresh beef to just one of its many burger items.
So why isn't the chain implementing the never-frozen patty policy across the board? Change may be coming, just gradually, and it will likely depend on consumer response in the coming months.
"Right now we are focused on rolling out fresh beef in quarter-pound burgers which includes our Quarter Pounder and Signature Crafted burgers," a representative for McDonald's told TODAY Food over email. "Time will tell — we always try and let our customers be our guide."
But while customers may perceive never-frozen beef as being healthier than its frozen counterpart, nutritionists note that is not always the case.
"It looks like [based on McDonald's official website] the ingredients [in the burgers] are identical," Alix Turoff, a registered dietitian and personal trainer based in New York City, told TODAY Food. McDonald's is already using 100 percent, USDA-inspected beef with no preservatives or fillers in all of its burgers. "If anything, this won't really make any difference nutritionally. What might be different is the texture."
The process of defrosting beef may dry it out, so customers can likely expect a slightly juicier Quarter Pounder patty. But Turoff explained that there are actually some benefits to using frozen foods, especially at high volumes.
"Frozen food lasts longer because certain bacteria can't grow in freezing temperatures," Turoff said. "This is why you can store meat in the freezer for longer than in the refrigerator. That said, I'm sure McDonald's has a pretty fast turnover so it's not like the burger patties are sitting around for days without being used."
While McDonald's might be shelling out more money to offer the fresh beef, Bonnie Taub-Dix, RDN, creator of BetterThanDieting.com and author of "Read it Before You Eat It - Taking You from Label to Table," told TODAY Food that just because something is "fresh," doesn't necessarily make it the healthiest.
Said Taub-Dix, "In some cases, frozen foods, like produce may even be superior in nutritional value and flavor since crops are harvested at the height of freshness and frozen quickly to seal in nutrients and taste."