For the first time in five years, McDonald's announced that it will be expanding its breakfast menu.
Not only does new sandwich have three times the meat, but the chain says it was inspired by its very own "secret menu."
Many popular chains are rumored to have secret menus — and a proper etiquette on how to order from them. Starbucks kept its Medicine Ball tea a secret for some time before offering it to everyone. And for years, only the coolest cats knew you could order In-N-Out burgers "animal style."
According to the chain's announcement made late Tuesday night, McDonald's regular customers order certain items so often that the restaurant deemed these orders as part of a secret menu both corporate and on-the-floor team members knew about. One of these breakfast menu hacks became so popular that its team decided to make it an official sandwich option. Enter the Triple Breakfast Stacks.
Triple Stacks come, well, stacked on three bread options: a fluffy biscuit, a toasted McMuffin bun or a sweet McGriddle cake. Packed inside are two sausage patties, crispy bacon and an egg, plus, two slices of melted American cheese.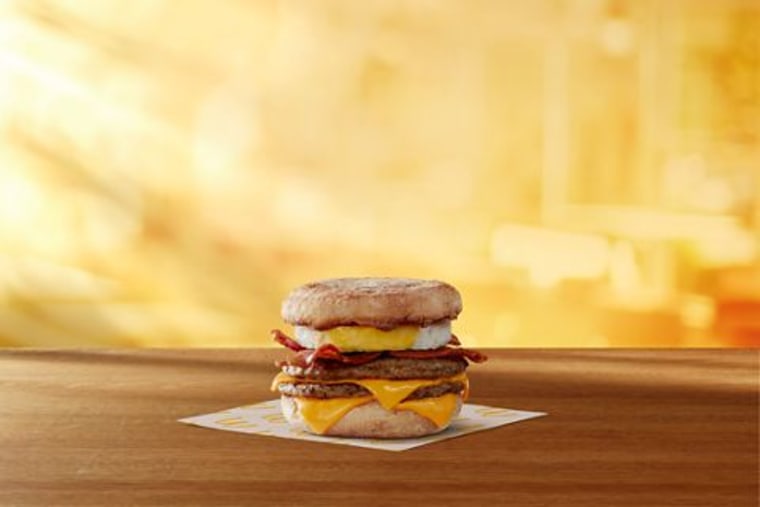 Now that's a mighty meaty breakfast.
The Triple Breakfast Stacks will be available for a limited time nationwide beginning Nov. 1. Although, once the offer ends fans can always customize their breakfast order to mimic the "secret" menu item since it's basically just a repurposed (and totally enlarged) regular breakfast sandwich.
According to a McDonald's spokesperson the nutrition info will be up on the website once the sandwich is officially launched. However, using McDonald's online nutrition calculator, a Bacon, Egg & Cheese McGriddle plus a Sausage, Egg & Cheese McGriddle weigh in at 970 calories, 50 grams of fat, 90 grams of carbohydrates, 38 grams of protein and 2,530 milligrams of sodium.
It might be a good idea to share the Triple Stack with a friend ... or two.