Though many places across the U.S. may still have snow on the ground, there's a hint of spring peeking out at the end of the rainbow.
After half a century of serving one of its fan-favorite, seasonal drinks, McDonald's announced earlier this month that its beloved Shamrock Shake would make its return to restaurants on Feb. 15.
If that wasn't enough to get folks kicking up their snow boots in excitement, the chain is also bringing back the shake's chocolaty cousin: the Oreo Shamrock McFlurry.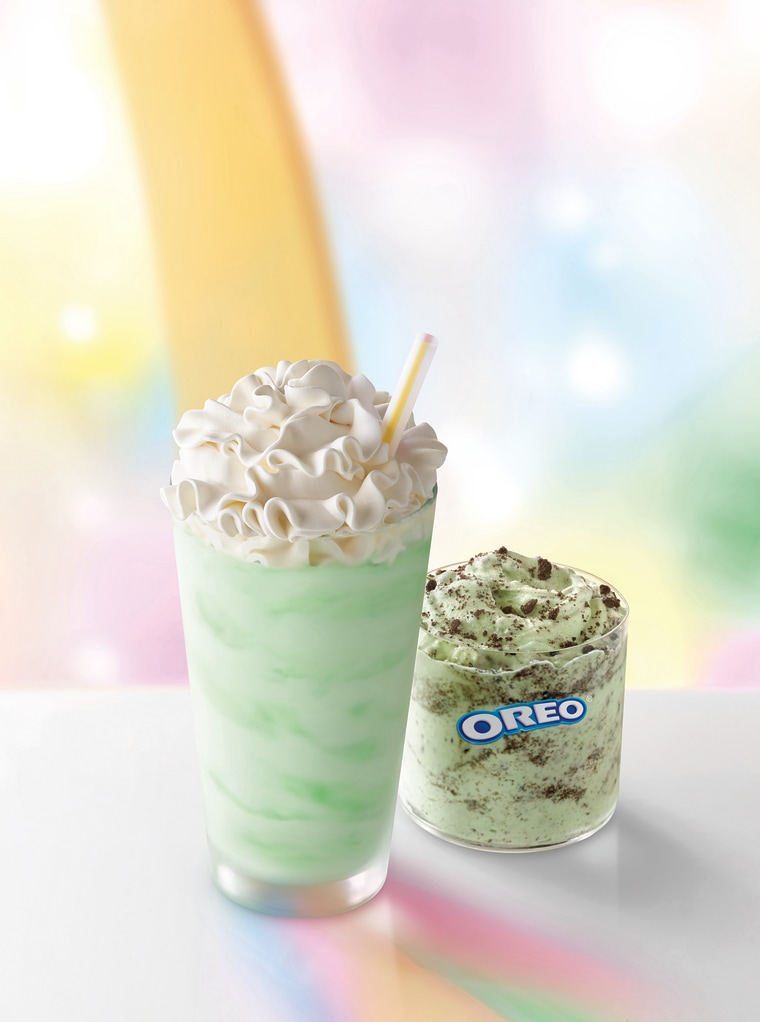 Last year, in honor of the creamy green milkshake's 50th anniversary, McDonald's announced its special McFlurry mashup. Since folks couldn't resist the addition of crunchy, sweet cookies swirling around their vibrant treat, Mickey D's decided to keep it part of the springtime celebration. Market prices vary, but the Shamrock Oreo McFlurry costs $2.30 for a snack size and $3 for a regular.
The chocolate-mint lovers' dream shake is a blend of vanilla soft-serve ice cream, minty Shamrock syrup and crushed-up pieces of Oreo cookies. The classic shake, for those who've never tasted it, is the same mix of flavors (sans the Oreos), blended into a drinkable milkshake consistency and topped with whipped cream.
When it debuted last year, many fans wondered why it took McDonald's so long to combine two beloved frozen treats.
Before the springtime shake got its McFlurry makeover for the first time during a test run in September 2019 (under the name Oreo Mint McFlurry, a spokesperson told TODAY Food), there were a few others spins to pop up on menus throughout history. Before that, the Shamrock Shake got a makeover in 2017, when the fast-food chain launched a flavor that was half chocolate, half Shamrock swirled together. In 1980, the company created a Shamrock Sundae with vanilla ice cream and Shamrock syrup swirls.
For anyone who didn't get to try the Oreo version of the Shamrock shake last year, the YouTuber behind Peep This Out Reviews gave it a very thorough review during its initial test-run in Southern California and Dallas.
"A very lovely green situation. Very, very striking," the YouTuber said while mixing up the shake and showing off its vibrant hue. "The mint is pretty nice in this right now but I gotta admit the presentation is killer."
Appearances aside, the real magic happened when he took a bite.
"Oh, yes. Mmm. Yes, yes, yes, yes. Lovely," he praised. "The flavor is coming through pretty amazing with this — just a hint of mint."
If you don't want to venture out into the cold to get a Shamrock Shake, don't worry! You can concoct your own version of the McDonald's treat at home — booze optional.