Getting a little tired of the standard McDonald's fare? The fast-food chain is literally shaking things up by testing out four of its most popular foods from around the world in the U.S. — and they sound delicious.
There are four items on the chain's new Flavors from Abroad menu and they hail from Spain, the Netherlands, Hong Kong and Malaysia. The promotion is designed to celebrate McDonald's presence around the globe and highlight the unique flavors from each region, the company said in a statement on Wednesday.
The menu items include a McFlurry, two sandwiches and fries, and they're available at 50 McDonald's restaurants in South Florida for a limited time.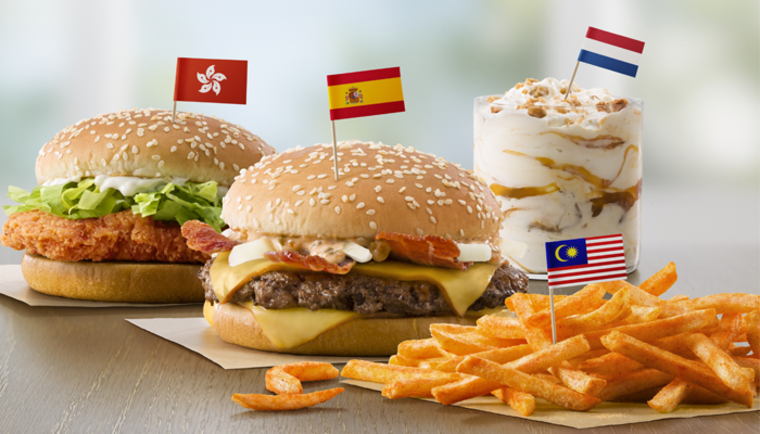 People on social media have been raving for years about the Stroopwafel McFlurry from the Netherlands. A stroopwafel is a crispy waffle sandwich cookie that's filled with caramel. In the McFlurry, it's mixed with vanilla soft serve ice cream and caramel sauce.
The BBQ McShaker Fries are a "thing" in Malaysia. They are regular McDonald's fries that are served in a bag with seasoning that is sprinkled on and then "shaken."
A reporter at the Miami Herald who sampled the McShaker Fries said that they reminded him of barbecue potato chips.
Apparently, outside of the U.S., the McShaker Fries come in other flavors besides BBQ.
Another item on the menu is the Grand Extreme Bacon Burger from Spain which is topped with gouda cheese, onions, applewood-smoked bacon and something called "McBacon sauce." It's available with a single or double quarter-pound hamburger patty.
The final item is called the "McSpicy Chicken" and is from Hong Kong. Although the name may sound familiar, the chicken is marinated in Asian spices to give it a "kick."
"We look forward to hearing our customers' feedback on these global-inspired food items," said Stefanie Cabrera-Bentancourt, a McDonald's Miami franchise owner, in a press release.
McDonald's has also recently tested a McGriddles French Toast Breakfast Sandwich and muffin tops (yep, just like "Seinfeld").