Yes, the "frork" was a joke, but this latest news from McDonald's isn't. The fast food chain just announced a new line of menu items that includes guacamole, so all you avocado lovers can rejoice.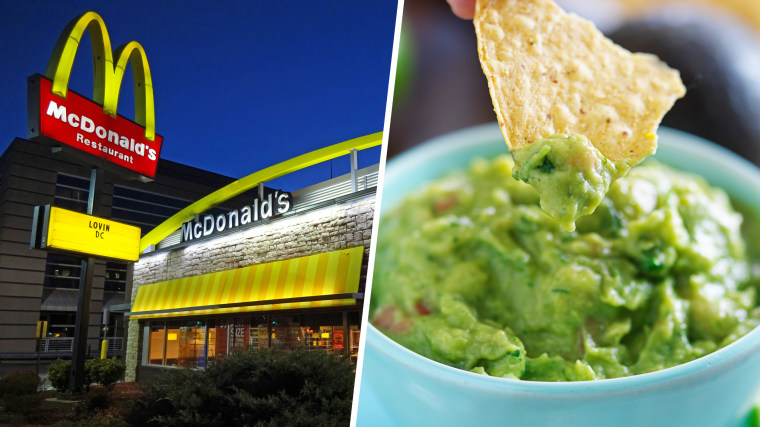 The Signature Crafted Recipes line features items topped with the restaurant's new Pico Guacamole, which, according to the company, is a mixture of Hass avocados, freshly prepared pico de gallo made with Roma tomatoes, onions, and the "flavors of lime and cilantro." (If you're wondering, like we were, whether those "flavors" involve actual lime and cilantro, the ingredients list on McDonald's website reveals that they do indeed.)
Customers will be able to get this new addition on three sandwiches: Pico Guacamole with Artisan Grilled Chicken, which also comes with ranch sauce, white cheddar and lettuce; Pico Guacamole Buttermilk Crispy Chicken sandwich, which features all the same ingredients but with crispy chicken instead of grilled; and Pico Guacamole on a quarter-pound beef burger. The burger comes with the ranch sauce too, because ketchup and guac might be a little (okay, a lot) gross.
But guac and fries? Maybe…. It looks like some people have been able to get their hands on a side of the Pico Guacamole and are posting pics on Instagram suggesting it's a good dip for nuggets and fries.
Not a fan of avocados or guacamole? (Really?!) There are also new menu items sans guac, including a few Maple Bacon Dijon sandwiches as well as the Sweet Barbecue Bacon with Buttermilk Crispy Chicken sandwich.
Check out the full Signature Craft Recipes menu here.