It's a brand new year so McDonald's is preparing to bring back some old favorites — as well as a big new menu addition that that may have a few diners scratching their heads.
At seven Tulsa, Oklahoma-area locations, McDonald's is currently testing a burger made with fresh, never-frozen beef patties. They chain is calling it the Archburger and while it might seem like a brand new concept for the chain, it's strikingly similar to a 1990s experiment.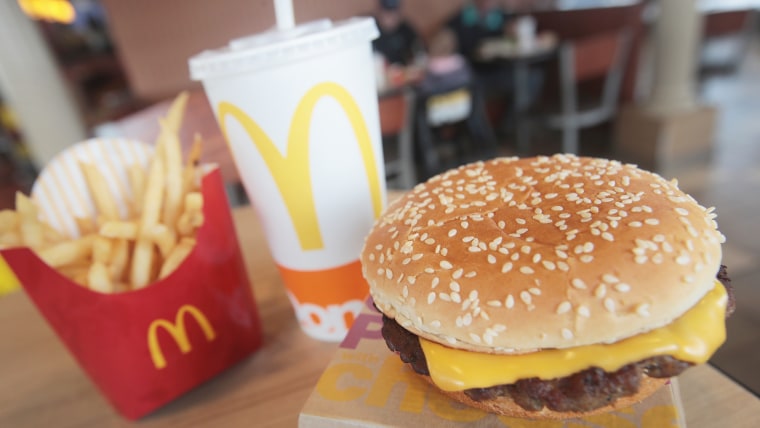 In 1996, McDonald's launched a burger by a similar name — the Arch Deluxe — and it, too, was made with fresh beef, aimed at the more health-conscious, adult consumer. But it turns out adults didn't really seem to care about whether their beef patty was frozen before making it onto the bun. The Arch Deluxe flopped and was dropped from the menu in the late 1990s.
However, new arch rivals (see what we did there?) like Shake Shack are growing in popularity due to their use of fresh beef, so maybe the time is finally right for McDonald's, too?
The new Archburger features a fresh beef patty on a potato-flour bun, with cheese, onion, pickle and "Arch Sauce." The previous Arch Deluxe also had the potato-flour bun and Arch Sauce (a mustard-mayo mix), as well as cheese, onion, leaf lettuce, tomato, but added peppered bacon. McDonald's first announced that they would be adding fresh beef to the menu this year back in March 2017.
"We are conducting a limited test in Oklahoma and look forward to gaining valuable feedback from our customers and crew. We are continuing to raise the bar for our customers with new menu items and ways to experience our brand," a representative for McDonald's told TODAY Food over email. So far, the test is just limited to the Oklahoma locations.
Last year, McDonald's saw a whole lot of back and forth with various menu items, including the surprise return (and disappearance) of their cultishly-popular Szechuan dipping sauce; their new buttermilk chicken tenders were introduced but disappeared quickly after demand exceeded supply — and now, seem to have appeared again. The much-loved McDonald's dollar menu, also gone, has recently reappeared in the form of a $1-$2-$3 dollar menu.
McDonald's has already been making moves to appeal to more health-conscious consumers, too, including adding lower-sugar, organic apple juice as a kid's meal option and shrinking the fry portion in Happy Meals.