You know how sometimes, when you're sopping up sandwich drippings with a french fry, you just wish there was a utensil that made it easier?
Yeah, us neither. But that's exactly the point of McDonald's new french fry-fork hybrid, aka the "Frork," a tongue-in-cheek gimmick of a utensil that the fast-food giant is giving away on May 5 to customers who purchase one of three new sandwiches. Think of it as an adult Happy Meal prize.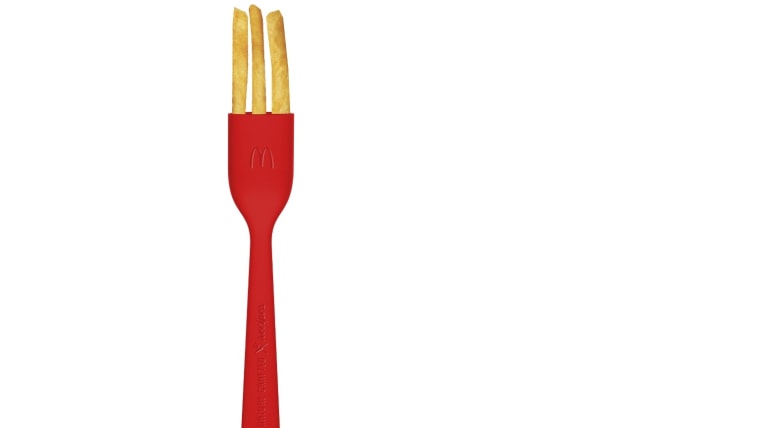 The red silicone utensil has three holes into which one can insert real french fries, so that the fries stand in as the fork's edible "prongs." Then, the diner can carry on, scooping up wayward condiments and eating them with the "Frork."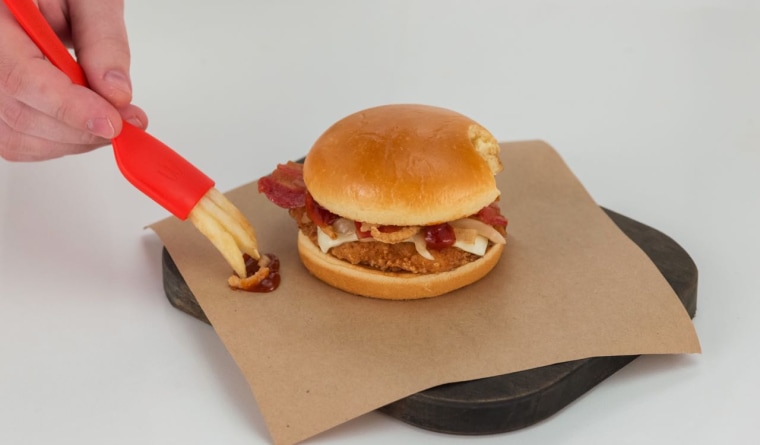 McDonald's knows this is totally ridiculous and is on the joke — they introduced the Frork this week with a YouTube video starring Anthony Sullivan, the infomercial pitchman extraordinaire.
RELATED: McDonald's is phasing out the best drink from your childhood
"The topping dropping... Wait. Is this a real problem? Probably not. But good news: We solved it anyway!" he deadpans in his British accent on the video.
But wait, there's more.
There's even a toll-free number diners can call — 844-MCD-FRORK (844-623-3767) — to get more information about how to get a Frork.
We called. A recording of Anthony Sullivan answers it ("Yes, it's really me!" he says), which is kind of worth in itself, and here's what we learned:
- On May 5, select McDonald's nationwide will be giving away Frorks with the purchase of a Signature Crafted Recipes sandwich, while supplies last. (You can call that number above or visit McDonalds.com to find your closest participating restaurant.)
- From May 4 to 8, participating McDonald's will also be giving away a free medium fry and soft drink with the purchase of a Signature Crafted Recipes sandwich. (But remember, the Frork is only on May 5.)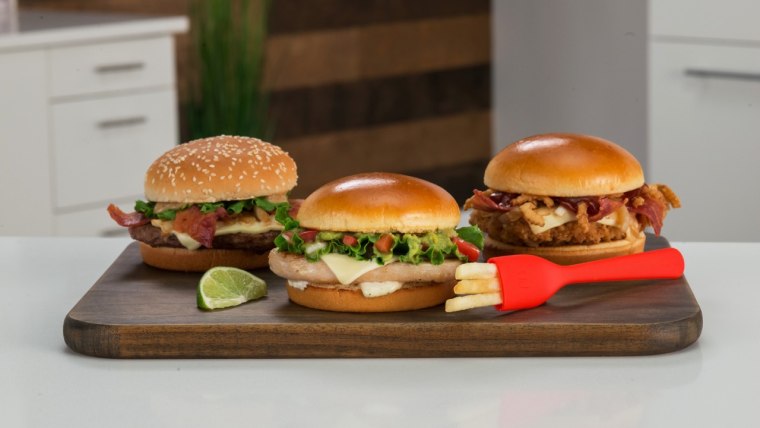 What is a Signature Crafted Recipes sandwich you ask? OK, McDonald's, we'll take the bait.
Well, the new line of sandwiches is kind of like a mix-and-match game: Customers can pick their bun, protein patty (beef, grilled chicken or crispy chicken), and then one of three topping combos. They are:
- Pico Guacamole: white cheddar, guacamole, pico de gallo, lettuce and buttermilk ranch sauce; served with a fresh lime wedge
- Sweet BBQ Bacon: grilled onions, thick-cut Applewood smoked bacon, white cheddar, BBQ sauce, and a crispy onion topping
- Maple Bacon Dijon: grilled onions, thick-cut Applewood smoked bacon with maple seasoning, white cheddar, lettuce and a creamy Dijon sauce
The Frork is reminiscent of the STRAW, a snorkel-shaped straw that McDonald's introduced this winter to promote the new layered chocolate Shamrock Shakes.
Any guesses as to what the chain's next cockamamy hybrid utensil might be?