McDonald's just brought back some major retro feels with their new jingle celebrating the Egg McMuffin.
And they're offering free breakfast for a year to a few lucky people who respond to the new jam on social media.
In an era where commercials' trendy lyrics and robotic remixes are beginning to blur together, McDonald's created a catchy little jingle to honor 45 years of fast food's most recognizable breakfast sandwich.
"The Sounds of Breakfast" (no, it's not written by Simon and Garfunkel) was created in partnership with Songwriter's Hall of Fame member Roger Greenaway, who wrote the famous "I'd Like to Buy the World a Coke" song.
A McDonald's spokesperson told TODAY Food that the new jingle was written to make listeners feel like they're about to enjoy a fresh breakfast — with the very audible cooking sounds of cracking of an egg, sizzling of ham and scraping of butter on toast playing throughout. Aside from the culinary soundtrack, simple lyrics like, "Canadian bacon is sizzling away, a freshly-made Egg McMuffin is on the way ... Wake up, wake up!" help set the tone for the jazzy tune.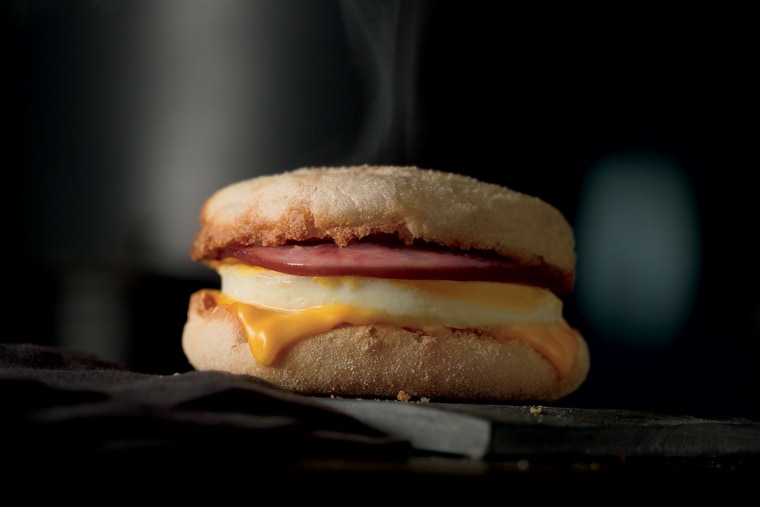 If you're already craving a breakfast sandwich, you're in luck because most McDonald's locations serve breakfast all day.
But if you're looking for a real deal, McDonald's is going one step further with a new promotion. The golden arches chain has partnered with social media influencers to promote the video and give followers a chance to win free breakfast for a year. Some of the sweepstakes ended Sunday, but if you're pining for free food (who isn't?) check out Cassie Diamond's Instagram for rules. Her contest ends Friday, May 25, and 10 runner-up winners will win a vinyl album.
Participants can also enter by checking out the fast food chain's Instagram, Twitter or Facebook accounts, and leave a comment with their favorite Mickey D's breakfast item on their jingle post. And don't forget to tag a friend.
While eating fast food every day of the year may not be the healthiest choice in the world (even if it's a burger with kale), the contest is one of the chain's biggest in recent years.
McDonald's has also been making attempts to create healthier options for diners, from using fresh, never-frozen beef in its Quarter Pounders to removing the cheeseburger from its Happy Meal menu. They even tested a vegan sandwich in Finland last year, though there are no plans to bring it stateside just yet.
Egg McMuffins will have to suffice for now.