Think you're getting a deal just because the word "value" is in the product name? Think again.
It may be easier to just blurt out "I'll take the Extra Value Meal," when cruising through a McDonald's drive-thru, but if you're trying to save a little coin, slow down and consider ordering your meal a la carte.
Kelly Killeen was expecting a less expensive meal when she ordered a sausage breakfast burrito Extra Value Meal at a Chicago-area McDonald's in 2017. But when she did the math after her $5.08 purchase, she realized she would have saved 11 cents if she'd ordered the items individually.
And that little change caused some major upset.
According to the Associated Press, Killeen, alleging that she had been deceived by the chain, then filed a class-action lawsuit on the grounds that McDonald's was misleading customers by using the words "extra value" to describe meals that cost more than the individual items.
After 14 months, Judge Elaine Bucklo dismissed the case, ruling that prices are labeled on the menu, The Chicago Daily Law Bulletin reported Monday. If diners choose not to read the menu in full, it's on them, said the federal judge.
"Indeed, anyone familiar with fast-food restaurants such as McDonald's surely knows that prices are typically displayed on menus located near the registers," Bucklo wrote in her decision.
"Understandably, plaintiff may not have wished to take the time to compare prices, but there is no question that doing so would have dispelled the deception on which her claims are based."
Maybe the case will encourage customers looking for a deal to read the fine print before ordering.
One tweeter wrote that she, too, has been "fooled" by the price of a sandwich.
Another tweeter in Akron, Ohio, noticed the price of her drink went up when it was part of the Value Meal.
While the menu prices do vary at McDonald's locations across the country, when it comes to breakfast, the better deal appears to be the combined total of solo items, rather than the advertised meal "deal."
The two sausage breakfast burritos Extra Value Meal costs $5 on Delivery.com in New York City. It comes with two breakfast burritos, a small coffee or tea and hash browns and costs $5.
But a la carte? Two sausage breakfast burritos cost $2, hash browns cost $1.50 and coffee and tea cost $1 to $1.30, for a grand total of $4.50 to $4.80.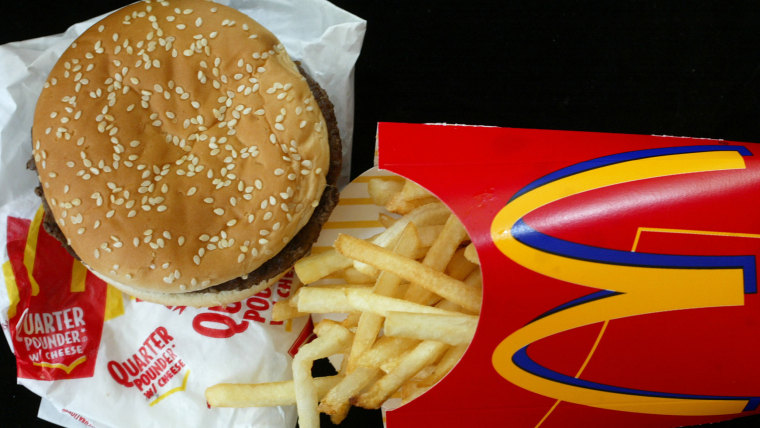 But things look a little different for lunch and dinner items.
The basic Big Mac Extra Value Meal, which comes with a Big Mac burger, a choice of a medium beverage and medium fries is $8. On its own, the Big Mac sandwich costs $5, a medium fountain soda costs $1 and medium fries cost $2.50, totaling $8.50. So that "Extra Value" adds up to a whopping 50 cents.
Of course, if the Value Meal deal isn't good enough, there's always the new $1-$2-$3 dollar menu.
A representative for McDonald's was not immediately available for comment.