If your child wants a Happy Meal with a cheeseburger, soon they'll have to make it a special order. McDonald's says it's ditching the cheeseburger from all Happy Meals in the U.S. starting in June in an effort to reduce calories in each meal to under 600.
That leaves just the hamburger and four- and six-count Chicken McNuggets on the official kids' menu.
Folks on Twitter aren't taking too kindly to the change:
In addition to reducing calories, McDonald's is working to improve nutritional guidelines for the Happy Meals that it promotes on menus in 20 major markets, including the U.S., by 2022. These guidelines include offering foods with no more than 10 percent of calories from saturated fat, 650 milligrams of sodium and 10 percent of calories from added sugar.
As a result, the soon-to-be-gone cheeseburger isn't the only change coming to the Happy Meal. McDonald's will switch the small size french fries that come with the six-count Chicken McNuggets Happy Meal to kid-size fries.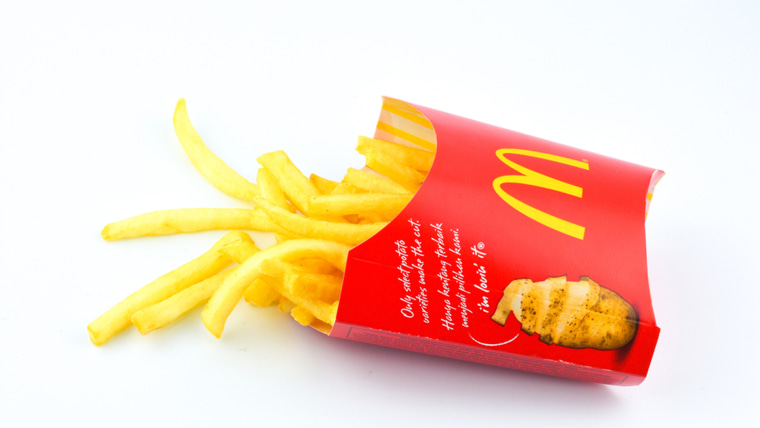 The fast food chain says it's also focusing heavily on drinks and will temporarily remove chocolate milk from the menu while they reformulate it to reduce the amount of added sugar. In December, McDonald's began serving Honest Kids Appley Ever After organic juice that has half the sugar and 45 fewer calories than the previously offered 100 percent, pure apple juice selection. You'll also start to see bottled water as a drink option on Happy Meal menu boards later this year.
In 2013, McDonald's USA began the transition to a healthier menu, removing soda from Happy Meal menu boards. Now, McDonald's says that more than half of the Happy Meals ordered in the U.S. now have water, milk or juice as the drink choice.
"Today's announcement represents meaningful progress to impact kids' calories, saturated fat, sodium and added sugar in Happy Meal bundles as offered on menu boards—and to promote more water. This sets a high bar, and we hope other industry leaders will follow suit," Dr. Howell Wechsler, chief executive officer of Alliance for a Healthier Generation, which is partnering with McDonald's, said in a press release.
McDonald's is also testing a fresh (never frozen) beef burger at several Oklahoma locations and recently tried a vegan burger in Finland, both targeting more health-conscious consumers.
Of course, the cheeseburger isn't disappearing altogether. It will remain a staple at McDonald's and is available for just a buck as part of the chain's revamped Dollar Menu. It totals 300 calories and 12 grams of fat versus the hamburger, which has 250 calories and 8 grams of fat. Perhaps adults looking to cut back on calories can skip the cheese on their next McDonald's run, too.