Move over, Bitcoin! There's a new global currency coming to town and it's something people can see, feel ... and turn into a Big Mac! If you've been craving coins stamped with a burger, it's time to collect.
On Thursday, McDonald's will launch its most recent innovation: The MacCoin. This universal "food currency" is being launched to honor the Big Mac's 50th birthday and can be used in 50 different countries to score a free Big Mac.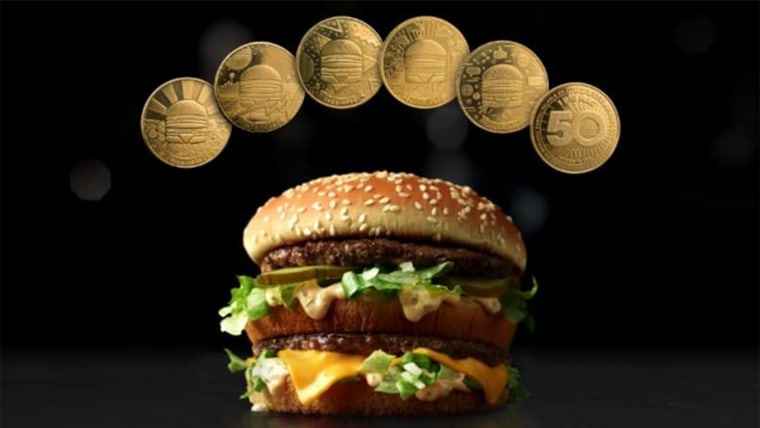 Mickey D's has come up with some wild promotions in the past, including a catchy jingle for breakfast lovers and a Twitter contest with a $12,500 diamond "Bling Mac" ring prize. Unlike that bejeweled Big Mac, MacCoins will be a bit more attainable ... with more than 6 million being released worldwide.
Starting at lunchtime on Thursday, customers who purchase a Big Mac will receive a free MacCoin at participating locations in the U.S. The coins can then be redeemed for a free sandwich starting on Friday. They'll be valid through the end of the year at any participating location in the world.
So far, it looks like some vegatarians even want a bite of the coin collection.
McDonald's is offering the new food currency in honor of The Big Mac turning 50 this year — so it's sort of like a universally-distributed birthday party favor. The chain's signature burger was originally created by entrepreneur and McDonald's franchise owner Jim Delligatti who dreamed up the double-patty burger topped with special sauce, lettuce, cheese, pickles and onions in Uniontown, Pennsylvania. It was launched onto the national menu in 1968. Aug. 2 was also Delligatti's birthday (he passed away in 2016) but his family will also be celebrating his memory, according to a company statement.
There will be five different MacCoins, with each representing the last five decades of the burger. The first coin is decorated with flowers to represent the period of "flower power" in the years it was first invented. Other MacCoins allude to pop art in the 1980s and "bold, abstract" shapes like a pair of Mario Lopez's favorite A.C. Slater pants from the 1990s. The fifth MacCoin shows off the technological boom and is also stamped with emojis.
According to a McDonald's spokesperson, the inspiration to create these coins came from the "Big Mac Index," which The Economist began using in 1986 to "measure the purchasing power of international currencies every year." Creating a coin to represent the longevity of the popular burger seemed only fitting.
But don't worry about missing the chance to snag a MacCoin on Thursday. The fast food chain is still offering $1 Big Macs on its mobile app through the end of September.