Chef and TV show host Kelsey Nixon visits the TODAY Food team to talk about a major upgrade to the standard cheese plate: the snack board. She reveals her expert tips, tricks and techniques for putting together beautiful and delicious boards for any party — or even for weeknight dinners. She also shares a few of her own fabulous snack combinations.
Snack boards are a fun and easy way to make a big impact, whether you're planning a casual weeknight dinner or something as celebratory as a New Year's Eve party. Since they're mostly composed of prepared foods, store-bought items and pantry staples, snack boards are a good option for budget friendly family dinners. They also make great use of leftover foods, like roasted vegetables, grilled meats or almost anything you have hanging out in your fridge.
Making a successful snack board requires some strategy, but once you understand the concept, it's easy to pull together. Here are my top tips for making the ultimate snack board.
1. Don't go overboard with your board.
The best snack boards are composed of hearty bits and bites, but there's no need to have dozens of items cluttering your board. Start off with five main items, even if you're making a snack board for a crowd. Arrange the items on a board, tray, cookie sheet or plate, using larger amounts for larger groups. Replenish the board as food disappears.
2. Balance your board.
When making your board, choose foods that are good at room temperature to make sure things can last the length of your meal or party. I recommend including one of each of the following:
A healthy item: Always include vegetables and/or fruit. Snack boards are about balance and the ability to make a complete meal out of easy snacks, so it's important to include nutritious items.
Meat: Unlike a traditional charcuterie board, the meaty options for a snack board don't have to be preserved, smoked or cured. You can include items like chicken, cold cuts or meatballs.
Cheese: Traditional cheese boards usually feature a few exemplary cheeses. Snack boards, however, may include cheese, but it shouldn't be the star of the board. And it doesn't have to be terribly fancy; your everyday Swiss makes the cut with ease, as does cheddar or Monterey Jack.
Dip: Including a dip is essential. A dip helps bring seemingly unrelated items together on a snack board. No need for an elaborate homemade dip: Greek yogurt, vinaigrette or store-bought hummus are all great unifiers. Having crunchy crackers alongside creamy dips adds to the fun.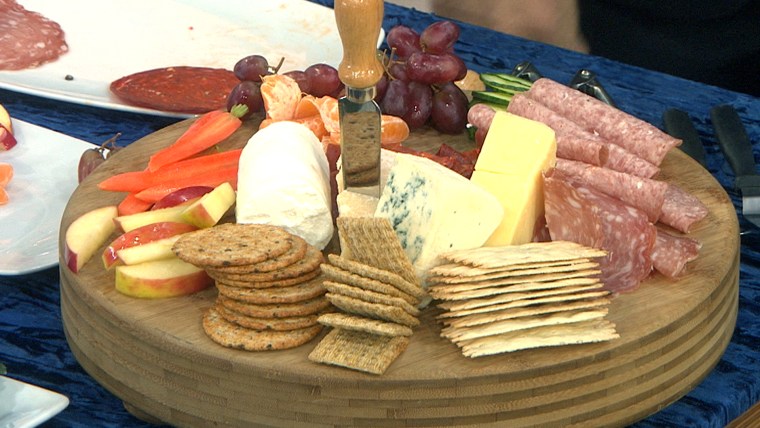 3. Keep it simple.
Cooking isn't required, so if you do make something, keep it simple. This whole fuss-free endeavor should only take 15 minutes to throw together. To make composing a board manageable, place the emphasis on what you can pull from your pantry or buy from the grocery store. Spend your time on shopping for items, prepping the ingredients and organizing your board in an artistic way.
4. Don't forget design.
We eat with our eyes first, so think about color and texture when assembling your board. A board full of the same color won't draw people in. And a board full of the same texture won't keep them interested. Try to have an item or two that brings a pop of color, whether it's veggies or sliced hard-boiled eggs.
5. Tailer your board to the occasion.
Consider the occasion when choosing items for your board. It's easy to add a little extra flair without going overboard for special events. You can easily upgrade your board with just a few fancy items like smoky salt, Marcona almonds and/or a nice jam or honey. For more casual occasions, use simpler foods. The most important thing is that they taste good together and are attractively arranged.
Try some of my favorite combos for your next get together:
Modern Charcuterie Snack Board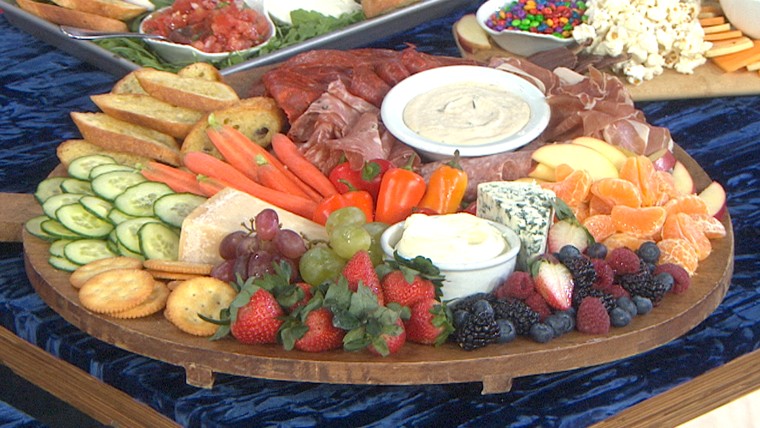 Cured meats: Pepperoni, salami, sopressata or prosciutto
Cheese: Parmesan, aged white cheddar, blue cheese or goat cheese
Fruits & veggies: Grapes, berries, apples, carrots or baby bell peppers
Dip: Hummus or Greek yogurt drizzled with honey
Bread: Crackers and sliced bread
Bruschetta Bar Snack Board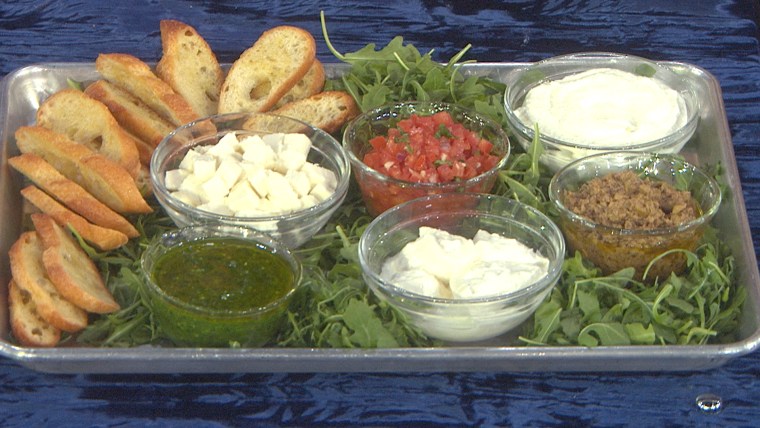 Bread: Mini garlic toasts (slices of French bread rubbed with garlic and grilled or toasted)
Vegetable: Tomato bruschetta (homemade or store-bought)
Spreads: Pesto, olive tapenade or bean puree
Dressings: Balsamic vinegar and olive oil
Soft cheeses: Ricotta or fresh mozzarella
Sweet & Salty Snack Board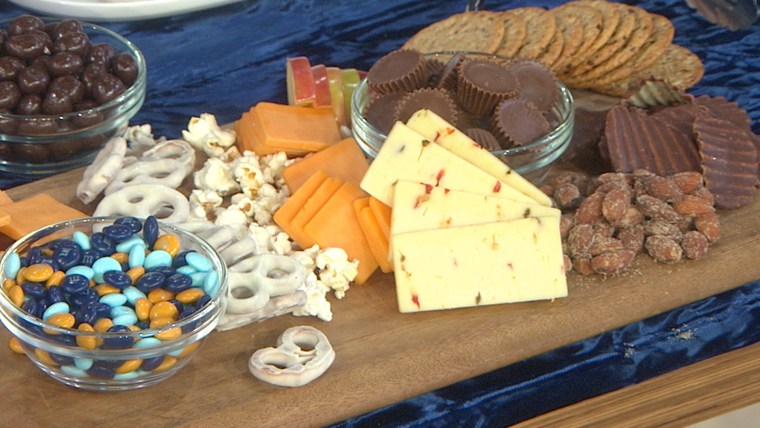 Sweets: Chocolates and candies
Cheese: Cheddar, pepper jack, mozzarella or any "casual" cheese
Bread: Crackers, pretzels and chips (including yogurt covered pretzels and chocolate dipped chips)
Nuts: Smoked almonds
Fruit: Grapes