Martha Stewart appears to be more comfortable in front of the camera than behind it.
The domestic doyenne, whose Instagram game is usually as on point as her ginger-lemon brown sugar tea, riled up her Instagram followers after she posted photos from WSJ. Magazine's Innovator Awards on Monday that had people talking … for all the wrong reasons.
Stewart shared pictures of Lil Nas X, Kim Kardashian, Ryan Reynolds, Formula One champion Lewis Hamilton and fashion designer Kim Jones (among others) at the soiree, but the shots were so blurry and pixelated that people couldn't let her get away unscathed.
"Martha What Phone You Took This With?" one person asked.
"Queen of lighting and angles," someone else joked.
"Why do these photos look like they were taken on an LG Chocolate," another person commented.
"Kim is gonna be asking for this post to be taken down," someone else wrote.
The criticism was so plentiful that Stewart had to chime in after one person offered her some advice.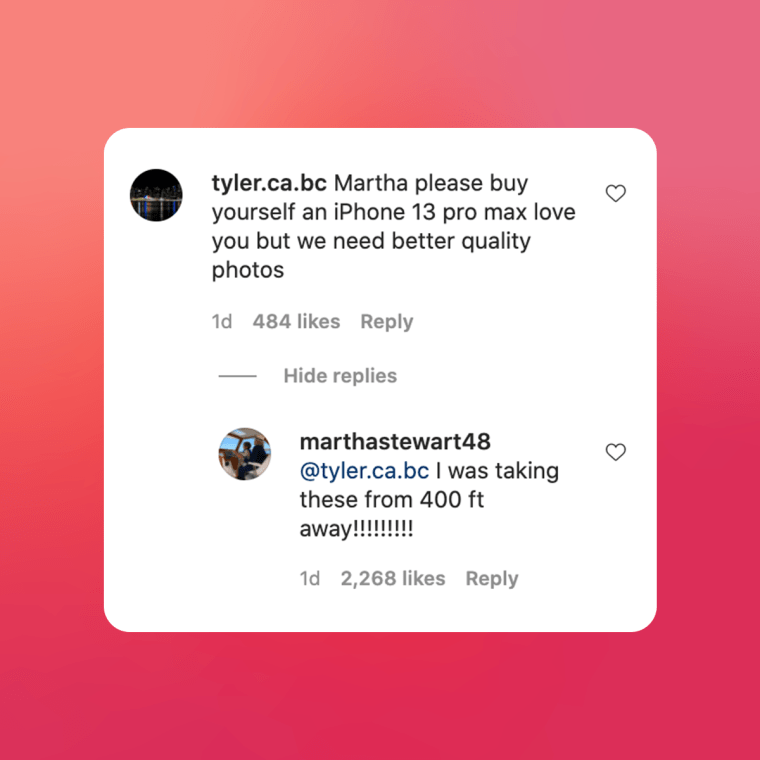 "Martha please buy yourself an iPhone 13 pro max love you but we need better quality photos," the person suggested.
"I was taking these from 400 ft away!!!!!!!!!" she replied, with no shortage of exclamation points.
Getting a response from Stewart made that follower's day.
"lol ok every comment says the same thing tho she always is posting low quality photos and people have been wondering why for a while lol," the person wrote. "tbh I'm going to frame her reply tho because she's a legend."
And while Stewart's picture made her an easy target, not everyone took issue with her.
"Do not change anything Martha. Your posts are appreciated as they are," one encouraging fan wrote.