Mario Batali, the award-winning chef who has faced several allegations of sexual misconduct, will soon no longer be a part of the global restaurant empire he helped found in 1998.
On Sunday, more women provided details about their experiences working with Batali during an interview that aired on "60 Minutes." The alleged victims and witnesses who worked with the chef at The Spotted Pig spoke about several incidents of rape and harassment.
A spokesperson for the New York City Police Department confirmed to NBC News that a criminal investigation of Batali had been launched over the weekend.
After the interview aired, Batali & Bastianich Hospitality Group (commonly referred to as B&B Hospitality or B&BHG) released a statement calling the women's accounts "chilling and deeply disturbing."
"Our partnership with Mr. Batali is ending. We have been actively negotiating with Mr. Batali to buy his interests in the restaurants, and he and Joe Bastianich have signed a letter of intent that sets forth the broad terms to do so," the statement said.
It continued, "We expect to have the final terms set by July 1, and that Nancy Silverton, Lidia Bastianich, Mr. Bastianich, and other current investors will participate in the acquisition."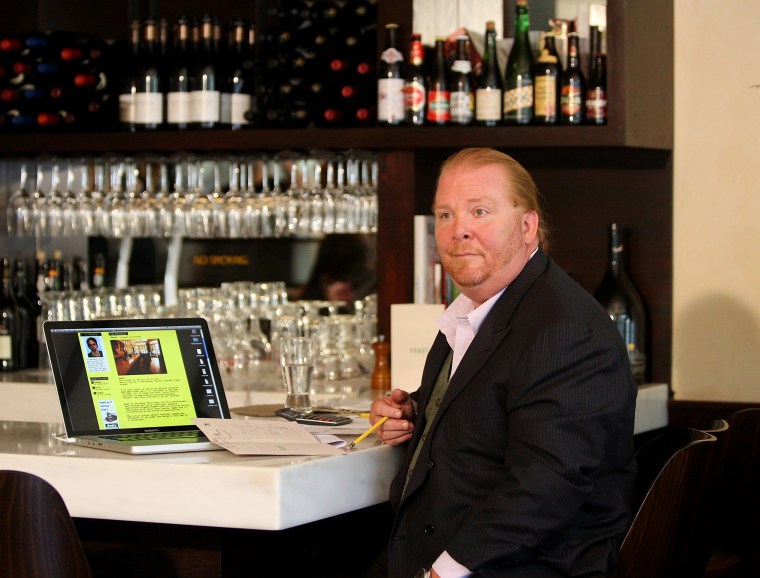 The restaurant group Batali co-founded spans several states and countries including Italy, Singapore and Hong Kong. Together with Joe Bastianich and Lidia Bastianich, B&BHG operates more than two dozen establishments — including restaurants, wine shops and franchises of Eataly marketplaces in New York, California, Nevada, Missouri, Connecticut, Massachusetts, Illinois and Pennsylvania.
Chef Nancy Silverton, the Bastianich family and other current investors will participate in the acquisition of Batali's shares, with Silverton and Lidia Bastianich heading "business-wide leadership roles and responsibilities."
Since initial sexual misconduct allegations surfaced in December, Batali's restaurant empire has been facing major changes. Batali did not deny the allegations against him, announced he'd step away from the day-to-day operations at his restaurants and issued an apology — along with a recipe for cinnamon rolls that left many offended.
Batali's television career also came to an immediate halt following the reports. He was fired from ABC's "The Chew" and the Food Network, where he often made appearances with Giada De Laurentiis. De Laurentiis considered Batali a mentor but recently revealed she was not surprised by the accusations brought against him.
As B&BHG prepares to totally shift away from having Batali at the helm, the company says it will focus on providing equal opportunities for all of its employees, fight discrimination and continue to offer premium food and dining experiences for guests.