Mario Batali is not the first celebrity chef to face a major scandal (see Paula Deen). Nor is he first big name in the food world to find himself at the center of a sexual harassment scandal in recent weeks (see John Besh).
What is unique to Batali's case, however, is how large his empire really is — and how much he has to lose in the wake of a series of damaging accusations.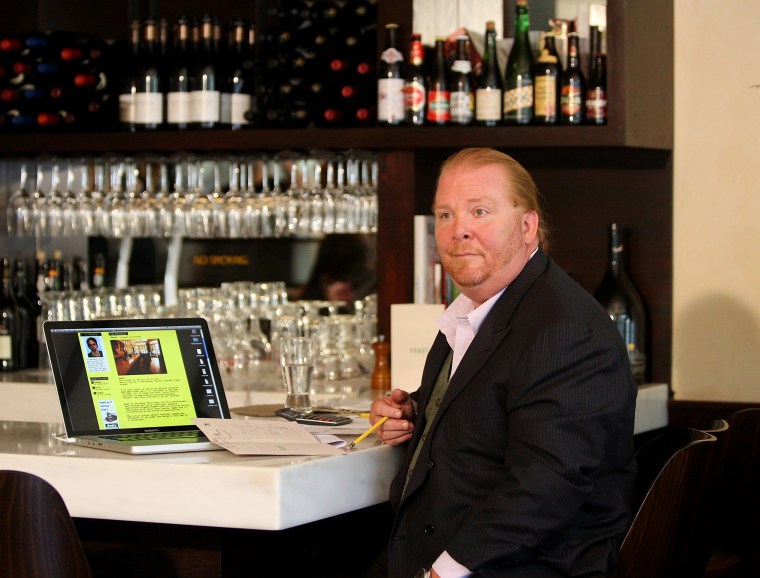 On Monday, food site Eater broke the news that Batali, 57, would step away from his restaurant business, following several sexual misconduct allegations spanning two decades.
While many think of Batali as a New York City chef, the restaurant empire he co-owns spans several states and four countries. Together with Joe Bastianich and Lidia Bastianich, the Batali & Bastianich Hospitality Group operates more than two dozen establishments — including restaurants, wine shops and franchises of the Eataly mega marketplaces in New York, California, Nevada, Missouri, Connecticut, Massachusetts, Illinois and Pennsylvania. Batali even has an international presence with outposts in Italy, Singapore and Hong Kong.
B&BHG employs more than 1,000 people, and reported annual revenues of $250 million in 2012. The site Celebrity Net Worth estimates his personal current net worth at $25 million. (By comparison, the site estimates Deen's at $14 million.)
The restaurant group did not immediately respond to TODAY Food's request for comment, though Joe Bastianich issued a statement to Eater New York, saying "Right now, I'm just focused on making sure our more than 1,000 employees continue to have a safe and productive work environment."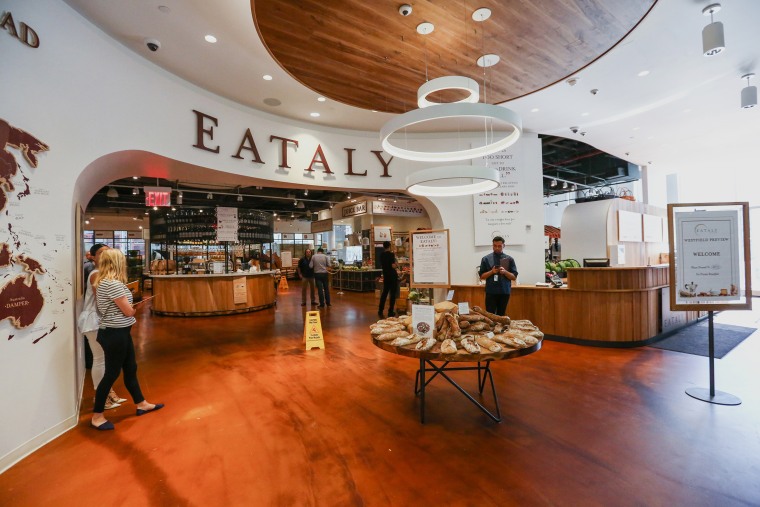 In addition to owning nearly 30 restaurants, Batali co-stars on ABC's "The Chew" daytime talk show and recently wrapped production on a reboot of his Food Network show, "Molto Mario."
His once-thriving television career now finds itself at a standstill.
"We have asked Mario Batali to step away from 'The Chew' while we review the allegations that have just recently come to our attention. ABC takes matters like this very seriously as we are committed to a safe work environment," an ABC spokesperson told TODAY Food in a statement. "While we are unaware of any type of inappropriate behavior involving him and anyone affiliated with the show, we will swiftly address any alleged violations of our standards of conduct."
Food Network is taking a similar stance. "Food Network takes matters like this very seriously and we are putting relaunch plans for 'Molto Mario' on hold," a Food Network spokesperson told TODAY Food in a statement.
In 2013, Food Network swiftly dropped Southern cuisine queen Paula Deen, after she admitted to using racist language in a legal deposition. Deen continues to sell items online and through shopping network Evine but has not hosted her own show on a major channel since being dropped from Food Network four years ago.
"Certainly his television career, for the foreseeable future, is toast. I think there are no magic words that undo this type of behavior," Richard Levick, chairman and CEO of LEVICK, an international public relations and crisis management firm, told TODAY Food.
"He, as an icon, does not survive this. But his restaurants will," Levick added, recommending that the group focuses on excellent food, rather than his individual brand. One day after Eater's store broke, the site reported that Batali's New York City restaurants have been "scrubbed of his face," with his cookbooks gone from shelves, "but otherwise business as usual."
"Male executives need to understand: Sexual predation is not a perk of high office," Levick said. "The bullying behavior is being forced to stop."
But reactions to the news did not register much shock in the chef world. Celebrity chef Anthony Bourdain, who recently apologized for the "meathead culture" in that dominates modern professional kitchens during an appearance on "Late Night with Seth Meyers," tweeted:
Tom Colicchio, of "Top Chef" fame, who recently penned "An Open Letter to (Male) Chefs," reminded the world that Batali's behaviors were well-documented in the 2006 book "Heat," by Bill Buford, who apprenticed in Batali's kitchen at Babbo:
Women have the knowledge and skills to do it all in the culinary world, so why has this culture of harassment persisted for so long in restaurant kitchens?
One can actually trace the roots of the "bro" kitchen culture back to the 1700s, in France, says Deborah A. Harris, associate professor of sociology at Texas State University, and co-author of "Taking the Heat: Women Chefs and Gender Inequality in the Professional Kitchen."
"When you go back to the origins of the occupation, chefs were drafted out the French military," Harris told TODAY Food. "They didn't get a lot of respect early on, so to separate themselves from women—who were doing the same job at home, for free, everyday—they kept women out of professional kitchens. It led to this very 'bro'-ish competitive atmosphere, to prove one's worth in the kitchen."
To compete in the male-dominated industry today, women have to do the work and fit in socially to prove themselves. She added, "All the joking, teasing and sexualized nature is part of the fitting-in process. If you went to a supervisor, who might even be the one doing the harassing, you were seen as someone who couldn't cut it."
As more women move into leadership positions in food, however, they are also making it clear that "certain behaviors are not tolerated," she added.
"It's a lot harder to hide, and there's more at stake—millions of dollars—with the rise of corporate restaurants," Harris said. "We're seeing a change now, because this rowdy environment does not mesh well with the image of trained, professional business people that chefs want to project."