Last week, Mario Batali became the latest high-powered, high-profile male to face accusations of sexual misconduct. Batali, 57, didn't deny the allegations against him, instead issuing an apology and stepping away from his vast restaurant empire.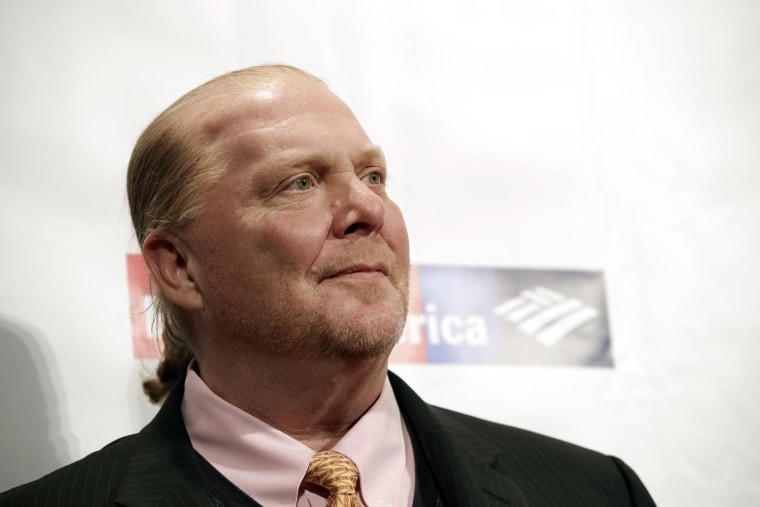 On Friday, he addressed the allegations again in his email newsletter. "As many of you know, this week there has been some news coverage about some of my past behavior," read the newsletter. "I have made many mistakes and I am so very sorry that I have disappointed my friends, my family, my fans and my team. My behavior was wrong and there are no excuses. I take full responsibility."
Many feel the apology should have stopped there. Instead, Batali took the opportunity to expound on his passion for his work ... and plug his recipe for cinnamon rolls.
"Sharing the joys of Italian food, tradition and hospitality with all of you, each week, is an honor and privilege," the note continued. "Without the support of all of you — my fans — I would never have a forum in which to expound on this. I will work every day to regain your respect and trust. ... ps. in case you're searching for a holiday-inspired breakfast, these Pizza Dough Cinnamon Rolls are a fan favorite."
Insert record scratch here.
Batali's cinnamon rolls might be tasty, but many felt that including the recipe alongside his apology note was extremely distasteful.
TODAY reached out to Batali's rep for comment but hasn't heard back.
Batali, who was fired from ABC's "The Chew" on Friday, previously released a statement last Monday in which he apologized to the people he "mistreated and hurt."
"Although the identities of most of the individuals mentioned in these stories have not been revealed to me, much of the behavior described does, in fact, match up with ways I have acted," he said. "That behavior was wrong and there are no excuses. I take full responsibility and am deeply sorry for any pain, humiliation or discomfort I have caused to my peers, employees, customers, friends and family."