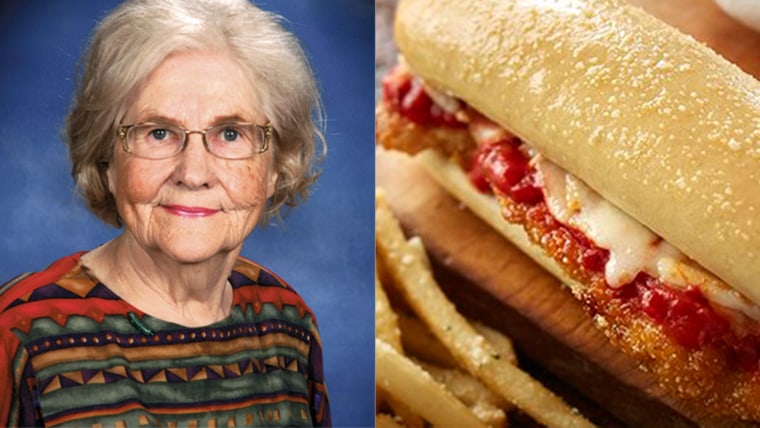 Olive Garden blew the mind of restaurant critic Marilyn Hagerty three years ago in her famous review—but that was before the splashy release of the chain's new breadstick sandwiches. So what does she think of the new menu items?
Perhaps surprisingly, the North Dakota reviewer, who turned 89 last week, gave them a somewhat mixed review in the Grand Forks Herald, calling the buns "kind of big," though she loved the "wonderful thin fries" that came on the side. Her heart, though, seems to belong to the unlimited salad and breadsticks.
For the uninitiated, the Italian-inspired chain recently released a Signature Breadstick Bun Italian Meatball Sandwich and a Signature Breadstick Bun Chicken Parmesan Sandwich, available at lunch, Monday through Friday only, until 4 p.m.
Olive Garden defends unlimited breadstick policy as 'Italian generosity'
Intrigued as always by Hagerty's earnest tone, I jumped in my car and ran out to try the new sandwiches (admittedly happy for the opportunity to ditch my brown-bag lunch—thanks to my editor for that).
Hagerty preferred the chicken parm version, and she is definitely right. The meatballs are a little lackluster, but the chicken parm is as tender as anything you'd get from a neighborhood red-sauce joint. And putting it on a warm, buttery, garlicky Olive Garden breadstick? Pure genius—I'll admit, I am a food snob, but I'll cop to a great idea when I see one, and I am not prejudice against fun food.
But as a reporter, I do admire Hagerty's ethics ("[The manager was] going to treat me to the new creations this week, but he understood when I explained to him that as a news writer I do not accept free food," she wrote), as well as her down-to-earth, inclusive approach.
As much as big-city critics love to take easy shots at the chains—and as much as I pretty much exclusively support independent restaurants—not everyone lives in area lucky to have highfalutin farm-to-table or even mom-and-pop joints, sadly, and Hagerty takes her job of reviewing the available options seriously.
Take this line from her breadstick review: "I don't know about you, Shirley, but I always have enjoyed the skinny breadstick buns with soup and/or salad at Olive Garden. As a matter of fact, we used to route ourselves through Fargo just to get them." If you come from any small town, you know what Hagerty is talking about—you'd be lying if you didn't admit you haven't gone out of your way for those breadsticks at some point.
Marilyn Hagerty reviews the Cronut: 'It's very chewy'
At the risk of ripping off Hagerty's sense of wonder with the chain, I have to say I was blown away that the meatball and chicken parm meals were $6.99 and $8.49 respectively—and they included fries, a salad or soup, andmore breadsticks!
Bottom line: Who ever dreamed up this new sandwich line deserves a giant raise, and quite frankly, I'm aghast that Hagerty isn't a bit more excited about the sandwiches. I don't think I have walked into an Olive Garden in a decade—and I suppose that is the point of the launch.
What do you think, have you tried the new Olive Garden breadstick sandwiches?