While many are wondering how recreational marijuana use will affect the wine industry, one company says both can peacefully coexist ... in the same bottle.
A California winery has created a wine that gives drinkers a buzz, but reportedly has no hangover. How? By infusing the wine with cannabis — which is legal for recreational use in eight states and for medical use in 28 others — and removing the alcohol.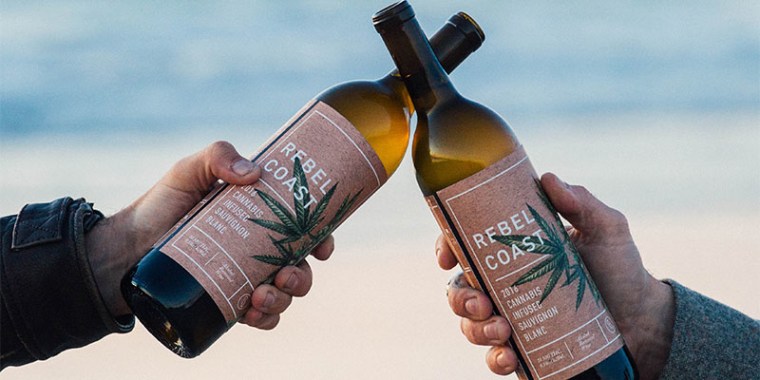 Rebel Coast Winery is taking pre-orders for what it claims is the world's first no-alcohol, cannabis-infused wine, a Sauvignon Blanc that the company's website described as tasting like, well, Sauvignon Blanc.
"It's not a bong water smelling slop, it's actually insanely good. It smells like marijuana and tastes like Sauvignon Blanc," Rebel Coast's website reads. "Because of the marijuana addition, this Sauvignon Blanc has a very herbaceous nose," with notes of "lemongrass, lavender, and citrus." The first batch of orders will ship throughout California beginning in January, once recreational use becomes officially legal in the state. It will then roll out to other states, like Colorado, where recreational use is legal.
Each bottle of wine contains 16 milligrams of THC (tetrahydrocannabinol), the chemical compound in cannabis that causes the high. Each serving has four milligrams of THC, which means you won't be losing your mind in some buddy-movie style comedy adventure from just one glass.
"After one glass, you won't be thinking your couch is a hippo with short legs or anything," the vintners say online. "We set out to mimic the experience you'd find with traditional wine; a couple glasses will put most people in a great place."
Dr. Junella Chin, an integrative medical cannabis physician based in New York City, told TODAY Food that ingesting cannabis is generally safe, but novices should start out at 1-5 milligram servings.
"I would recommend starting off extremely slow and low," she said. "In the case of edibles, take a tiny bite, wait an hour before eating any more. In the case of wine, take a small sip initially and then wait an hour."
Dr. Chin says that ingesting cannabis generally creates a feeling of euphoria, relaxation or sedation —and a stimulated appetite — but taking too much can lead to an increased heart rate, panic and dizziness that is usually short-lived but can feel scary, so eating marijuana-laced edibles and drinking Rebel Coast wine would not be advisable. The key, said Dr. Chin, is not to overdo it and to understand your own tolerance.
"Everyone metabolizes cannabis at a different rate," she said. "Some people feel the effects right away. Since it gets metabolized through the liver, it can take a couple of hours before it hits you."
Because wine and cannabis can't be sold together legally, the company removed the alcohol and is now marketing its bottles as a hangover-free way to imbibe. And it's for good reason.
"It's been found that alcohol significantly increases THC levels in the bloodstream," Dr. Chin explained. "For example, one glass of wine can make cannabis feel 10 times stronger. So the side effects can be magnified when you mix both together."
Rebel Coast also plans to release a cannabis-infused rosé and a sparkling wine next year. Here's hoping hangovers become a thing of the past!