Is a Reese's Peanut Butter Cup still a Reese's Peanut Butter Cup without the peanut butter? One Iowa man didn't think so after he somehow got his hands on one without the creamy, nutty filling.
In April, Alex Hentges of Dubuque posted a photo on the brand's Facebook page of his chocolate only-filled cup with the message, "Yo Reese's what gives? Where's me [sic] peanut butter?"
He even posted a video of the treat to prove it wasn't a Photoshopped fake.
Reese's was quick to respond, saying, "We appreciate you flagging this down, Alex. We want to get some more info." Then they asked Hentges to send them a private message.
Hentges said he was initially told that the company would send him some candy coupons, but he was shocked when a more substantial gift arrived a few days later.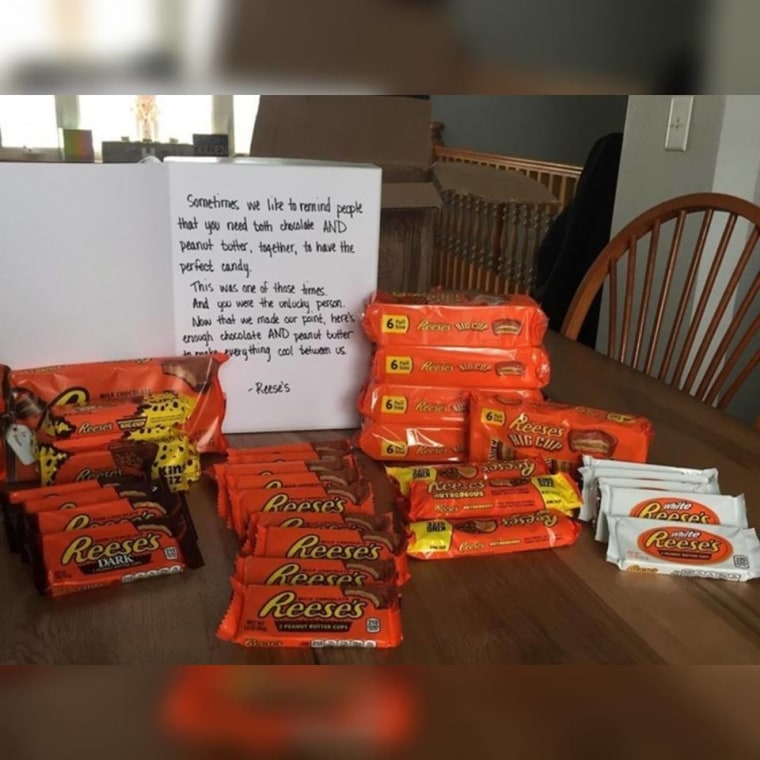 Instead of coupons, Reese's sent him a giant care package filled with all manner of Reese's cups. According to a photo he posted of the haul, Hentges received white, dark and regular cups, along with giant cups. The company also threw in some Nutrageous bars, bringing the whole package to about 5 pounds of sweet stuff.
Apparently, he didn't get some one-off specials like the Reese's Peanut Butter Cups coffee creamer or a Reese's Peanut Butter-filled Krispy Kreme doughnut — but he was still pretty happy.
The package came with a letter from Reese's that read: "Sometimes we like to remind people that you need both chocolate AND peanut butter, together, to have the perfect candy. This was one of those times and you were the unlucky person. Now that we made our point, here's enough chocolate and peanut butter to make everything cool between us."
So how did Hentges' candy end up without its filling?
A spokesperson from Reese's (which is owned by Hershey's) told TODAY Food by email, "We're still not sure how exactly the peanut butter mysteriously vanished, but everyone knows it can't be a Reese's Peanut Butter Cup without the peanut butter, so the brand had to make things right!"
Apparently Hentges wasn't the only one to ever get a no-peanut butter Reese's Cup, though the company said they haven't heard from anyone else yet. One Twitter user claimed she got one:
Wonder if she'll be getting a sweet surprise soon, too?!