After a long night out, many weary partygoers might grab a slice of pizza or try to reheat leftovers in an attempt to satisfy any late night cravings and soak up that booze.
But one diner fan went to pretty extreme measures to get exactly what he wanted from one of his favorite restaurants.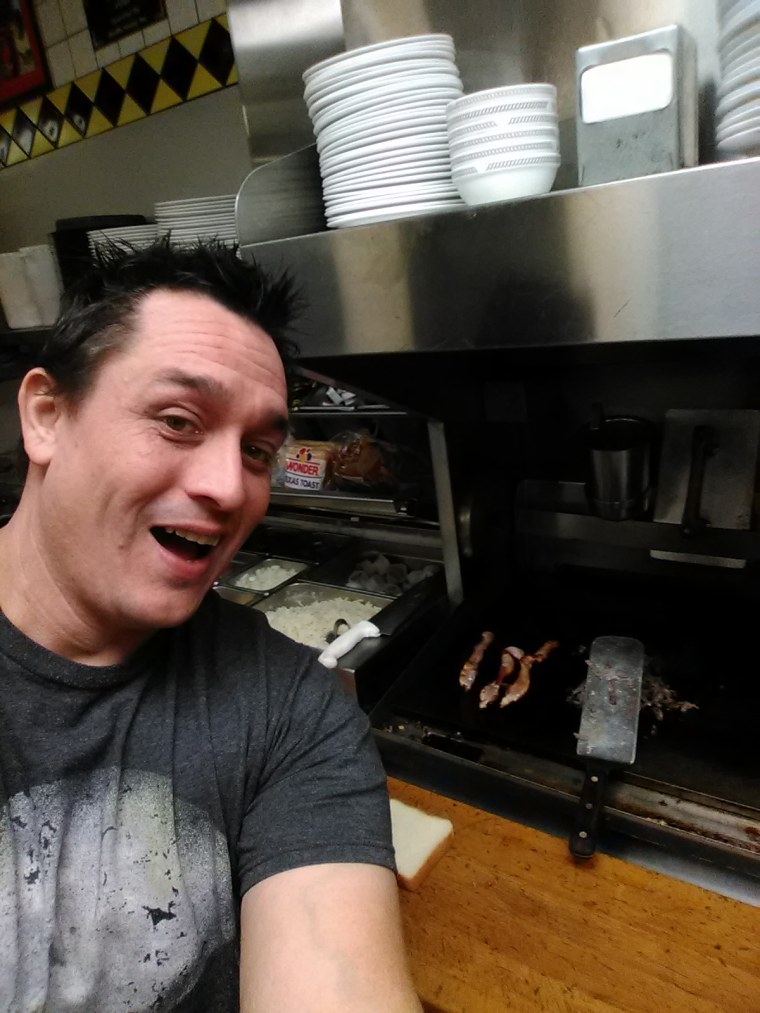 After a recent night out with friends, Alex Bowen, a former army medic from West Columbia, South Carolina, says he was craving a bacon cheesesteak from Waffle House. The diner is open 24/7 so Bowen didn't think he'd have any trouble filling his order.
But when he got to the restaurant, Bowen says he couldn't get any service.
"When I entered, I was surprised to find no one inside and waited for about 10 minutes, no one came, so I walked outside and looked around, still no one, when I went back inside I noticed an employee sleeping!" Bowen told TODAY Food.
So the hungry patron decided to take matters into his own hands — literally. He went back to the kitchen and decided to whip up his very own late night snack.
Bowen, who says he has never taken it upon himself to enter an unmanned kitchen at a restaurant before, told TODAY that he had some experience working in industrial kitchens in the military and during college.
"I knew that delicious Texas bacon cheesesteak melt was a few feet away, so I took a spatula in hand and made it happen!" he said, adding that he had ordered the sandwich so many times, he had a pretty good idea about how to make it himself. Bowen said the finished product "tasted delicious" and "was pretty much how I get it every time, so it tasted just like the sandwich they would have made."
After cooking, Bowen says he even cleaned up the space before leaving with his snack. He didn't leave any money that night but when he sobered up a few hours later, he returned to the restaurant and paid for the sandwich ingredients.
Though the opportunity to raid a diner's kitchen unsupervised seems pretty outrageous — and perhaps something out of every Waffle House lover's fantasy — a Waffle House spokesman confirmed to TODAY Food that the incident did in fact occur.
"We feel our customers receive a better experience when we actually cook and serve their meals. However, we're glad Alex was able to enjoy his Texas Bacon Cheesesteak," Pat Warner, Director of PR and External Affairs for Waffle House, told TODAY. "We've apologized to Alex and have invited him back to eat with us. We also promised him we'd do the cooking the next time!"
Warner confirmed that Bowen didn't exactly break in since all Waffle House locations are open 24 hours a day, 365 days a year.
We get it, cheesesteak is pretty delicious. Still, it may be easier to just make it at home next time.