Expert hostess and crafting maven Martha Stewart is ready for spring. She's joining TODAY to share a few of her favorite recipes, decorations and tips for Easter entertaining from the most recent issue of Martha Stewart Living. With Stewart's vibrant menu items and easy egg decorations, your Easter is sure to be elegant, festive and delicious.
Easter eats
Carrot Cocktails
What better way to start a brunch party than with a classic mimosa? These Carrot Juice Mimosas are a twist on the classic ... not to mention, they're very vivid and festive. Simply take carrot juice, mix with orange juice and top with sparkling wine.
Creative Crudités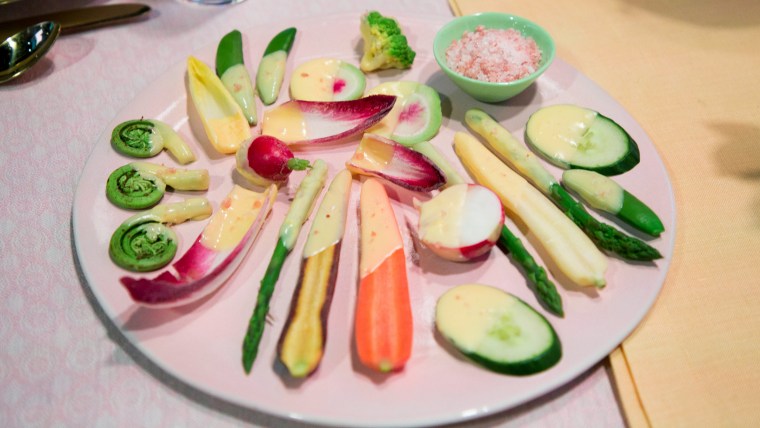 Upgrade your classic crudité with a rainbow of spring vegetables, which are dipped in butter, brightened by lemon zest and finished with a sprinkling of salt.
Edible Easter Eggs
Our mini edible Easter eggs don't crack — they actually melt in your mouth because they are a beautiful combination of goat cheese with roasted spring onions topped with pastel accents of purple chive blossoms and pink peppercorns. Spread them on your favorite cracker.
Egg crafts
Dot and Stripe Stamped Eggs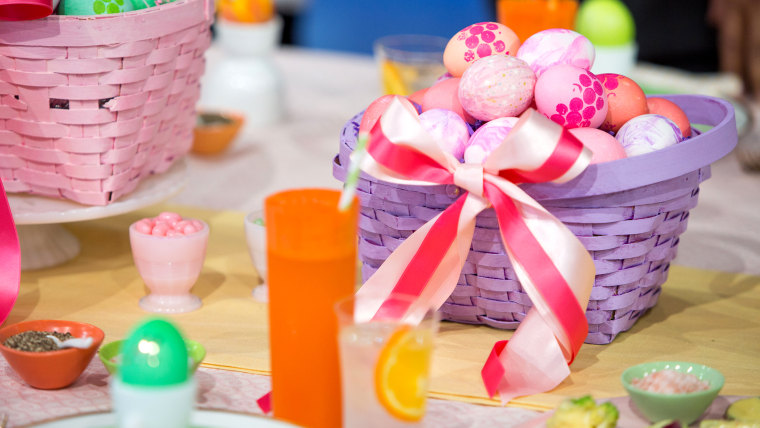 Stamped eggs are fabulous because you can use what you already have at home — bubble wrap and cardboard. Dye the eggs as usual, then, using a foam brunch and acrylic paint, cover the strip of either bubble wrap or cardboard, and carefully roll the egg on the bubble wrap or cardboard piece and you'll have your beautifully decorated eggs!
Dyed Wooden Eggs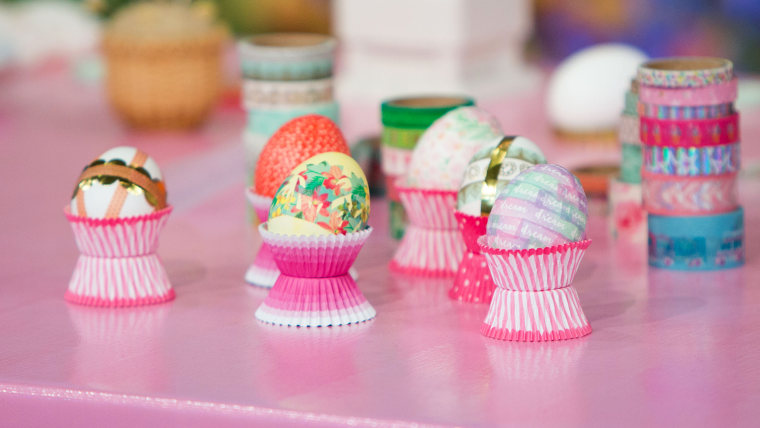 Wooden eggs are so beautiful because the natural grain of the wood is visible through the fabric dye. We love a wooden egg for many reasons — it's easy to dye, can be used year after year and they never go bad! Place these on a beautiful tray and tie a small, fresh flower around each egg for a spectacularly unique look.
Color-Block Painted Wooden Eggs
These eggs are great for hiding in bushes or around the house. We painted hollow, wooden eggs using craft paint and filled them with little toys — they're a great nice alternative to candy. These are fun to mix and match, and you'll want to use them year after year.
You can see the full beautiful holiday brunch spread in the April issue of Martha Stewart Living.