Ever wondered what meals Kris Jenner makes for her family? Now, you'll no longer have to worry because she's got a cookbook, titled "In the Kitchen With Kris: A Kollection of Kardashian-Jenner Family Favorites" and she's sharing recipes: Hearty chicken soup, pumpkin bread, macaroni and cheese and berry cobbler.
Hearty chicken soup
Courtesy of "In the Kitchen with Kris"
Makes 8 to 10 servings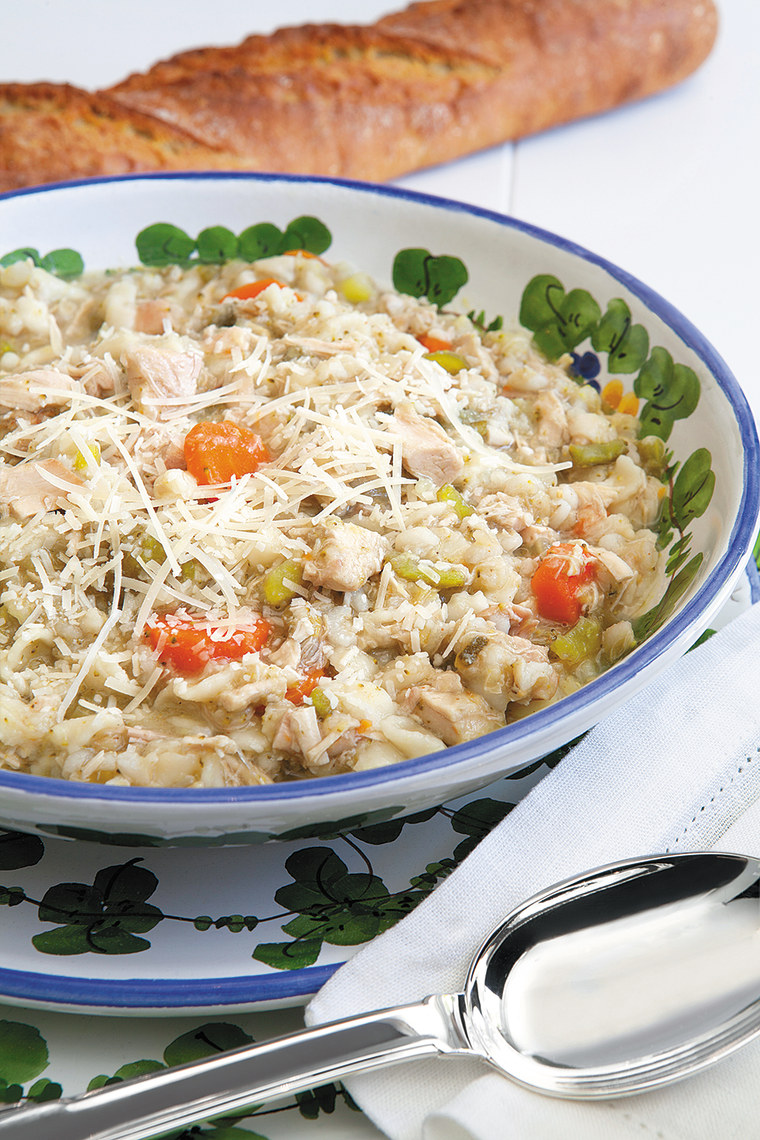 This chicken soup recipe is absolutely my favorite go-to comfort food. It's something that I love to make in the fall when the weather starts to get a little cooler here in Southern California. Kendall, Kylie, and Rob always request this soup when they are feeling sick. It's also one of Bruce's favorites. I serve it with some delicious, crunchy French bread. You will be addicted!
You can save time by making great homemade soup with rotisserie chicken — no messing with raw chicken. Mexican flavor is added with the chili powder and cumin. You can also garnish with tortilla chips to make a Mexican tortilla soup. This recipe is inspired by Cristina Ferrare's recipe.
Stock
Two medium rotisserie chickens
1 medium yellow onion, quartered
1 medium carrot, coarsely chopped
1 medium celery rib, coarsely chopped
Soup
2 medium carrots,cut into 1/2-inch dice
2 medium celery ribs, cut into 1/2-inch dice
3 large scallions, white and green parts, thinly sliced
2 cups bite-size broccoli or cauliflower florets,or a combination
1 medium zucchini, cut into 1/2-inch dice
1 medium squash, cut into 1/2-inch dice
1 teaspoon chili powder
1 teaspoon cumin
1 teaspoon Spike seasoning, or another brand of all-purpose seasoning salt
1/4 cup pearled barley
1 cup pastina pasta
Kim's pumpkin bread
Courtesy of "In the Kitchen with Kris"
Makes 8 servings

Kim doesn't make this recipe, but she's the reason I do. Her birthday is around Halloween so there is always a pumpkin theme happening during that time of year. When she was in middle school, she brought this bread home from an eighth-grade holiday recipe swap. It was fabulous. So fabulous that at Christmas, I make it for my closest girlfriends.
This bread keeps very well, wrapped in plastic wrap, at room temperature. Be sure to use plain pumpkin puree, and not pumpkin pie filling (which has already been seasoned).
Large quick breads like this one are too big to test with a toothpick, so use a long bamboo skewer (the kind some people use for grilling) instead.
Softened butter for the pan
3 1/2 cups all-purpose flour,plus more for dusting the pan
3 cups sugar 
2 teaspoons salt
2 teaspoons baking soda
1 teaspoon ground allspice

1 teaspoon ground cinnamon
1 teaspoon ground cloves
1/2 teaspoon baking powder
One 15-ounce can (1 3/4 cups) solid-pack pumpkin
1 cup vegetable oil
4 large eggs
1⁄3 cup water
1 cup seedless raisins
1. Position a rack in the center of the oven and preheat the oven to 350°F. Lightly butter and flour a 9 × 5 × 3-inch loaf pan, tapping out the excess flour.
2. In a medium bowl, sift together the flour, sugar, salt, baking soda, allspice, cinnamon, cloves, and baking powder.
3. In a large bowl, whisk together the pumpkin, vegetable oil, eggs, and water. Add to the flour mixture and whisk until combined. Do not over mix. Stir in the raisins. Transfer to the prepared pan and smooth the top.
4. Bake until the bread is golden brown and a thin wooden skewer inserted into the center comes out clean, about 55 minutes. Let cool in the pan on a wire cake rack for 15 minutes. Unmold the bread onto the rack, turn right side up, and let cool completely.
Kim's super cheesy macaroni and cheese
Courtesy of "In the Kitchen with Kris"
Makes 6 servings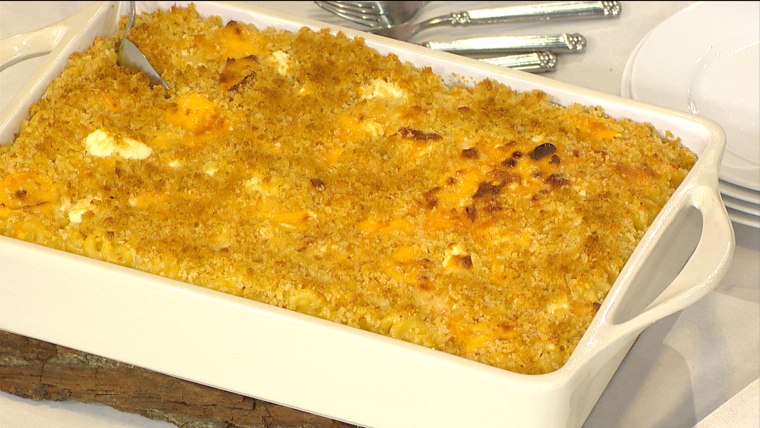 Lately, we've been having monthly dance parties at the Jenner House and you'll never guess who I ask to bring the mac and cheese — Kim. I don't know what she puts in it,but it's fabulous. So fabulous, in fact, I honestly believe it can hold its own against any mac and cheese recipes out there.
I developed my own recipe, inspired by Kim's recipe. I'm proud to say my family loves it as much as Kim's. 
With six different types of cheese, this is a mac and cheese for people who really love the stuff and want a very special version to serve to friends and family.
If you don't have all six cheeses, you can make a really fantastic variation with 8 ounces Velveeta, 1 cup shredded sharp Cheddar, and 1 cup shredded Gruyère.
6 tablespoons (3/4 stick) unsalted butter, plus softened butter for the baking dish
1 pound elbow macaroni
3 tablespoons all-purpose flour
1 tablespoon dry mustard powder
3 cups whole milk, heated
1/2 yellow onion, shredded on the large holes of a box grater
1/2 teaspoon sweet paprika
1 bay leaf
8 ounces pasteurized processed cheese, such as Velveeta, cubed 
1 cup (4 ounces) shredded sharp Cheddar cheese
1/4 cup crumbled goat cheese
1/4 cup shredded Gruyère cheese
1/4 cup shredded mozzarella cheese
1/4 cup freshly grated Parmesan cheese
Kosher salt and freshly ground black pepper
3 large eggs, beaten 
1 cup panko bread crumbs
1. Preheat the oven to 350°F. Lightly butter a 9 × 13-inch baking dish.
2. Bring a large pot of salted water to a boil over high heat. Add the elbow macaroni and cook according to the package directions until al dente. Do not overcook the macaroni as it will soften when baked. Drain well.
3. Meanwhile, melt 3 tablespoons of the butter in a large saucepan over medium heat. Whisk in the flour and the dry mustard. Reduce the heat to low and let cook, but do not brown, whisking often, for 2 minutes. Whisk in the hot milk, being sure the mixture is smooth. Whisk in the shredded onion, paprika, and bay leaf and bring to a simmer over medium heat, whisking often. Raise the heat to medium low and simmer, whisking often, until the sauce is slightly reduced and the consistency of thick heavy cream, about 10 minutes. Remove from the heat.
4. Mix the Velveeta, Cheddar, goat cheese, Gruyère, mozzarella,and Parmesan together in a medium bowl. Add three quarters of the cheese mixture to the sauce. Let stand for 1 minute, then stir until the cheeses melt. Season with salt and pepper to taste. Stir in the beaten eggs and mix well. Add the macaroni and mix well. Spread in the prepared baking dish and top with the remaining cheese mixture.5. Melt the remaining 3 tablespoons butter in a medium skillet over medium heat. Add the panko and stir well. Sprinkle evenly over the macaroni mixture. Bake until the sauce is bubbling around the edges and the topping is golden brown, about 30 minutes. Let stand for 5 minutes. Serve hot.
Berry cobbler
Makes 6 servings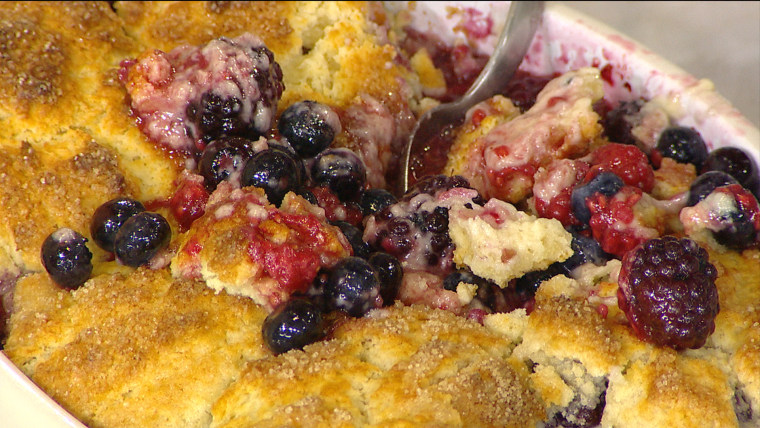 I have been making this dessert since the dawn of time. And I find myself making itmore frequently in the summer months when the berries are so fresh and sweet and delicious.This is great for big groups or if you look up and there are twenty people hanging out at your house because it's so quick to make. As long as I have a basket of berries in the fridge, I can throw this together in 10 minutes. And it holds well. You can keep it in the fridge and pop it in the oven and it tastes as if you have been cooking it all day.This cobbler topping is cake like, thanks to the egg. And there's just enough cornstarch in the filling to help thicken the juices.
Filling
Three 6-ounce containers fresh blackberries
Three 6-ounce containers fresh blueberries
Three 6-ounce containers fresh raspberries
1/2 cup granulated sugar
1/2 cup packed light brown sugar
2 tablespoons cornstarch
1 teaspoon ground cinnamon
Softened butter, for the baking dish
Topping
2 cups unbleachedall‑purpose flour
1⁄3 cup plus 1 tablespoon granulated sugar
1 tablespoon baking powder
1/2 teaspoon salt
1/2 cup (1 stick) coldunsalted butter, cut into small cubes
1 cup heavy cream
1 large egg, beaten
2 tablespoons coarse sugar, such as raw or Demerara
1. To make the filling: In a large bowl, mix together the blackberries ,blueberries, raspberries, granulated sugar, brown sugar, cornstarch, and cinnamon. Making sure not to bruise the berries. Let stand for about 30 minutes.
2. Preheat the oven to 350°F. Butter a 9 × 13-inch baking dish.
3. To make the topping: In a medium bowl, whisk together the flour, granulated sugar, baking powder, and salt. Add the butter and toss to coat with the flour mixture. Using a pastry blender or two knives, cut in the butter until the mixture resembles coarse crumbs with some pea-size pieces of butter. Mix the cream and egg together in a measuring cup. Stir into the flour mixture, just until combined.
4. Pour the filling into the baking dish. Spoon six large dollopsof the topping, evenly spaced, over the filling. Sprinkle with the coarse sugar.
5. Place the dish on a baking sheet and bake until the topping is golden brown and the filling is bubbling, about 40 minutes. Loosely cover the topping with aluminum foil if it browns too quickly. Serve warm or at room temperature.