Kathie Lee is letting people into her home, life and faith through her new book, "The Good Gifts: One Year in the Heart of a Home." In it, she chronicles the 20th anniversary of life in the Giffords' home with recipes, memories and scripture. Some of those recipes are Buffalo chicken chili and Berkshire Iced Tea from Joy Bauer, TODAY's nutrition and health expert.
Buffalo chicken chili
Makes 4 servings
Calories: 330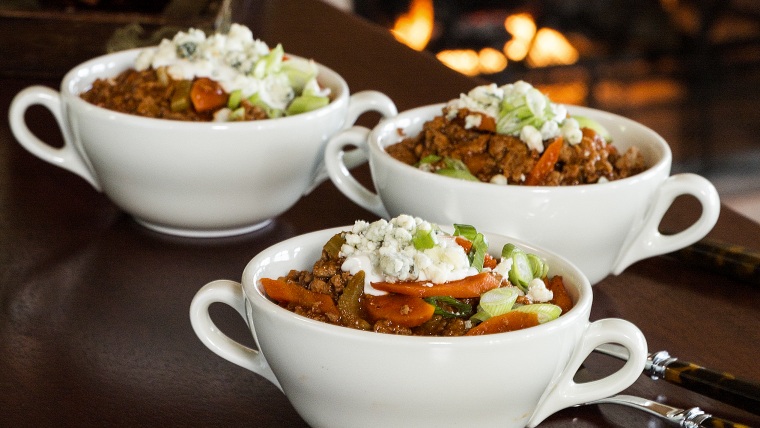 Ingredients:
Cooking oil spray

6 carrots, peeled and sliced into half-moons

6 stalks celery, sliced

6 cloves garlic, minced

2 pounds ground chicken (99% lean)

2 tablespoons chili powder

2 tablespoons all-purpose flour

4 cups low-sodium vegetable or tomato juice

1/4 cup hot sauce (see Note)

Plain non-fat Greek yogurt or light sour cream (optional)

Chopped scallions (optional)

Whipped blue cheese topping (optional), recipe below

Liberally coat a large pot or Dutch oven with oil spray, and preheat it over medium-high heat. Add the carrots and celery and sauté, stirring occasionally, until tender, about 10 minutes; add water, a tablespoon at a time, as necessary to prevent scorching.
Add the garlic and sauté for 1 minute. Add the ground chicken, reapplying oil spray if necessary. Sauté, stirring continuously and breaking the chicken into small pieces, for 5 minutes or until cooked through. As the chicken cooks, continue scraping the bottom of the pan with a wooden spoon to dislodge any large bits.
Sprinkle in the chili powder and flour, and stir quickly to distribute them evenly. Immediately add the vegetable juice and hot sauce, and bring to a boil. Reduce the heat to low and simmer, partially covered, stirring occasionally, for about 20 minutes.
Ladle the chili into serving bowls and serve with desired toppings.

Note: The amount of hot sauce you use will depend on the brand you select as well as your (and your family's) own personal tolerance for spicy foods. I advise adding 1/4 cup hot sauce to start with, then tasting the chili and adding more from there if you find it too mild.
Whipped Blue Cheese Topping: In a small bowl mash together 1/4 cup blue cheese crumbles (at room temperature) and 1/4 cup light/nonfat sour cream or nonfat plain Greek yogurt. Dollop on top of chili before serving.
Berkshire Iced Tea
Makes 1 serving
Calories: 100

Ingredients:

1 lemon-ginger tea bag

8 ounces boiling water

1/4 cup 100% grapefruit juice

1 tablespoon vodka

1 tablespoon rum
1-2 tablespoons chopped mint (optional)
Place a tea bag in boiling water and steep for 5 minutes. Remove the tea bag and allow to cool in fridge.

Once cool, add grapefruit juice, vodka and rum, plus chopped mint (if desired). Stir, add ice and enjoy.

Note: Nix the vodka and rum for a tasty non-alcoholic drink that's only 25 calories.