Oil and vinegar dressings are a dime a dozen, but a salad dressing that's chock full of nuts? Now that's a dressing worth making at home – and good way to skip preservatives and unnecessary ingredients. Walnut and miso dressing, a classic Japanese preparation that's typically paired with green beans gets a refreshing kick from freshly grated ginger juice. The dressing is two parts walnut meat to one part miso paste; taken altogether, that's a sizeable hit of protein in your dressing alone.  
The mixture is a creamy yet light concoction, and it contains only four ingredients: ground walnuts, miso paste, soy sauce and ginger.
Starting any recipe with miso always feels to me like cheating – I'm stealing someone else's labor. Miso is made by fermenting soybeans, and the result is a paste full of body and flavor. White (shiro) miso has a winey sweetness – it's mild and subtle with a uniformly smooth texture. Shiro is the kind typically called for, though I like a hearty red or a grainy brown miso just as much.
Ground walnuts add flavor as well as body. A whopping half cup makes up the bulk of the dressing. (Ground nut paste is a versatile thing, too: instead of walnuts, you can use pecans, toasted almonds or hazelnuts.)
The third ingredient: the juice of fresh grated ginger. You might think of ginger as adding a spicy, medicinal sort of flavor, but in small doses it brings out the sweetness of the miso.
Finally, soy sauce. Very little needs to be splashed into the mix for its presence to be felt.
The dressing can be whirred in either a blender or food processor, or ground by hand in large mortar and pestle. The aim is to stop blending when the walnuts release their oil, while the mixture retains a nutty and grainy feel.
In the typical Japanese dish, the dressing enrobes blanched green beans. It's a fantastic pairing, the synergy between the juicy crunch of the green bean and the nuttiness of the dressing. But why stop there? I like the oil just as well with raw kale tossed in a bit of olive oil. Or, try miso-walnut dressing mixed with your choice of grilled vegetables (meaty vegetables, such as zucchini and eggplant, work best.)
This is the kind of dressing you want to make in extra quantity. It tastes just as fresh the next day. Top the salad with an extra sprinkling of nuts and cubes of tofu for a healthy one-plate meal.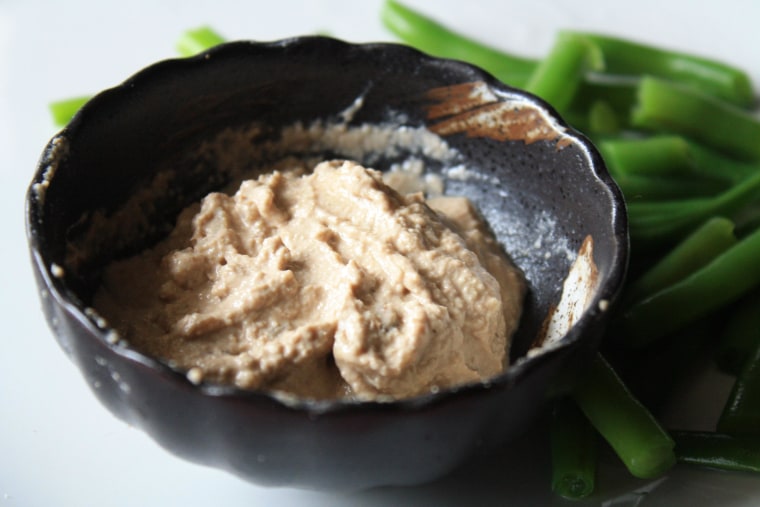 Kale salad with miso-walnut dressing
One pound raw kale, stripped of stalks (or, about 10 ounces green beans)
2 tablespoons olive oil
One 1 inch-long piece of fresh ginger
2 tablespoons miso paste
1/2 cup shelled walnuts or pecans
1/2 teaspoon soy sauce, or to taste.
Tear the kale leaves into bite-sized pieces and place in a large salad bowl. Toss with the olive oil. (If you are using green beans, bring a medium-sized pot of water to a boil. Blanch beans in boiling water until they are bright green and just tender, 3 to 5 minutes. Drain and dunk into a bowl of ice water. Drain once more and set aside. Omit the olive oil if you are using green beans.)
Grate ginger, then squeeze out the juice into a small bowl. You should have about 2 teaspoons of juice.
Combine the ginger juice with miso, walnuts, soy sauce, either in the blender or food processor. Add about ¼ cup of water. Blend until chunky-smooth, scraping down the sides of the bowl as you blend. Taste the mixture, adjusting for more water or soy sauce as needed.
Toss the kale or green beans in the sauce. Serve at room temperature. Leftover sauce may be stored in the refrigerator for up to two days.
When she is not at work at her desk, Chichi Wang can be found tracking down the best dumplings and noodles in NYC. A columnist for Serious Eats, Chichi writes about Asian cookery and nose-to-tail eating. She is currently working on her first book, a food memoir about growing up in her mother's kitchen.
More healthy eats: