British cooks Sorted are invading Studio 1A as part of our Fresh Cooks Live: TODAY's Spring Cookalong series! 

Chef Ben Ebbrell and his long-time friends who are learning to cook have led more than 700,000 YouTube subscribers to culinary success on their YouTube channel Sorted Food, and now they're showing TODAY viewers how to cook some of their top recipes from start to finish.
On Tuesday, the Sorted crew joined TODAY.com for a livestream their full demo, cooking up bangers 'n' mash and tomato soup cake, while answering viewers' cooking questions.
Cooking through a meal with TODAY viewers is familiar territory for the group, who posts cooking posts frequently on YouTube.

"We love it because we get to talk to people all over the world and hear their ideas, recipes and top tips and tricks for cooking," Sorted's Jamie Spafford told TODAY.com. "Food is so expansive and there's always new stuff to explore."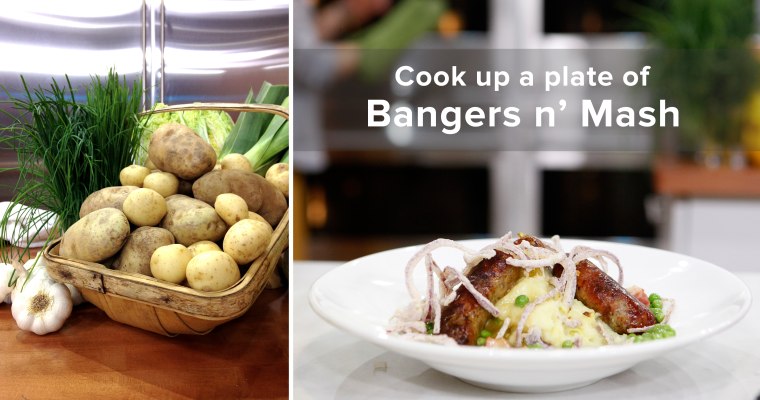 British bangers 'n' mash

1 lb of white potatoes

A knob of salted butter

A splash of whole milk

6 chunky British pork sausages (Lincolnshire or Cumberland)

½ a pint of beef stock
Splash of Worcestershire sauce

1 large red onion

½ cup + 1 tbsp of corn flour 

Generous pinch of salt and pepper

1 cup of peanut oil

½ pound of fresh peas

Handful of bacon lardons

Couple of sprigs of fresh rosemary

2 cloves of garlic

½ a lemon
Optional to flavor mash:
1 small head of spring cabbage

2 tbsp of wholegrain mustard

2 tbsp of apple sauces and a few fresh sage leaves, chopped

Handful of grated cheddar cheese and a small chunk of blue cheese

Preheat the grill to medium heat. Peel the spuds and cut them into walnut-sized pieces. Dump them into a pan and just cover with cold, salted water. Bring to a boil and simmer for 15 minutes, until cooked through. 
Price the sausages and stick them on a rack under the grill for 12 to 15 minutes, turning occasionally, until golden and cooked through. Warm the beef stock in a pan. Dissolve a tablespoon of the corn flour in cold water and whisk into the stock along with a splash of Worcestershire sauce. Peel and slice the onion finely. Toss the onion slices in a bowl with the 1/2-cup corn flour, salt and pepper.
Heat the oil in a deep pan to approximately 350 degrees. Lower a handful of floured onions into the oil and fry for 2-3 minutes until golden and crispy. Scoop them out of the oil with tongs or a slotted spoon and drain kitchen paper as you sprinkle with a little salt while still hot. Wash and shred the cabbage as finely as possible, then fry in a hot pan with a knob of butter for 2 minutes. 
Drain the potatoes and return to the dry, hot pan. Splash in the milk and butter, then mash until smooth. Stir in your chosen optional flavor to the mash and season to taste with salt and pepper. Head a splash of oil in a frying pan with the bacon. Strip the leaves from the rosemary, then peel and crush the garlic. Fry both in the oil for 30 seconds, along with bacon, before adding in the peas to heat through. 
Squeeze the lemon juice into the peas. Serve a mound of cabbage mashed potatoes on a serving plate, topped with 3 cooked sausages and drizzle of the gravy. Garnish with crispy onions and portion the rosemary peas on the side.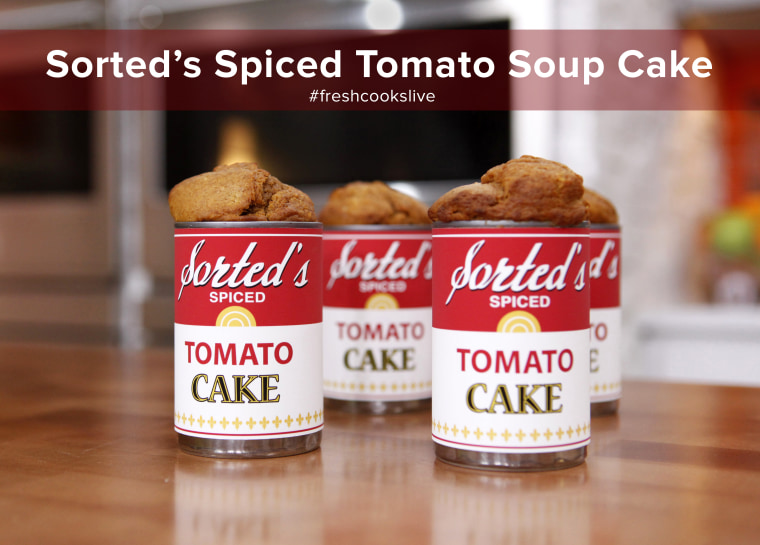 Tomato soup cake

2 medium eggs

1 1/3 cups of white sugar

1 stick of softened butter

1 tbsp baking powder

1 tsp ground allspice

1 tsp baking soda

1 tsp ground cinnamon

Pinch of ground cloves

1 tin of tomato soup

3 cups of cake flour 

4 tbsp of warm water

Small cherry tomatoes on the vine to garnish

Preheat an oven to 350 degrees. Beat together the eggs, sugar and softened butter until fully and evenly combined. Spoon in the spices and raising agents, plus the pinch of ground clove. 
Open the tin of soup and pour into the mixture along with the flour and water. 
Whisk to a smooth consistency. 

Rinse the tin of soup and then fill ¾ of the way with the cake mixture. 
Use the rest of the mixture to make either 2 more tins. 
Bake in the oven for 25 minutes (for the round cake) and 30 minutes for the tins. Cool for at least 20 minutes before tucking into warm cake.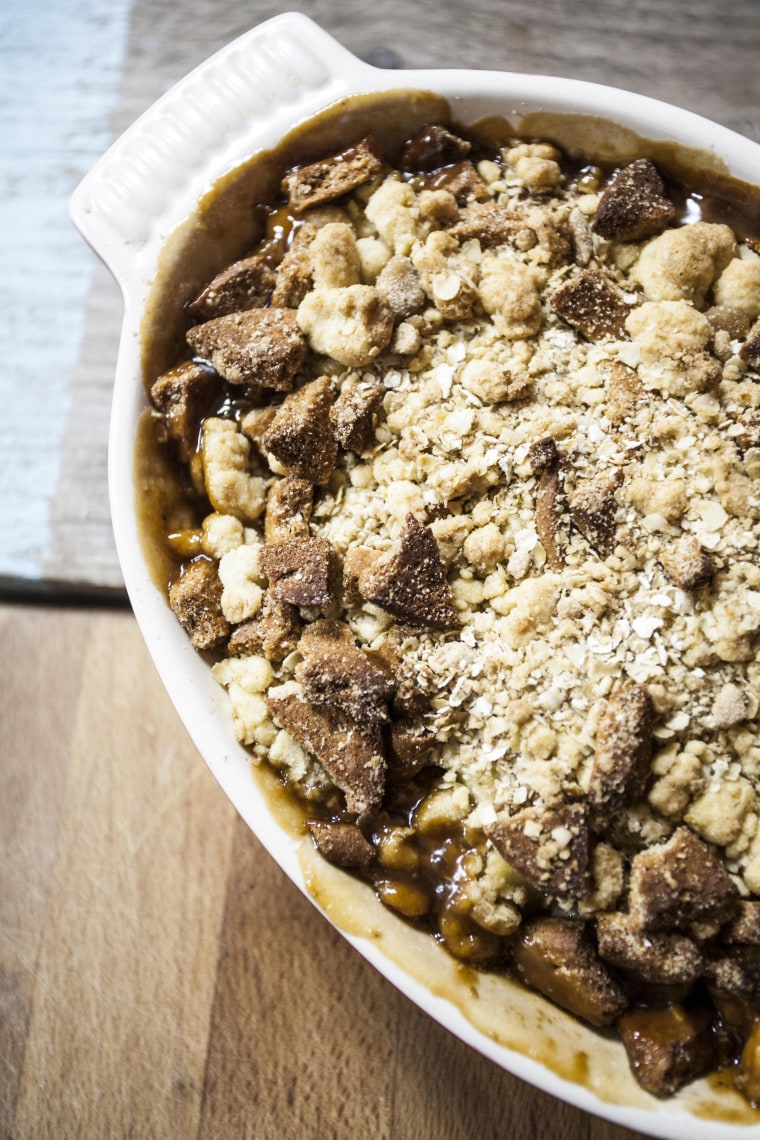 Toffee apple crumble

For the apples:
6 crisp granny smith apples

Knob of butter

pinch of ground cloves

squeeze of lemon juice 

For the toffee:
½ a stick of salted butter
2/3 cup of dark brown sugar
½ cup of golden/corn syrup 
½ cup of double/heavy cream
For the crumble:
1 cup of all purpose flour 
1/3 cup of cold butter
4 tbsp of light brown sugar
handful of steel cut oats
handful of ginger snap biscuits, crushed
custard or vanilla ice cream to serve
Preheat an oven to 400 degrees. Peel, core and chunk the apples into pieces. 
Heat a frying pan and toss in the knob of butter with the ground cloves. 
Add the apple pieces and fry for a couple of minutes until they start to turn golden around the edges and soften slightly. Squeeze in the lemon juice. 
Transfer the apples to a deep ovenproof serving dish. 
Throw all the ingredients for the toffee sauce into a pan and heat slowly. 
Bubble for 5 minutes, then remove from the heat and allow to cool slightly. 

Rub the cold cubed butter into the flour in a clean bowl. Stir through the sugar, porridge oats and ginger nut biscuits. 
Pour some of the toffee sauce over the apples, then scatter with plenty of the crumble mixture. 
Bake for 15 minutes until golden on top and the apple mixture is bubbling. 
Serve with a jug of steaming custard or a few scoops of ice cream and extra toffee sauce on the side.