Now that you know how to grill chicken, burgers and ribs you'll need to supplement all that protein with some delicious grilled veggies. Read on for grilling expert Rick Browne's tips on how to grilling everything from lettuce to potatoes.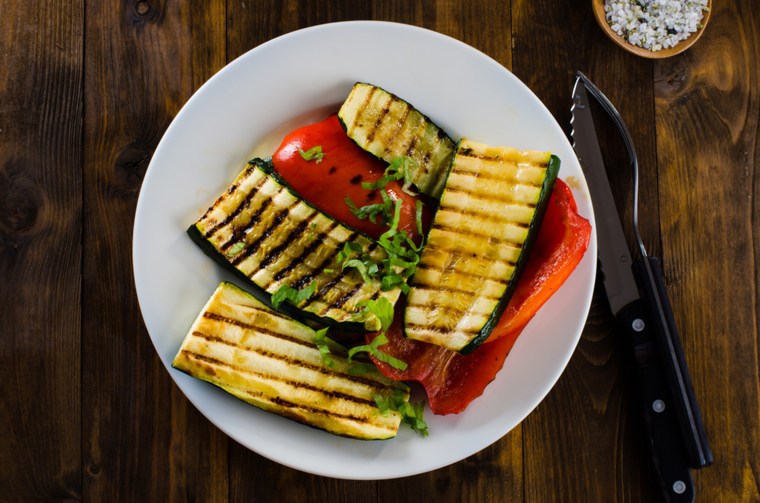 Garden variety
You can grill just about any vegetable, says Browne, even firmer lettuces such as romaine or wedges of iceberg or radicchio. Some other great vegetables for grilling include red, green, and yellow peppers, zucchini, yellow squash, mushrooms, cherry tomatoes, eggplant, onions, carrots, potatoes, sweet potatoes, scallions and asparagus.
Try chef Marc Murphy's grilled romaine lettuce
Smart slices
Cut larger vegetables into strips or slices, and marinate them briefly (about 20 minutes) if you'd like. Harder vegetables (such as carrots) should be sliced thinly and blanched before grilling. Create "rafts" out of asparagus by skewering several stalks with two skewers (this makes them easier to turn). Boil sliced sweet potatoes for two or three minutes before grilling. Put small potatoes in packets of aluminum foil with oil or butter. Brush all vegetables with oil before
Foolproof finish
Grill most vegetables directly on a hot or medium-hot grill until they're just tender. (A grill basket is a handy tool for smaller veggies.) Most vegetables will take just a few minutes, but potatoes can take more than an hour, while romaine will take less than a minute. No need for an instant-read thermometer to tell when veggies are done — let your own texture and taste preferences guide you, but do keep an eye on those smaller, softer veggies, because they'll cook fast.