This is a fun, unexpected, and absolutely fabulous new way to enjoy an old favorite. The satisfying, cheesy cupcakes-for-dinner are just as easy to make as they are to eat. We suggest using organic cheese and milk, if available.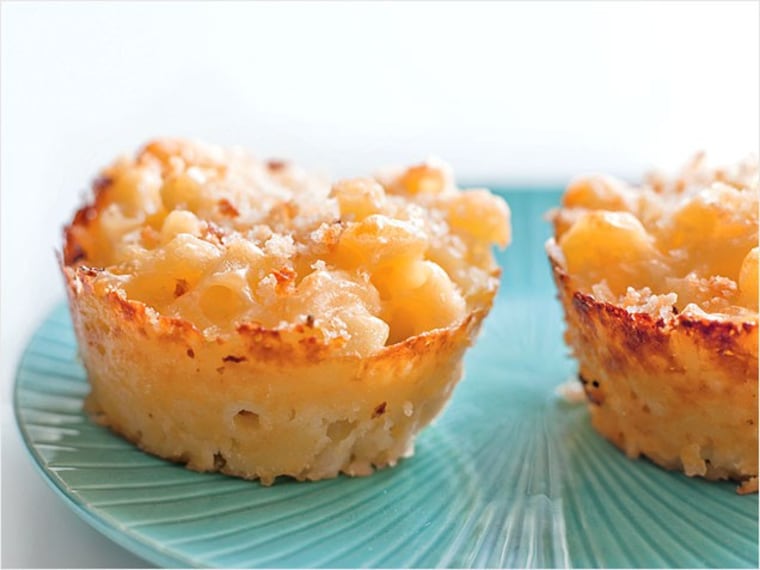 Ingredients:
1/2 cup unsalted butter, plus more for greasing

3/4 cup grated parmesan cheese

1/4 cup all-purpose flour, plus more for dusting

1 teaspoon kosher salt

1 pound elbow macaroni

1/2 teaspoon freshly ground pepper

5 cups whole milk

4 tablespoons unsalted butter, melted

1 1/2 pounds sharp Cheddar cheese, shredded

1/2 cup panko bread crumbs

Directions:
Preheat the oven to 375 degrees F (190 C). Grease a standard 12-cup muffin pan with butter, then dust with flour, tapping out the excess.

Bring a saucepan three-fourths full of salted water to a boil over high heat. Add the macaroni, stir once, and return to a boil. Cook until just shy of al dente, 6-7 minutes. Drain, reserving 1 cup (8fl oz/250ml) of the cooking water. Set the macaroni and reserved cooking water aside.

In a heavy-bottomed saucepan, melt the butter over medium-low heat. Stir in the flour and cook, stirring constantly, until the mixture just starts to darken, about 3 minutes. Whisking constantly, slowly add the milk, raise the heat, and bring the sauce to a boil. Reduce the heat to maintain a simmer and cook, stirring occasionally, until the sauce begins to thicken, 3-5 minutes longer.

Add the cheeses (only 1/2 cup Parmesan cheese), salt, and pepper to the sauce and stir until all the cheese is melted and the sauce is smooth. Remove from the heat. Add the macaroni and stir to coat thoroughly. Cover to keep warm.

To make the topping, in a small bowl, stir together the butter, bread crumbs, and Parmesan (1/4 cup) until well mixed.

Fill each prepared muffin cup to the rim with the macaroni mixture. Sprinkle the muffins with the topping, dividing it evenly. Bake until the tops are golden brown and the sauce is bubbling, 15-20 minutes. Transfer to a wire rack and let cool completely in the pan, then refrigerate the muffins, still in the pan, for at least 2 hours or up to 24 hours so they will hold their shape.

Unmold the muffins using a small, sharp knife. Rewarm in a 350 degree F (180 C) oven for about 5 minutes, and serve.

Courtesy of The Supper Club: Kid-Friendly Meals the Whole Family Will Love.
This recipe originally appeared on iVillage.