M&M's is jumping on the wacky flavor bandwagon again with three new flavors — and a new nationwide contest to determine the best crunchy candy.
This week, the brand unveiled Crunchy Mint, Crunchy Raspberry and Crunchy Espresso.
Instead of the usual milk chocolate, each new flavor is filled with a dark chocolate center that's studded with rice crisps. So how do they stack up?
The hands-down favorite among TODAY tasters was the Crunchy Espresso.
"I would eat the whole bag of espresso ones," said one taster,"because they remind me of chocolate-covered coffee beans. I just wish they were more coffee-flavored."
Others agreed that the treat was very reminiscent of the gourmet candy, but that the M&M is a nice, cheaper stand-in.
"These taste like Girl Scout cookies!" said one taster after trying Crunchy Mint.
However, another taster thought they were a little too reminiscent of toothpaste.
The raspberry flavor was the most divisive though, with many finding the fruit flavoring "too artificial" or "just way, way, way too sweet."
The new candies are currently available in select stores but they'll be officially released April. Whether you prefer your chocolate with a kick of espresso, a hint of mint or a little burst of berry, you can share your favorite online now through May 25. This year, fans can vote for their favorite flavor at flavorvote.mms.com, or share their reactions on social media with the tags #VoteCrunchyEspresso, #VoteCrunchyRaspberry or #VoteCrunchyMint. If you're more old-fashioned, you can also just text the word 'VOTE' to 84444 with your favorite new M&M.
Mars will announce the winning candy in August, and that flavor will then stick around in stores for another year and a half.
Launched in 2016 as part of the brand's 75th anniversary celebration, M&M's first flavor contest to determine the best peanut M&M's flavor was a success with more than one million votes submitted, according to Mars. Fans went nuts for Coffee Nut, which beat out the sweet Honey Nut and spicy Chili Nut M&M's, and it can still be found in stores today.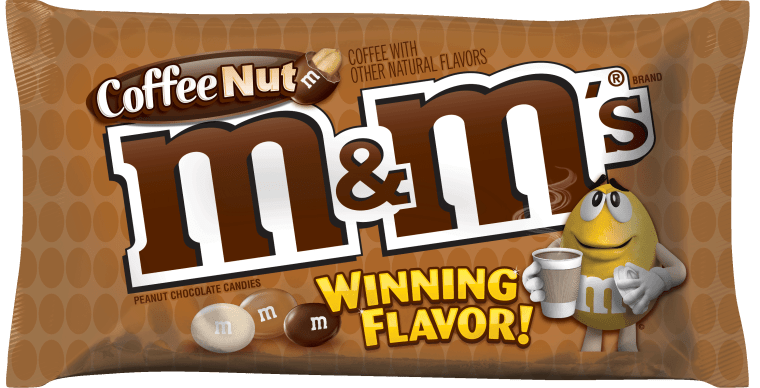 But not everyone is ready to accept defeat. When this year's contest was announced, one Facebook user pleaded for a Honey Nut comeback:
We're not sure if Honey Nut is ever returning but the company is unlikely to stop releasing new flavors. Last month, Neapolitan ice cream-flavored M&M's made their way from Australia to Target stores in the U.S.
But if you ask TODAY anchor Hoda Kotb, she'll tell you that her favorite recent release was the caramel-filled M&M's.