The two most magical things in the world just joined forces in every kids' favorite cereal box: marshmallows and unicorns.
General Mills announced Monday morning that, for the first time in a decade, it's adding a new marshmallow to its sweetest, whole-grain breakfast.
A rainbow unicorn marshmallow now joins Lucky Charms' magical marshmallow blend.
After shocking cereal fans with news of the hourglass marshmallow's retirement earlier this month, the unicorn comes as a welcomed new addition. The assortment continues to feature hearts, stars, horseshoes, clovers, blue moons, rainbows and red balloons.
"Our goal is to not only create a cereal that families and cereal fans will love and enjoy, but to inspire magical possibilities and help spark imagination and fun no matter what the age," said Josh DeWitt, marketing manager of Lucky Charms.
"That's why, after 10 years, we decided to introduce a new charm with the help of the keepers of magic themselves – kids. They spoke, and after hearing their love for the magical unicorn, we listened," DeWitt added in a press release.
The wizards behind Lucky Charms cereal reached out to fans via Instagram and Twitter for creative and colorful new ideas.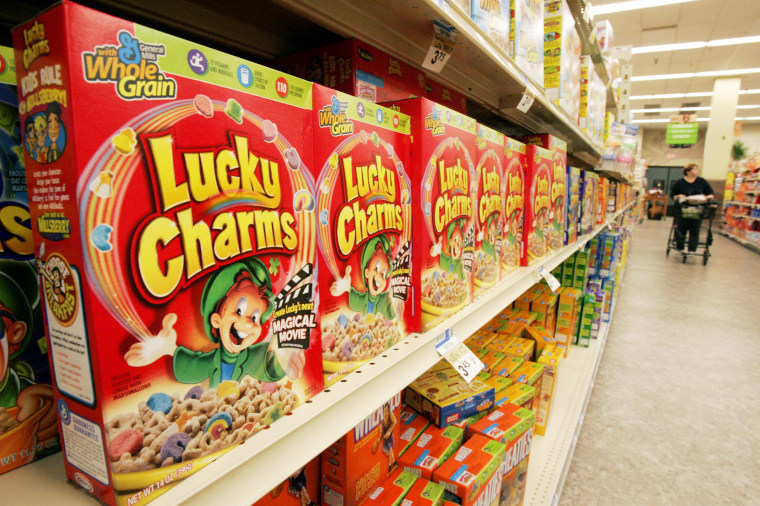 "If you could pick the #NextLuckyCharm, what would it be? Use an emoji to tell us!" the Lucky Charms social media posted last week.
After reading fan's emoji suggestions — including mermaids, sunshine and puppies — the beloved unicorn earned its rightful place in the magical world of Lucky Charms marshmallows. We're not exactly surprised, though, given the one-horned creature's recent popularity in other foods like bagels, grilled cheese sandwiches, hot chocolate, churros, and of course, Frappuccinos.
From a special giveaway of all-marshmallow boxes to a chocolate-flavored oat addition, the 150-year-old American food company continuously makes the impossible possible with its sugary comfort food.