Our editors independently selected these items because we think you will enjoy them and might like them at these prices. If you purchase something through our links, we may earn a commission. Pricing and availability are accurate as of publish time. Learn more about Shop TODAY.
Is it really possible to eat pancakes and waffles, chocolate cereal and egg sandwiches, omelets and breakfast burritos and still lose weight?
By following some simple meal swaps each morning, you could be looking and feeling better in just a few weeks. In 2015, I shared "Zero Belly Diet" with a test panel of more than 500 people, some of whom lost as much as 16 pounds in just 14 days, and up to 3 inches off their waistlines.
We know breakfast is the most important meal of the day but in today's busy world, sometimes grabbing something fast and cheap seems like our only option. But many fast food meals are loaded with calories, fat and sugar that make dieting even more difficult. But making better choices in the morning can have a domino effect on the day and can help improve your gut health, dampen inflammation, turn off your fat genes, and start your body shedding fat—in particular, belly fat — must faster than you may think.
Although each of the "Zero Belly Breakfast" recipes takes just minutes to make, sometimes you just need to grab something on the go. This guide will help you out on those mornings when you've already hit the road and you just want something fast from a fast food restaurant.
Potbelly's Sausage, Egg and Cheddar Cheese Original on Multigrain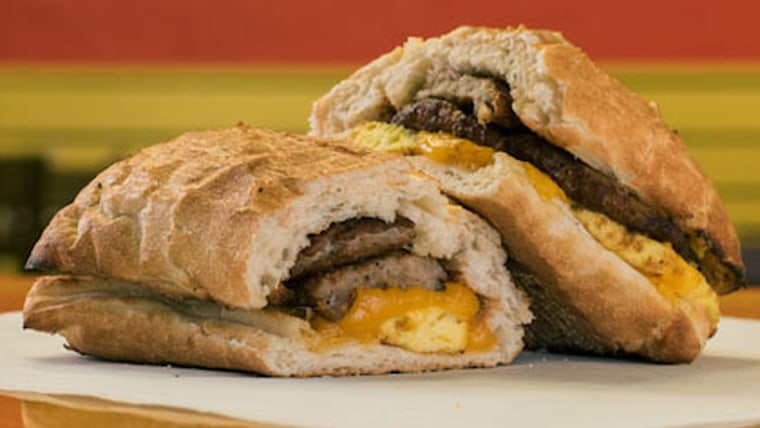 This breakfast sandwich packs in a whopping 788 calories with 48 grams of fat, and over 1,500 mg of sodium. Americans should limit their daily sodium consumption to 2,300 mg, but staying around 1,500 is ideal, so this dish puts you well on your way to exceeding your daily intake.
To burn off all those calories you'd have to bike at a racing speed — that's 16 to 19 mph! — for a full hour.
Zero Belly Breakfast Swap: Potbelly's Egg & Cheddar Cheese Original on Regular Thin Cut bread has 410 calories, 21 grams of fat, 654 mg of sodium — and you still get plenty of protein at 17 grams per sandwich.
Dunkin' Donuts Coffee Cake Muffin
Some of the most caloric items on Dunkin's menu aren't even donuts. The Coffee Cake Muffin clocks in at 590 calories, plus it has 24 grams of fat, 410 mg of sodium and a whopping 51 grams of sugar.
They key word here is "cake." This muffin actually has more than four times the amount of sugar found in a regular glazed donut from Dunkin'! To burn that off, you'd have to do 900 burpees.
Zero Belly Breakfast Swap: Try the Wake Up Wrap with Egg and Ham from the DDSmart menu. It has 200 calories, 11 grams of fat, 10 grams of protein and just 1 gram of sugar.
Cinnabon Caramel Pecanbon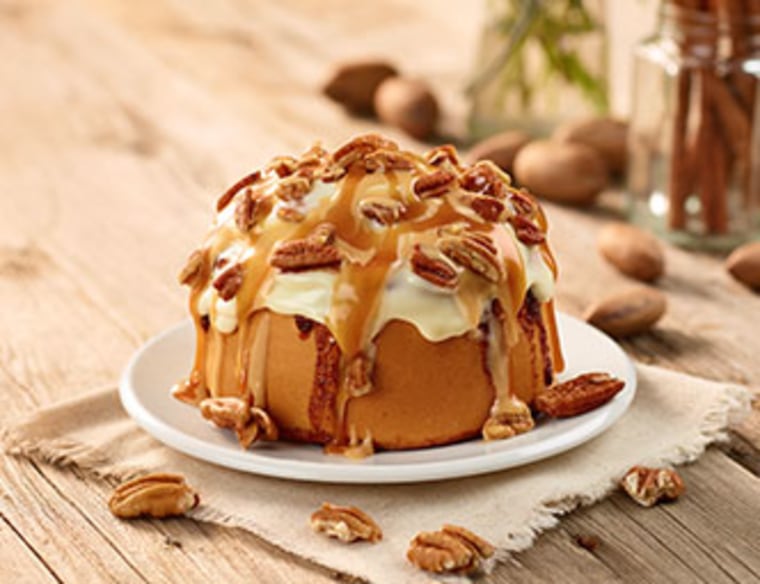 The sweet treat is by far the sugariest breakfast on our list. The Pecanbon may smell delicious but eat a whole one of these and you're packing in 1,080 calories, 51 grams of fat, and 75 grams of sugar!
To burn that off, you'd have to spend more than two hours on a stair machine.
Zero Belly Breakfast Swap: Pair a cup of coffee with one of Cinnabon's sweet Churros, which is much healthier for you at 280 calories, 11 grams of fat and just 8 grams of sugar.
IHOP Country Fried Steak & Eggs with Sausage Gravy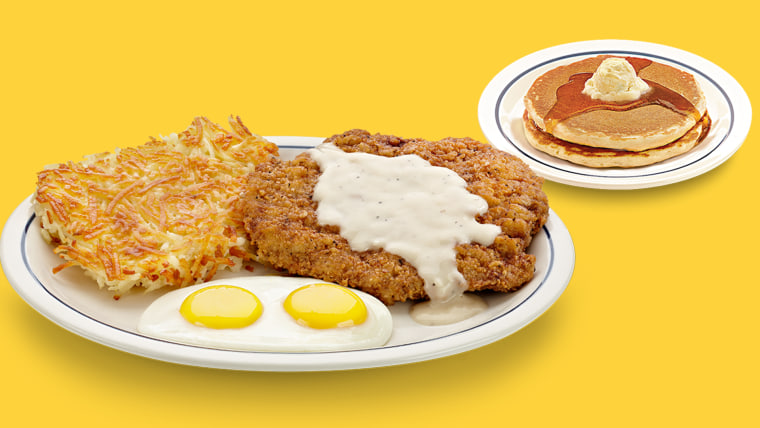 This dish should be shared by two or more diners. It contains twice the recommended daily sodium intake and nearly two-thirds of the recommended calorie budget for many adults. The platter, which comes with two scrambled eggs, and a fried beef steak smothered in sausage gravy boasts 1,760 calories, 96 grams of fat, and a substantial 3,240 mg of sodium.
To burn that off, you'd have to run for two-and-a-half hours on the treadmill — and that's if you're going 6 mph the whole time. That's more than a half-marathon!
Zero Belly Breakfast Swap: Try the chain's lighter Tuscan Scramble with 420 calories, 30 grams of fat, and 720 mg of sodium.
McDonald's Big Breakfast with Hotcakes
The McMuffin may be the chain's most popular breakfast item but plenty of people love the pancake platter, too. But just one Big Breakfast meal, which comes with a biscuit, scrambled eggs, sausage and hashbrowns, wipes out your entire day's worth of fat, more than a day's worth of saturated fat, and nearly an entire day's worth of sodium and sugar — and that's before you've even hit the office!
The meal includes 1,350 calories, 65 grams fat (25 of which are saturated), 2,100 mg of sodium, and 48 grams of sugar.
To burn that off, you'd have to jump rope for more than two hours non-stop! Even Rocky couldn't do that.
Zero Belly Breakfast Swap: The classic Egg McMuffin actually has just 300 calories, 12 grams of fat, and packs in 17 grams of protein. Keep in mind that it does have 730 mg of sodium so you shouldn't be eating these all the time.
The nutrition information in this article has been sourced from restaurant websites.
ZERO BELLY BREAKFAST, $10, Amazon