There's a British invasion on the horizon! And we're not talking rock 'n roll. Though plenty of rolls will likely be involved.
The U.K.-based food enthusiasts behind SORTEDfood, Mike, Ben, Jamie and Barry, are ready to be schooled on the wild world of American cuisine. Teaming up with TODAY, beginning April 23, the food stars will be traveling the U.S. coast to coast to learn what exactly "American food" really means. The best part? They'll be at your mercy. That's right, fans will be telling SORTEDfood where to go and what meals really are the best of what America has to offer with #LostAndHungry. And they'll actually listen.
"Firstly, we have no idea ourselves where's best to go," said Barry. "It's all about knowing the right places to go to get the best local produce and therefore get the best food in town. That's why we are asking the community for help!"
Each week, SORTEDfood will check in with TODAY and showcase some of the awesome and interesting meals and characters they come across. And, based on your feedback, they'll share their next destination and stops along the way.
"Although we use a single word to describe it --'America' -- there is such a huge expanse of country, culture and cities that all have something different to offer," said Ben, the trained chef of the group. He's hoping to try biscuits (the American way), grits, gumbo and hush puppies. Let's show him how it's done!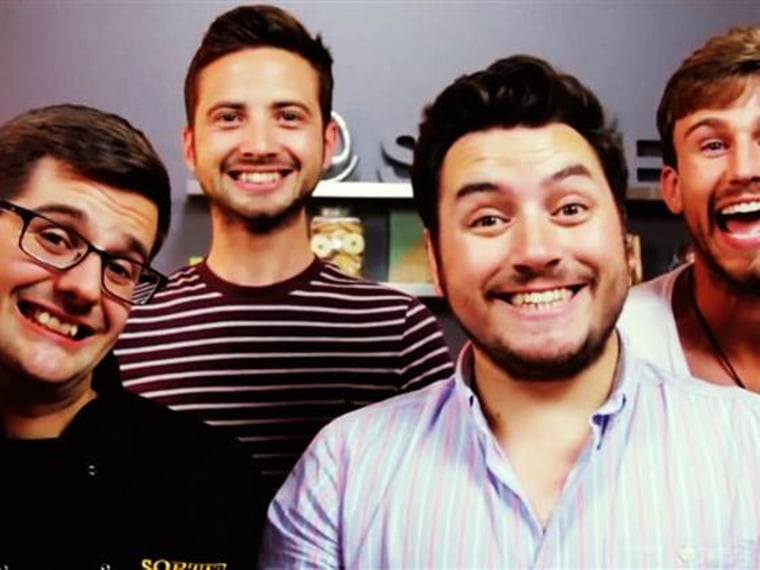 Do you have a must-try mom and pop restaurant to recommend? An-over-the-top novelty treat the guys have to taste? Want them to visit your favorite bakery -- or maybe even your grandmother, who serves up the greatest apple pie this side of the Atlantic? Let them know! Mike, in particular, wants to eat his weight in cheesecake while working on his tan.
If you're not yet a fan of SORTEDfood, you may soon end up joining the one million-plus subscribers to their YouTube channel, where they serve up exciting eats (with a side of humor) developed directly through feedback from their followers. Last year, the guys gave TODAY a taste of British cuisine. But that only whet their appetite for more 'Merica.
"Someone once mentioned a Maple Glazed Bacon Donut to me," said Jamie. "I've been searching for it ever since!"
Help us welcome the guys to The U.S. by using #LostandHungry to tell them what you think the most iconic American dish is, from pizza to hambuergers and beyond. Tune in to TODAY on April 23, when SORTEDfood will appear on TODAY!
Check in with TODAY and SORTEDfood and be a part of SORTEDfood's journey across America.