Stand down, Little Debbie fans: it's all been just a not-so-sweet scare.
Little Debbie is not retiring any of its beloved snack cakes, despite a recent tweet that seemed to suggest they were.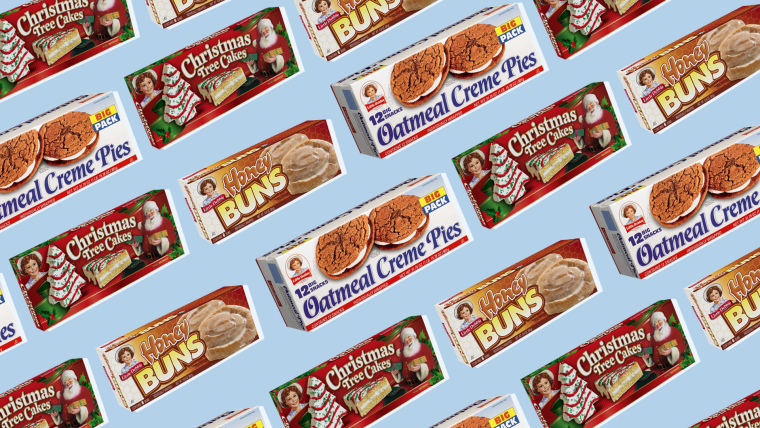 "None of the products we listed on the Twitter post are in danger of going away," McKee Foods (Little Debbie's parent company) spokesperson Mike Gloekler told TODAY Food. "Our Little Debbie social media team thought it would be fun to get in on the #OneGottaGo Twitter meme, which asks a fairly tough question — if you had to live without one of four things you really love, which would it be?"
The scary tweet that started it all was posted on Wednesday and said only "one gotta go forever" above images of Christmas Tree Cakes, Nutty Buddy, Oatmeal Creme Pies and Honey Buns. It was a certainly a bit ominous:
Over 2,000 comments and 200 retweets later, the post had clearly put fans into a very sour mood over what seemed to be a "we're retiring one of our products" tease. Preferential factions arose quickly:
Then there was at least one snack cake retirement denier, who couldn't imagine a world with one less Little Debbie item in it.
But Little Debbie didn't clear things up right away, tweeting on Thursday that "We didn't say it would be easy."
But as Gloekler explains, "something major would have to happen for a product" [like the] "Little Debbie varieties we posted to Twitter" to be retired, though "products do come and go with some frequency."
McKee Foods was founded in 1934 by O.D. and Ruth McKee. The Little Debbie brand was introduced in the 1960s, named after one of the founders' grandchildren. Today, Debbie McKee-Fowler is fully grown and part of the family business as an executive vice president, according to Mashed.
McKee Foods, which boasts annual sales of about $1.4 billion, also contains other brands, including Drake's cakes.
But McKee and Little Debbie maybe should have known they were playing with fire here: people have committed crimes in which they made off with mass quantities of the products. And Will Ferrell announced his devotion to the brand by dressing up as Little Debbie in a hilarious bit on "The Tonight Show" in 2015.
"Our Little Debbie fans never disappoint when it comes to their passion about favorite products," Gloekler added. "We know we make a fun product that makes people smile."
We're glad to see that McKee Foods understands this truism: Don't come between Americans and their sweet snack cake addiction!
Follow Randee Dawn on Twitter.