Little Big Town singer Kimberly Schlapman shares her take on two rich Southern favorites that are always on her Thanksgiving table.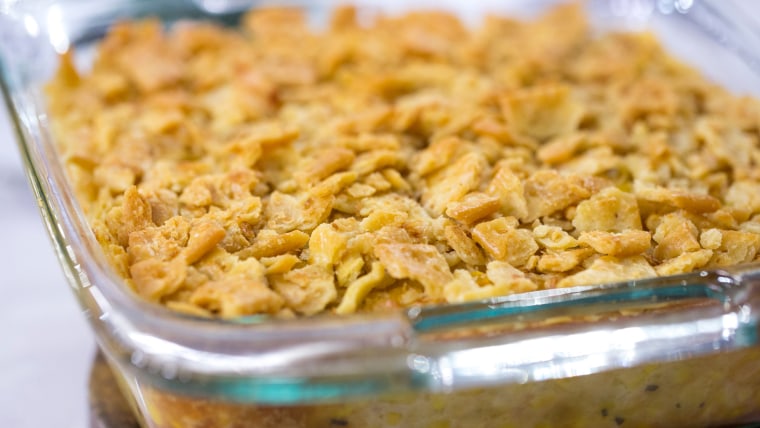 Creamy corn casserole
1⁄2 cup butter (1 stick)
1 shallot, minced
3 tablespoon all-purpose flour
2 tablespoon chopped fresh sage
2 cups heavy cream
2 16-ounce packages frozen whole kernel corn
1 sleeve saltines (about 40)
2 eggs, lightly beaten
2 tablespoon sugar
Roasted red peppers (optional)
Fried sage leaves (optional),
Preheat oven to 350 degrees F. In a large 4-quart saucepan, melt 1⁄4 cup of the butter over medium heat. Add shallot; cook 1 minute. Stir in flour, sage, and 1⁄2 teaspoon salt. Whisk in cream. Cook and stir over medium heat until thickened and bubbly. Stir in corn.
Finely crush half the saltines. Stir into corn mixture along with eggs and sugar. Transfer to a 2-quart baking dish. Bake, covered, 15 minutes.
In a small saucepan melt remaining butter. Crush remaining saltines; add to butter. Toss to coat. Top casserole with crackers and bake, uncovered, about 35 to 40 minutes more or until heated through. Top with peppers and fried sage leaves.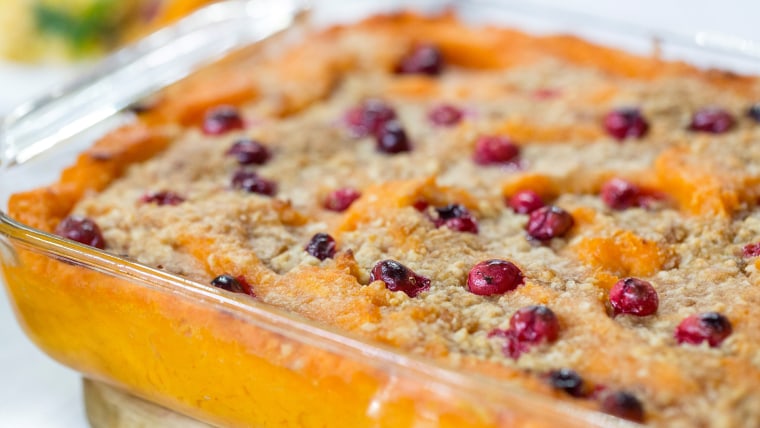 Sweet Potato Casserole
6 pounds sweet potatoes
1 cup self-rising flour
1 cup packed light brown sugar
1 cup butter (2 sticks)
1 7-ounce jar marshmallow cream
2 teaspoon vanilla
1 cup fresh cranberries
In an 8- to 10-quart pot of boiling water cook sweet potatoes until tender, about 25 to 30 minutes. Drain. Set aside until cool enough to handle.
Meanwhile, for topping, in a small bowl combine flour, sugar, and 1⁄2 cup of the butter. Using your hands or a pastry blender, cut butter into flour until large clumps form. Freeze on a baking tray until ready to use.
Preheat oven to 350 degrees F. Remove skin from potatoes. Return to pot. Mash with a potato masher. Melt remaining butter. Add to potatoes with marshmallow creme, vanilla, and 1 teaspoon salt; stir to combine. Transfer mixture to a 3-quart rectangular baking dish.
Pile frozen crumb topping over sweet potato mixture. Top with cranberries. Bake 45 to 50 minutes or until lightly golden.