The next time you pass a kid selling lemonade or cookies and think "aww, how cute," think again: That kid may be running a serious business.
Take two young food entrepreneurs who recently shared their stories with TODAY: Cory Nieves, 11, CEO of Mr. Cory's Cookies, and Jack Bonneau, 10, founder and CEO of Jack's Stands & Marketplace.
The two boys live on opposite sides of the country—Cory is from Englewood, N.J., and Jack is from Denver—yet each stumbled on similar ideas at a young age: Turning classic kid pastimes into legit business ventures.
Both started innocently enough: Jack originally had his sights set on a $400 LEGO Death Star, which his dad told him he could only have if he paid for it. "I was like, 'Well, how am I going to earn $400?' " he says.
Instead of sitting around and waiting for customers to happen down his block, Jack set up a lemonade stand at the local farmer's market for 12 weeks, raking in $1,200 in revenue, about $900 of that in profit. (He gives a third of his profits away to charity.)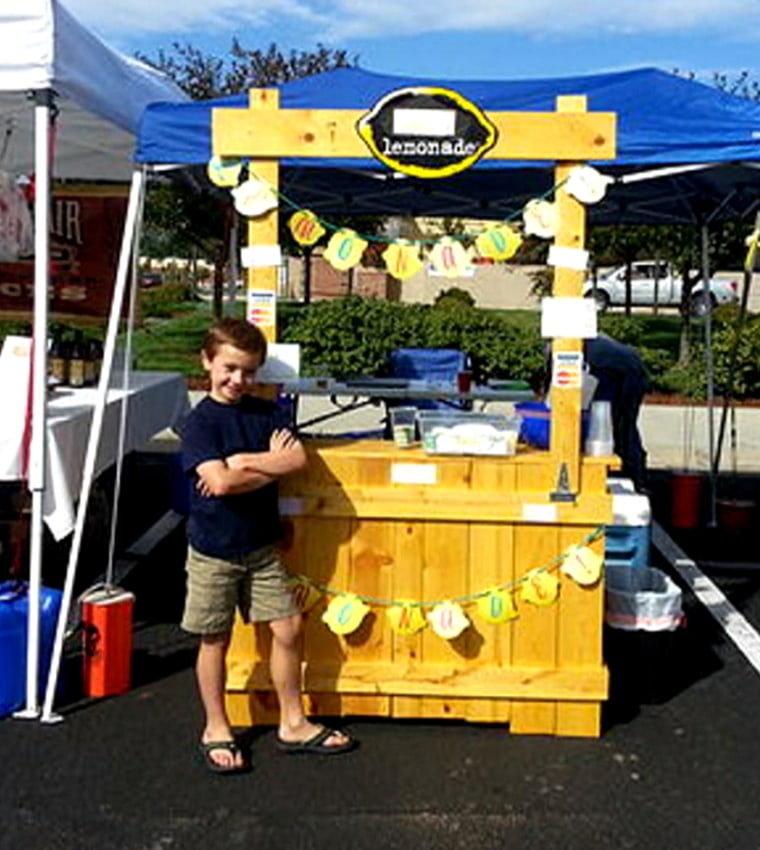 Today, Jack's Stands has grown into a full-fledged business that helps other kids run their own lemonade stands: Kids can log on, schedule when they want to operate, and Jack's Stands takes care of all the permits, insurance and supplies, so that the kids can focus on the fun educational stuff, like greeting customers and, of course, counting the money.
"When a new kid would start, I would teach them how to greet the customer, make change, how to take credit cards, count profit and what an Arnold Palmer was," Jack says. "At the end of the day, we'd go through profit loss statement, to figure out the revenue, expenses, profit and tips."
Cory, touchingly, came up with the idea of selling cookies at the age of 5, because he wanted to buy his mom a car. In 2009, they started making chocolate chip, sugar, oatmeal raisins and more out of their home, and then out of a deli. By 2014, the cookies caught the eye of Ellen DeGeneres, who helped the mother and son score a car.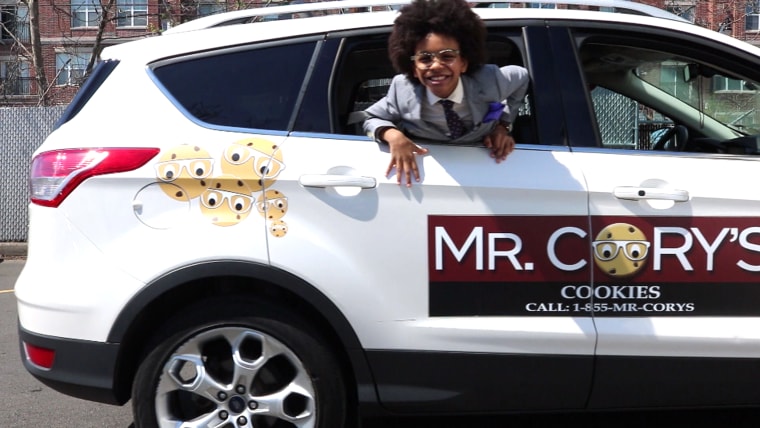 Always dapper-looking, Cory says, "I greet my customers in a suit and tie, because if you dress the part, they will respect you more and take you seriously." He says his mom is his COO, and his cat is the board of directors. His profits, though, are "G14 classified," he says: "We're not a public company. This is a real business."
What sets Mr. Cory's cookies apart is they are chewy, yet have a nice crunchiness, and the flavors that come through from the high-quality ingredients: "They are made with love."
Dying to try some? While they currently sell the cookies at regional bakeries, markets and to local customers and corporate clients, Mr. Cory's cookies is working to raise money through IndieGoGo to be able to sell cookie dough online and ship nationwide.
Oh, and "I want to make Mr. Cory's cookies into a multi-trillion dollar company that gives back and helps people in the community," Cory adds.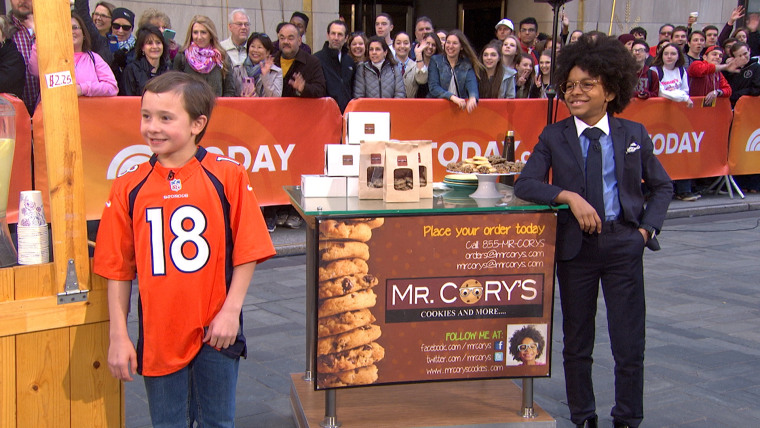 Jack is also raising funds on IndieGoGo in the hopes of taking his model nationwide. "There aren't a lot of places where kids can sell their own products," he says, adding, "I like the work I have to put into it, it's really fun and I know I'm helping other kids learn."
Don't expect these two to be the last grade-school CEOs you'll see: "Nationwide, there are a lot of young entrepreneurs in operation. A lot of them are doing craft-based businesses," says Rich Martinez, Jr., president and CEO of the Young Americans Center for Financial Education, the world's only bank dedicated to helping kids under 22.
"It's important to have young entrepreneurs in our society because they are the future of business. They're going to create jobs and solve the world's problems, but they need to start small," Martinez says. "A lemonade stand is, yes, just making lemonade and selling lemonade, but the concept and that spirit lives in those young people."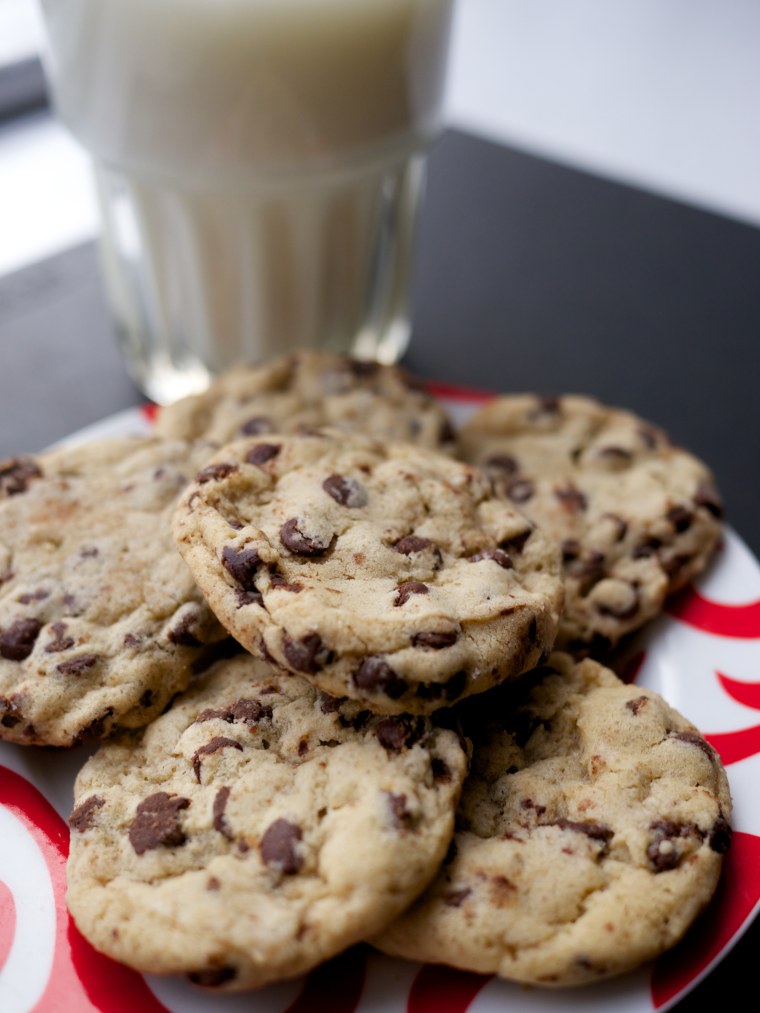 Or as Cory—who already speaks talks like an inspirational CEO—says, "To all the kids out there that want to start a business: Always keep your eyes on the target and always dream six impossible things before you wake up."