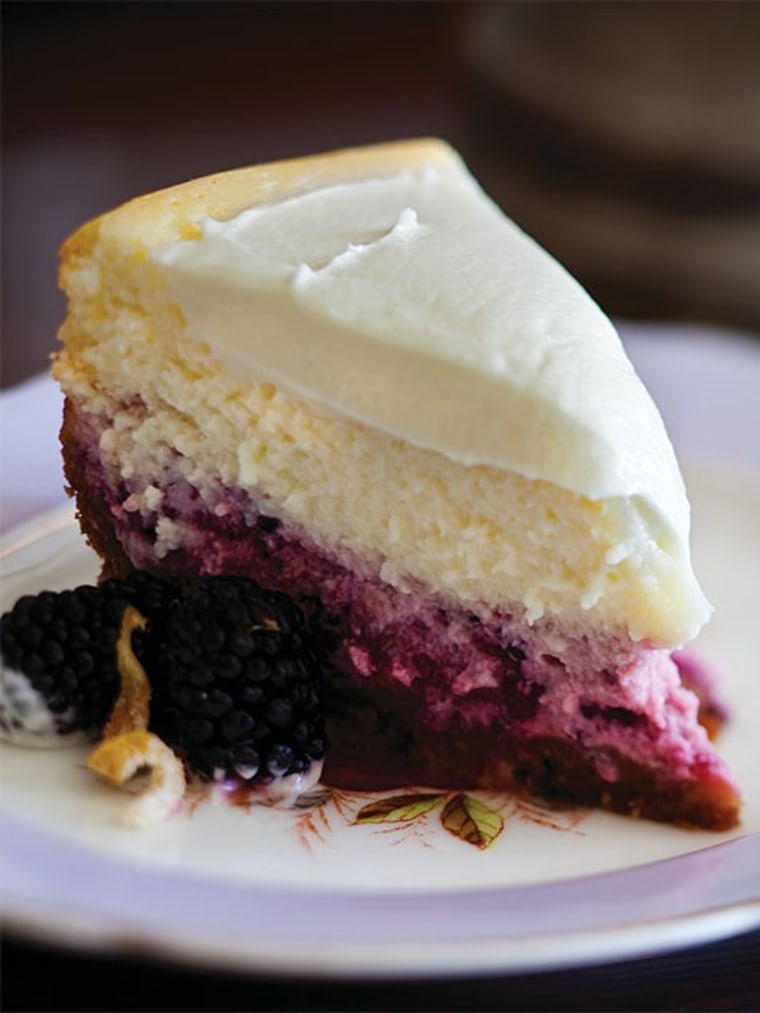 This two-layer cheesecake looks cool and tastes better. It is nice to see the pure cheesecake layer above the berries, but if you're in a rush you really don't need to divide the batter; just add the purée and berries to the entire batter and omit that step.
Ingredients:
3 tablespoons butter, softened  

1 cup sour cream

1 cup graham cracker crumbs  

1/4 cup all-purpose flour

2 pounds cream cheese   

1 tablespoon vanilla extract

1 1/2 cups sugar   

1 1/2 pints blackberries

3/4 cup milk   

Zest and juice of 1 lemon

4 eggs  

Yield: 8 servings
Directions:
Preheat the oven to 350. Grease a 9-inch springform pan with 1 tablespoon of the butter. Mix the graham cracker crumbs with the remaining 2 tablespoons butter in a medium bowl. Press onto the bottom and halfway up the sides of the pan.

In a large bowl, use a handheld mixer to combine the cream cheese with the sugar until smooth. Blend in the milk, then beat in the eggs one at a time, mixing just enough to incorporate. Mix in the sour cream, flour, and vanilla until smooth. Divide the mixture between two bowls.

In a food processor or blender, purée 1 pint of the blackberries with the lemon zest and juice. Pour the purée into one bowl of the cheese mixture along with the remaining 1⁄2 pint of whole blackberries and mix well.

Pour the blackberry filling on top of the prepared crust. Bake for 10 minutes. Remove the pan from the oven and pour the remaining filling over the top. Return to the oven to bake for 1 hour, until the topping is set. Chill in the refrigerator until ready to serve.

From My Family Table: A Passionate Plea for Home Cooking by John Besh/Andrews McMeel Publishing
This recipe originally appeared on iVillage.