Last minute entertaining means all hands on deck. Lifestyle expert Maureen Petrosky shares her DIY décor, games and food for the Fourth of July get everyone in the family in on the fun. She shows us how to put a patriotic spin on Twister, make American flag pizzas, set up a sparkling bubble station and more.
American Flag Pizza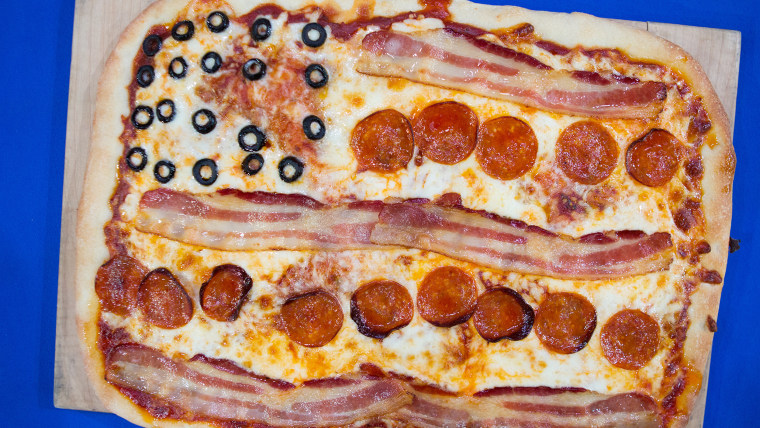 This star-studded pizza is simple for even the littlest hands to make. Simply trim a store-bought pizza crust (or shape store-bought dough) into the shape of a rectangle. Then cover in your favorite red pizza or pasta sauce, leaving an inch border on the outer edge of the crust. Create the stripes of the flag using shredded mozzarella (for the white parts), and either sliced pepperoni or cooked bacon strips (for the red parts). Then create the stars in the upper left corner with squares of olives, sliced purple potatoes or slices of Japanese eggplant with the skin side up. Bake according to the crust or dough instructions and you've got the perfect bite to celebrate the Fourth.
DIY Mini Pies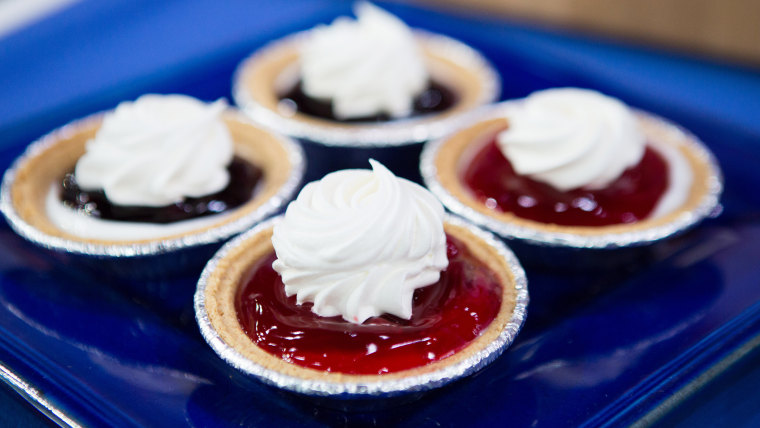 Set out 3-inch graham cracker crusts and an assortment of fillings, such as whipped cream, yogurt, pudding and cherry and blueberry pie fillings for the kids to make their own no-bake fruit and cream pies. These can then be used for a pie-eating contest or simply enjoyed as-is.
Red, White and Blue Ice Cream Sandwiches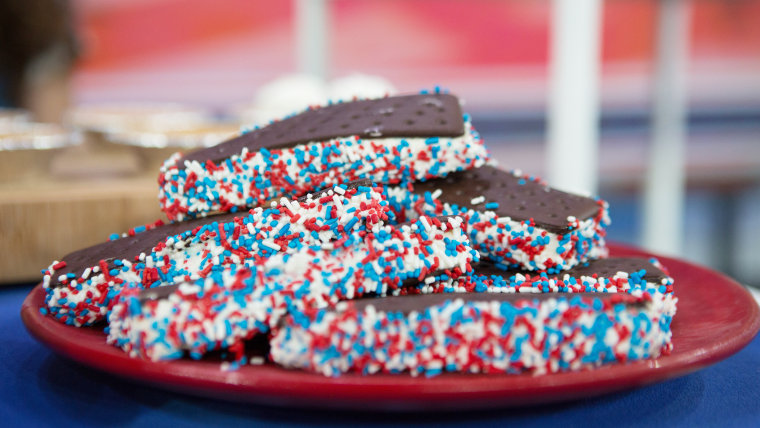 Simply dip store-bought ice cream sandwiches in red, white and blue sprinkles for a fun frozen treat. Bonus: These can be made ahead of time and stored in the freezer until ready to serve.
American Flag Fence Post
Create dramatic outdoor décor using an old wooden fence piece as the canvas for your American flag. Red, white and blue outdoor paint, brushes and a star cut out from a sponge let you create this patriotic painting in no time.
Star-Spangled Bubble Station
Fill a drink dispenser with bubbles and set out small bowls for kids to fill their own bubble dishes. Also put out pipe cleaners and small star-shaped cookie cutters for kids to make their own Fourth of July inspired bubble wands.
Top Hats and Tiaras for the Fourth
Set up a station with wire garland and curling ribbon for kids to make their own tiaras. Also set out red, white and blue construction paper and paper plates, along with kid-safe scissors and tape to create Uncle Sam-style tall top hats.
No-Sew Beanbag Toss
Place paper plates with the numbers 10, 20, 30 and 40 in the center of four separate baskets or platters (use glue dots to keep them in place). Then space them out on the lawn to create a beanbag toss. For the beanbags, cut old denim into squares. Using a star-shaped cookie cutter or a sponge shaped as a star, stamp red or white stars on each. Once they are dry, place dry beans, lentils or small pebbles in the center of one piece of denim. Using permanent fabric glue, seal another denim square on top to create your beanbag. Repeat with remaining denim squares.
Lawn Star Twister
Retro fit your Twister spinner-board with red, white, dark blue and light blue construction paper stars. Then, using a star template the same size as the dots on a Twister mat, use spray paint to create a lawn version of the "mat" directly on your grass.