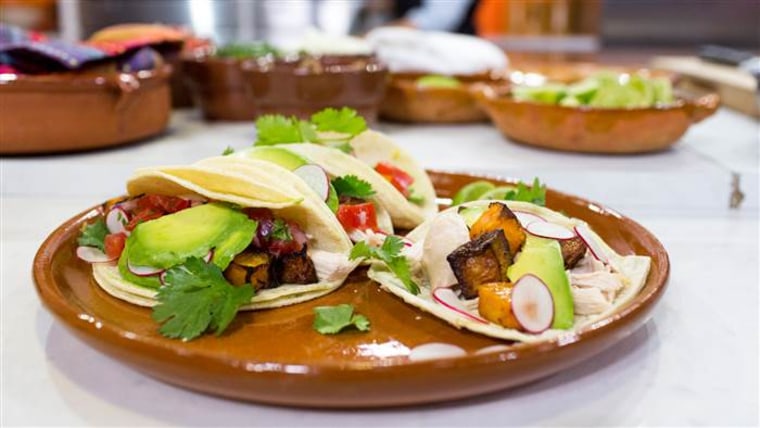 Some of the ingredients in this week's recipes might sound unusual, but don't be deterred because I've also got plenty of suggestions that will "normalize" them. Ready?
What the heck are mashy peas? It's a British thing, and, frankly, one of their culinary traditions worth adopting, in my humble opinion. Fresh green peas are the bomb (try adding them raw to your green salad), but if you can't find them, good quality organic frozen peas will work just fine. And if all those herbs feel excessive, just pick one or two, and you'll still have a side dish that is bright with flavor. Pea shoots are another lovely spring ingredient if you can find them, but I think baby arugula would be just as delightful for the side salad. I didn't add all the suggested garnishes for the tacos—you all know what you like in that department.
The shrimp and beef dishes are pretty simple and straight forward. The lasagna dish is the most labor intensive if you want to do the homemade marinara. For quicker prep, go for store-bought marinara sauce. Just go for the simplest ones with a short list of ingredients and no added sugar, etc. Eggplant or portobello mushrooms are great substitutions or additions if you feel like something heartier, but do sautee or roast them (with a bit of onion or garlic) before layering them in. Lasagna is a bit like a musical theme with infinite variations so follow your muse (or just what looks good at the market).
Make sure to look at the serving sizes and scale the ingredients up or down depending on how many people you're cooking for.
MONDAY
TUESDAY
WEDNESDAY
THURSDAY
FRIDAY
Shopping list:
3 cups broccoli florets
1/2 pound fresh English peas
1 head fresh garlic
Fresh tarragon, basil and mint (one or all)
1 bunch fresh flat leaf parsley
1 bunch fresh chives
1 bunch fresh oregano
2 cups fresh pea shoots
1/2 cup fresh snap peas
3 lemons
1 lime
1 pound butternut squash
3-4 large jalapenos
4 cups sliced cremini mushrooms
1 bag spinach
2 yellow onions
1 red onion
2 roma tomatoes
1 avocado
Oyster sauce
Coconut oil
2 cups dried black beans
Corn tortillas
1 baguette
1 box no-boil lasagna
¼-1/2 cups grated Pecorino
2 cups part-skim ricotta
3 cups marinara sauce
1/2 pound top sirloin steak, sliced into thin, 2- to 3-inch pieces
2 6-ounce portions fresh wild salmon
1 5-pound whole chicken
6 large shrimp
Pantry items
Soy sauce (or low-sodium tamari)
Sugar
Peanut or other vegetable oil
Extra virgin olive oil
Butter
More meal plans: