While McDonald's and Starbucks recently announced plans to stop offering single-use plastic straws in the future, America's largest grocer is taking an even bigger stand to cut plastic waste.
On Thursday, Kroger announced that it will eliminate all single-use plastic bags from its stores by 2025 and transition to reusable bags.
This is big news from the Cincinnati-based chain which has almost 2,800 stores in 35 states.
"The plastic shopping bag's days are numbered," Kroger chairman and CEO Rodney McMullen wrote in an opinion piece in the Cincinnati Enquirer on Thursday. "Our customers have told us it makes no sense to have so much plastic only to be used once before being discarded. And they're exactly right."
Single-use plastic bags are the fifth-most common single-use plastic found in the environment with 100 billion tossed in the U.S. each year, according to Kroger. Surprisingly, less than 5 percent of the bags are actually recycled.
"It's a bold move that will better protect our planet for future generations," McMullen said in a company statement.
Seattle's QFC grocery stores have already made the switch as the first Kroger-owned stores to implement the policy. As the transition happens in other stores, the company said it encourages shoppers to bring or use reusable bags whenever possible.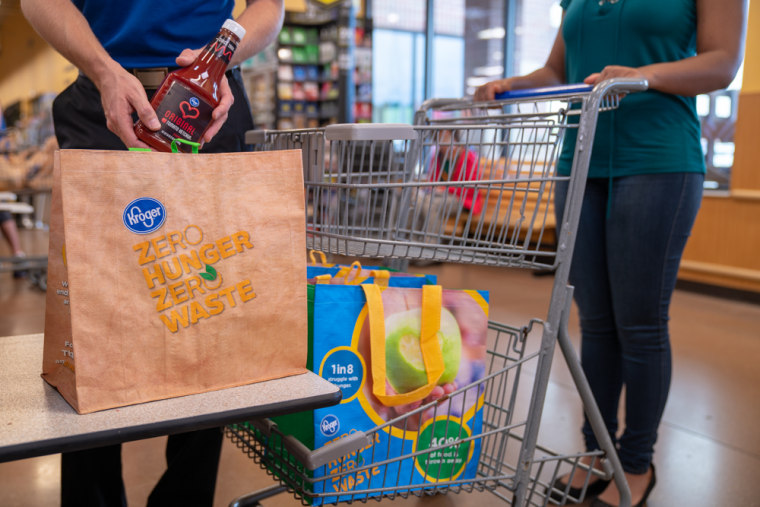 Once the switch is fully in place at stores, customers will have the option to bring their own bags or purchase a reusable or paper bag at their local store instead of using plastic, a company spokesperson told TODAY Food.
Kroger's California stores have already done away with single-use plastic bags after the state banned their use, but multi-use plastic bags are still available in those stores.
The change is part of the grocery chain's Zero Hunger | Zero Waste program to reduce waste sent to landfills and supply nutritious food to local food banks and pantries.
The Internet is reacting positively so far:
No word on when other stores will begin making the switch.
Need to purchase some reusable bags? Check out these 18 great totes from TODAY Style.