Editor's Note: TODAY Food editors are bringing you this interview because we think you'll love it, but Whole Foods Market is a sponsor of Eat Better TODAY.
In 2013, Kristen Bell spent Thanksgiving serving the homeless in Los Angeles. In 2014, the actress, along with husband Dax Shepard, rented a motorhome and spent the holiday at a campsite.
This year? We have a hunch she'll be going the more conventional route and hosting at home.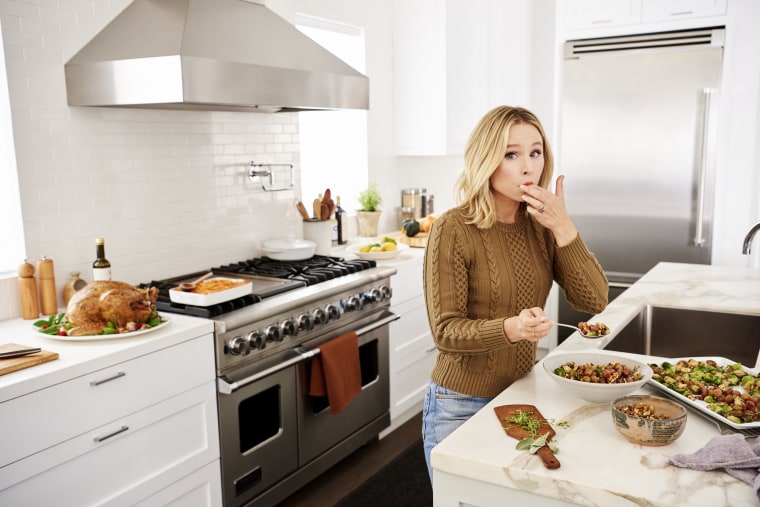 The star of "A Bad Moms Christmas" recently talked to TODAY Food about her new partnership with Whole Foods Market. She's sharing her favorite recipes and holiday entertaining tips with fans and Whole Foods' shoppers throughout the season.
It's no surprise that Bell, 37, is a now paid spokesperson for the company. She wore Whole Foods Market oil as perfume to the 2016 Emmy's. The lifelong vegetarian also says she appreciates knowing where her foods come from.
To put you at ease with your Thanksgiving responsibilities, here are a few holiday entertaining hacks from Bell herself.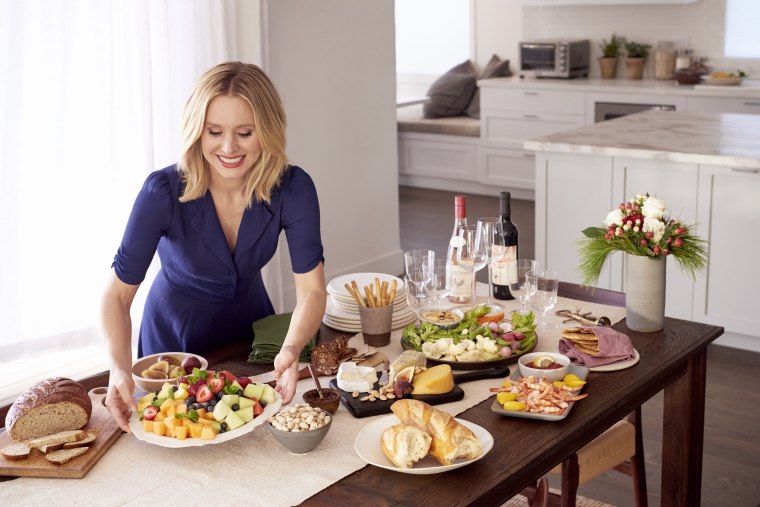 Feel free to experiment.
Bells likes the tradition of family favorites recipes, but she's not afraid to tweak them if she's feeling inspired or sees some new spice or cheese while shopping. "I experiment a lot," insists Bell. "I will often save a sauce from the night before and do whatever I have in the fridge to sort of whip things up."
When asked how Shepard and their two young daughters feel about going with the flow, Bell doesn't hesitate to answer. "They're all good experimental eaters."
You don't have to cook everything yourself.
Bell says she's "surrendered" the idea that she has to make every single dish from scratch. "I'm a big person that will give in to convenience. If I'm having people over and I can order a platter instead of cook, I'm all about that," admits Bell, who said she often fills out her table with items from the prepared foods section.
And the same goes for baking dessert.
The Michigan native told TODAY Food her favorite holiday indulgence is a buckeye — a Midwest treat consisting of frozen peanut butter and melted chocolate. "Look," Bell says, "I know other people are better at baking than me, and I'm OK with that." She says the important thing is your dessert tastes like you made it from scratch and says there are plenty of baked foods at her favorite Whole Foods that fit the taste-like-homemade bill.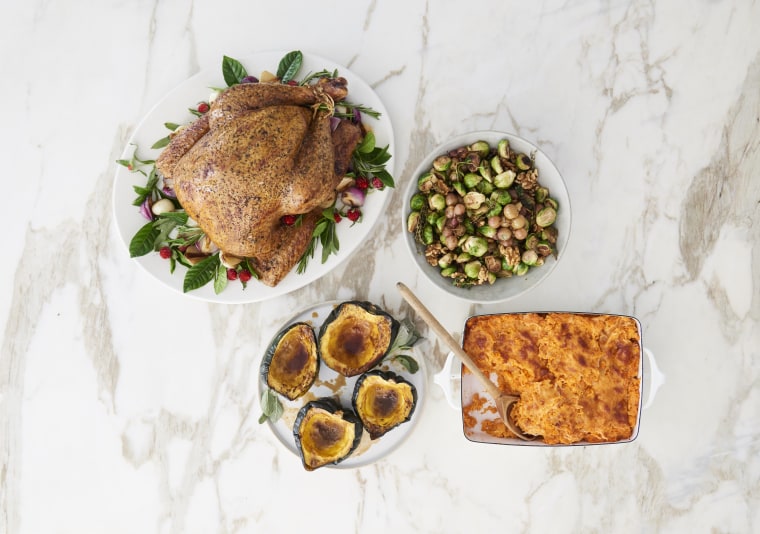 Re-plate and personalize.
Even though Bell told TODAY Food the holiday tradition she looks forward to the least is doing the dishes, she's not about to serve her guests on plastic.
"When I get a store-bought cheese plate, I place the cheese on a butcher block or an oversize platter," says Bell. "Then I spruce it up with some extras like Marcona almonds — so delicious! — fig jam and a variety of olives."
Invest in a garlic peeler and chopper.
When she does cook, Bell says her kitchen's co-MVPs are her garlic peeler and garlic chopper. She estimates they save her at least seven minutes.
"They're two little tools," explained Bell. "One is a little rubber silicone tube that you put a clove of garlic in and you just roll it back and forth and it peels the garlic without any mess. And then you pop it into what looks like a little children's toy and roll it back and forth and it chops it perfectly for you and your fingers barely ever touch the garlic. It changed the way I cook."
Looking for more ways to de-stress your Thanksgiving prep routine? Check out these 10 cooking tools celebrity chefs use when preparing the big feast.