Editor's Note: TODAY Food editors are bringing you this interview because we think you'll love it, but Whole Foods Market is a sponsor of Eat Better TODAY.
If Kristen Bell RSVPed "yes" to your annual cookie swap, she wouldn't show up empty-handed.
The 37-year-old actress tells TODAY Food that while she mostly tries to avoid sugar during the year, when the holidays hit, she goes balls to the walls. Literally.
The Michigan native's favorite holiday indulgence are chocolate-covered peanut butter balls.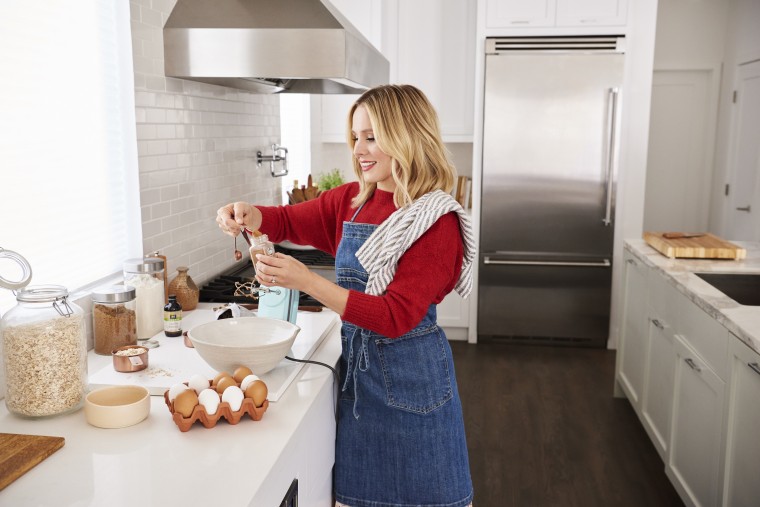 "My parents are from Ohio and making Buckeyes with my mom was really special as I was growing up. It's what I want my kids to remember us doing together," the star of "A Bad Moms Christmas" told TODAY Food. Bell, who has two daughters, Lincoln, 4, and Delta, 2, with husband, Dax Shepard, added she carries on the holiday tradition today.
Shepard sticks to a gluten-free diet, so when it comes to baking, Bell (who is a paid spokeswoman for Whole Foods) is a big fan of Bob's Red Mill Organic Coconut Flour. "I love the challenge of adapting my favorite recipes — pies, cookies, strudels — so he can eat dessert too."
Because of the couple's dietary restrictions (Bell is a vegetarian), she says she's pretty discerning when it comes to shopping for ingredients and likes to shop at places where she can find staples that are free of artificial colors, flavors, preservatives and high-fructose corn syrup. "Get creative with sweeteners," suggested Bell. "I bake with applesauce, agave, maple syrup or other alternative sweeteners." She also likes to keep Maldon Sea Salt Flakes on hand for enhancing caramel or chocolate desserts. (Gwyneth Paltrow and Cameron Diaz are also reportedly big fans of the British salt, too.)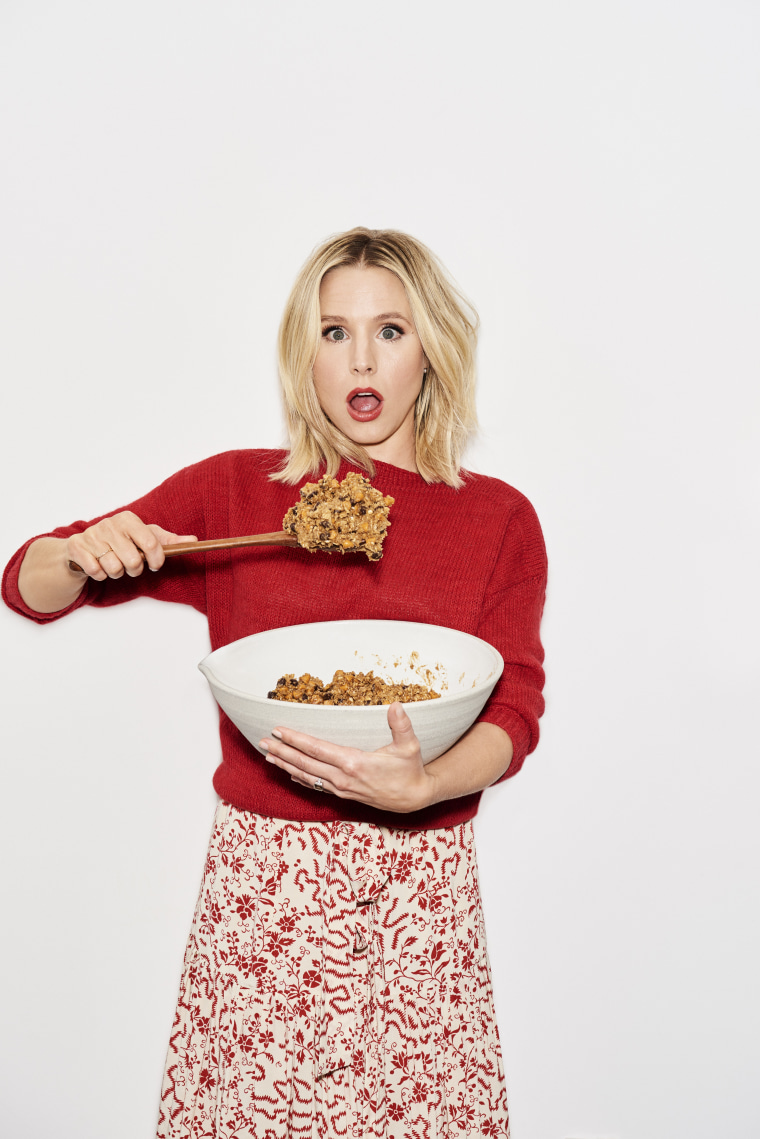 Of course, the holidays just wouldn't be the holidays without something to sweet to share with family and friends.
"Baking around the holidays goes way beyond making delicious sweet things," explained Bell. "The whole act of it — gathering in a warm kitchen, the smells wafting through the house — feels so comforting and familiar."
If Kristen Bell can find the time to bake, so can the rest of us. She shared one of her favorite "tried and true" cookie swap recipes for "Everything Cookies." Bell says she loves it because the oats, butterscotch and chocolate provide amazing textures and flavors for everyone's palate. Maybe she should call them "Everything Cookies for Everyone."
Kristen Bell's Everything Cookies
This recipe makes about 20 cookies.
Ingredients
4 tablespoons unsalted butter
1/4 cup unsweetened applesauce
1/2 cup light brown sugar
1/4 cup agave nectar
1 teaspoon vanilla extract (try Nielsen-Massey vanilla extract to make this gluten-free)
1 1/4 teaspoons ground cinnamon
1/8 teaspoon ground nutmeg
1/2 teaspoon salt
1 teaspoon vinegar (white or apple cider works)
1 large organic egg
1/2 teaspoon baking soda
3/4 cup all-purpose unbleached flour (use 3/4 cup coconut flour for a gluten-free version)
1 1/2 cups rolled oats (use Bob's Red Mill Gluten-Free Rolled Oats to make this gluten-free)
1 cup semisweet chocolate chips
1 cup butterscotch chips (Guittard Butterscotch Baking Chips are gluten-free)
Directions
1. Preheat oven to 350 degrees and line two baking sheets with parchment paper. Beat together the butter, applesauce, sugar and agave nectar, vanilla, cinnamon, nutmeg, salt and vinegar until fairly smooth. Then beat in the egg until smooth.
2. Add the baking soda and flour and mix well. Add the oats and both kinds of chips, stirring to combine.
3. Drop dough balls of about two level tablespoons (using a tablespoon measure, not a dinner spoon) onto cookie sheets. Space the cookies two inches apart — leave plenty of room because they will spread out!
4. Bake the cookies for 12 to 14 minutes, reversing the pans halfway through (top rack to bottom, bottom to top). For softer cookies, bake for the shorter amount of time; for crunchier, the longer. Cool the cookies on the pan for two minutes, then transfer them with a spatula to a wire rack to cool completely.