Eclipse mania is upon us!
For those planning on looking to the sky on Aug. 21 for the first total solar eclipse in the United States in 99 years, there are endless ways to get in the spirit. Viewing parties, festivals and even Airbnb rentals have popped up all across the nation. Hot spots that fall under the path of totality, which stretches from Salem, Oregon to Charleston, South Carolina, have been anticipating the crowds with eclipse-themed food and drinks.
From dessert to beer, here's a round-up of some of the coolest limited edition eats that'll set you up for the best viewing experience.
Krispy Kreme's Chocolate Glaze Doughnut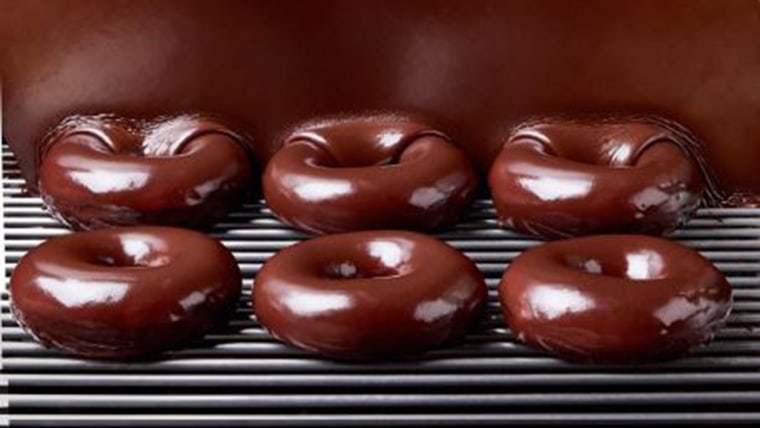 America's favorite doughnuts are getting a dark twist! Krispy Kreme announced their limited edition eclipse doughnut — a dreamy treat topped with a "mouth watering chocolate glaze." Customers can sneak in an early taste test if they stop by at participating United States and Canada locations during evening 'Hot Light' hours on Aug. 19 and 20. You can track your local Krispy Kreme's 'Hot Light' through their app so that you don't miss a thing.
Dairy Queen Blizzards
The ice cream shop is offering a sweet deal for eclipse-loving patrons through Sept. 3. On Monday, the chain's signature Blizzards will be available as part of a buy one, get one deal for just 99 cents. The deal starts on eclipse day, Aug. 21 and lasts until the Sunday before Labor Day.
Pilot and Flying J
Stop by participating Pilot and Flying J Travel Centers Monday, Aug. 21 and pick up a free, standard size Milky Way candy bar or a pack of Eclipse chewing gum (because of course!) with a purchase of any beverage in-store, excluding alcohol purchases. Too busy trying to put your eclipse viewing pinhole projector together? The solar eclipse promotion is valid for customers from Aug. 21 until Aug. 25.
Denny's "Mooncakes"
If you've never had a moon-shaped pancake, Monday is your lucky day. At Denny's diner, you can get all you can eat "Mooncakes" for just $4 during eclipse day. But what is a Mooncake? Denny's says Mooncakes are their regular pancakes shaped like the moon – which, Denny's jokes, is how pancakes are usually shaped. Still, we have to admit this clever promotion gave us a chuckle.
Cristaudo's Eclipse Cookie
In honor of the eclipse, this bakery in Carbondale, Illinois will be making batches of a winning cookie design. The shop held a 2017 Solar Eclipse Cookie Design Contest this summer and selected their winner and two runner-ups. The first place design features the sun giving the moon a big bear hug. Cristaudo's will also be selling eclipse glasses to customers for eye protection during the big event.
Eberhard's Dairy's Solar Swirl Ice Cream
An exciting new flavor dubbed "Solar Swirl" was unveiled by Ebhard's Dairy, just in time for the eclipse craze. Created by the winner of their Solar Eclipse Ice Cream Contest, the vanilla-based ice cream comes with caramel swirls, marshmallows and fudge. You can find yourself a mouthwatering scoop in select local Oregon ice cream shops.
Excel Bottling's Darkest Hour Black Cherry Soda
Darkest Hour Black Cherry soda may just be the best fizzy fix on eclipse day. Excel Bottling in Breese, Illinois has released special packaging for all the solar eclipse junkies out there. Each limited edition soda is emblazoned with an image of a solar eclipse and the commemorative moniker. These special drinks can be bought online and are also available at select local stores.
Schlafly's Path of Totality
You'll want to crack open this cold one with your eclipse-watching buddies. Schlafly Beer in St. Louis has designed limited edition eclipse packaging for their Helles lager. In the 12 pack, you'll find a complimentary pair of solar glasses to keep your peepers safe from the sun. And for those looking to get even more festive, Schlafly is hosting an Eclipse Field Trip that features a barbecue lunch, lawn games and live music — all in the path of totality for $45.
Holesinsky Vineyard and Winery's Blackout
As Idaho readies itself for eclipse-goers, Holesinsky Vineyard and Winery is rolling out their own special release of Blackout. The wine was named and released in honor of the upcoming solar eclipse and is available at select Idaho locations. Holesinsky's Blackout is a red wine "reserve blend" composed of 80 percent Syrah and 20 percent Cabernet Franc, making for the perfect cup of red.
This article was originally published Aug. 10, 2017.