Krispy Kreme usually likes to keep it simple with its doughnut offerings, but when they do create something new, they don't keep it around for very long.
Over the summer, the chain offered a chocolate-glazed doughnut for just two days to celebrate the solar eclipse. And in September, the chain brought back a pumpkin spice-flavored doughnut for just one day.
On Tuesday, Dec. 12, the chain is offering up yet another one day-only special — and this time they're honoring the beloved holiday flavor of gingerbread on National Gingerbread House Day.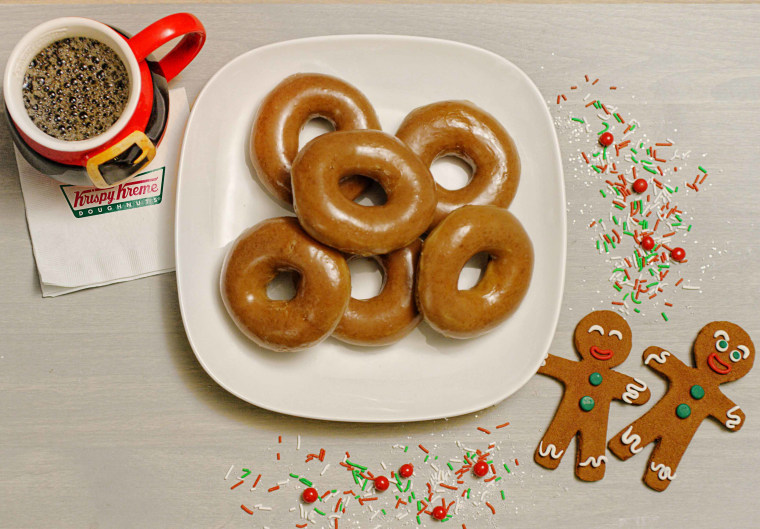 Krispy Kreme's Gingerbread Glazed Doughnut features spiced gingerbread dough, covered in a gingerbread-molasses glaze. TODAY Food got a taste of the new doughnuts and while we weren't overwhelmed with spicy notes of ginger and cinnamon, this doughnut is pretty delicious — especially when served warm.
The doughnuts, which are a deep caramel color, are definitely gingerbread-like in their appearance but the flavor is more akin to an original glazed Krispy Kreme than a real piece of gingerbread.
"The first bite just tastes like a regular doughnut," said one taster.
After eating a few more bites, however, vague holiday spice and molasses flavors start to creep in.
"I'm not really sure I'm tasting gingerbread but there's an aftertaste that's kindof bitter," said another TODAY staffer.
So our mouths weren't exactly ringing with Christmas cheer (maybe we should have washed it all down with a mint-chocolate Christmas Tree Frappuccino from Starbucks) but we commend Krispy Kreme for trying to be somewhat original with its new holiday offering.
This seasonal speciality will only be available for one day, so if you're a fan gingerbread, or just like to try limited-edition pastries, set an alarm for Tuesday.
But if you don't make it on Dec. 12, head to a Krispy Kreme a few days later on Dec. 15. On National Ugly Sweater Day (yup, that's a real thing), the chain is offering one free original glazed doughnut to anyone who purchases a dozen doughnuts.