Krispy Kreme is trying once again to prove that it's perfectly OK to eat candy for breakfast — as long as it's in doughnut form.
On Monday, the doughnut chain announced that a new treat is hopping into stores nationwide: Reese's Peanut Butter Egg Doughnuts.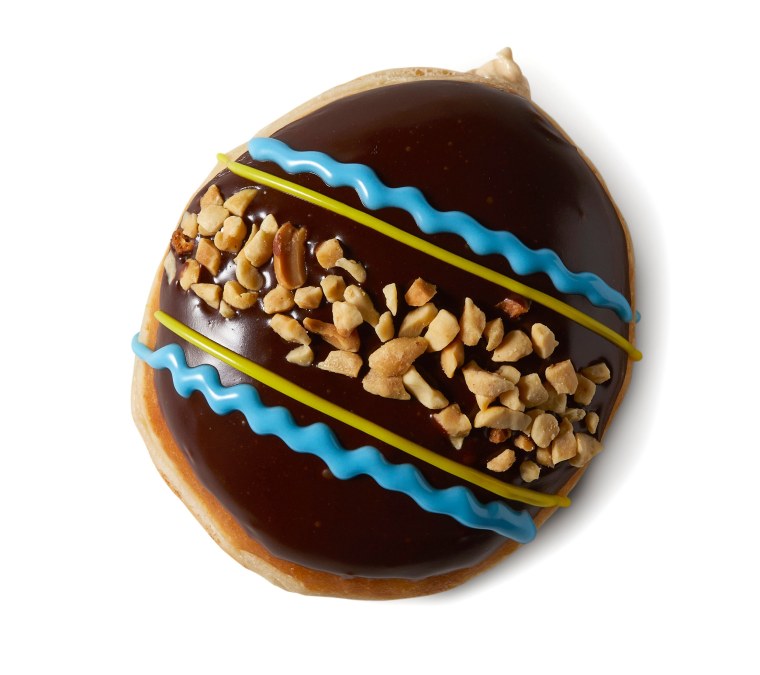 The new pastry features an unglazed yeast doughnut shell dipped in chocolate icing, and then decorated like an Easter egg with blue and yellow frosting and chopped nuts. But the extra-special part is what's inside: a peanut butter-cream filling inspired by the sweet peanut butter found in Reese's Peanut Butter Cups.
Krispy Kreme is on a roll with its latest themed offerings. In February, the doughnut chain teamed up with Hershey's (which owns Reese's) to create a Hershey's Gold Doughnut to honor the 2018 Winter Olympics and celebrate the first new candy bar released by the Hershey's brand in 22 years. The specialty doughnut featured a caramelized creme-icing, topped with peanuts and salty pretzel pieces.
This isn't the first time doughnut fans have witnessed a Reese's mashup. Last year, Krispy Kreme released its first Reese's Peanut Butter Kreme-filled doughnut ... and it was popular enough to bring back.
Krispy Kreme also announced the upcoming release of its new lemon glaze doughnut, which will be in stores nationwide from April 23 through April 29. Fans of traditional Krispy Kreme doughnuts voted on lemon over three other flavors during the #VoteForGlaze campaign in January.
If your sweet tooth still isn't satisfied, Krispy Kreme has yet another release in the works: The doughnut chains says it will soon be announcing a collaboration with a cookie company for a collection of cookie-inspired doughnuts in the coming months. More Oreo-flavored doughnuts, anyone?
For now, candy-flavored-doughnut lovers can feast on the Reese's Peanut Butter Egg treat for a limited time at shops nationwide.