Kraft's mac-and-cheese-flavored ice cream is back by popular demand — but only for a short time!
Earlier this summer, the brand teamed up with Brooklyn-based Van Leeuwen Ice Cream to create the creamy and cheesy concoction for National Macaroni & Cheese Day, and all 6,000 pints sold out online in just an hour.
Whether you fell in love with the flavor combo and are craving some more or you didn't get a chance to give it a try the first time, you're in luck. Van Leeuwen and Kraft Mac & Cheese just announced they're bringing back the ice cream for a limited time starting Tuesday. The pints are selling for $12 a piece online while supplies last and it's safe to say they'll go fast.
If the flavor combo makes you scratch your head more than jump for joy, we get it: Why would that neon-orange dust translate well into a sweet treat? But Kraft and Van Leeuwen combined their expertise to create a creamy, cheesy sweet treat that actually seems pretty intriguing.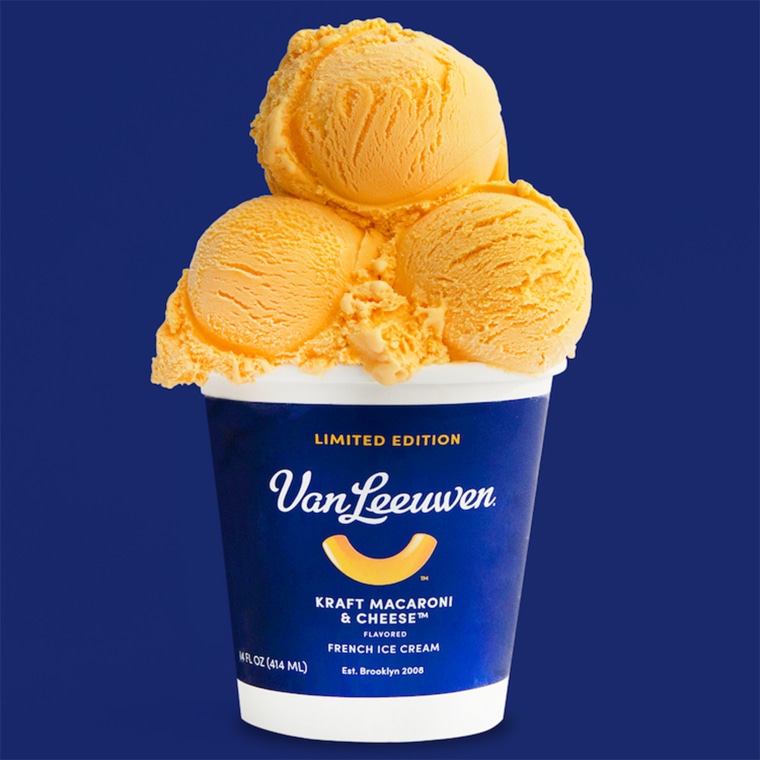 "We know that there is nothing more refreshing on a hot summer day than ice cream. That is why we wanted to combine two of the most iconic comfort foods to create an ice cream with the unforgettable flavor of Kraft Macaroni & Cheese we all grew up with," Kraft Macaroni & Cheese Sr. Associate Brand Manager Emily Violett said in a press release in July.
When TODAY's Hoda Kotb and Jenna Bush Hager got the chance to try the ice cream, they had opposite reactions: Hoda was not a fan, and Jenna went back for seconds.
As many members of the Filipino community pointed out after the creamy concoction was released, cheese ice cream is hardly a new invention.
"Filipinos have long known the truth: Processed cheese is good, and in ice cream, it's even better," Bettina Makalintal wrote for Vice. "We turn bright orange cheese into perfectly balanced queso ice cream."
Van Leeuwen is known for its artisanal ice cream that's made with just a few ingredients, and that was a huge selling point for the folks at Kraft.
"As big fans of Van Leeuwen, we knew they'd be the perfect partner to create this ice cream with us. Not only does it taste delicious, but it's also made with high quality ingredients and contains no artificial flavors, preservatives, or dyes just like our Kraft Macaroni & Cheese," Violett said.
This isn't the first time Van Leeuwen has tried its hand at savory ice cream flavors. In 2019, the brand released "Popeye's Fleet Treat," a spinach-flavored ice cream formulated with organic spinach leaves, sea salt, extra virgin olive oil and turmeric.
The same year, Los Angeles-based creamery Coolhaus Ice Cream teamed up with French's to develop a limited edition mustard-flavored ice cream to celebrate National Mustard Day.